PM Nguyen Xuan Phuc meets Hai Phong voters
Prime Minister Nguyen Xuan Phuc on March 7 met with voters of the northern port city of Hai Phong, briefing them on the outcomes of the work of the National Assembly deputies of the city.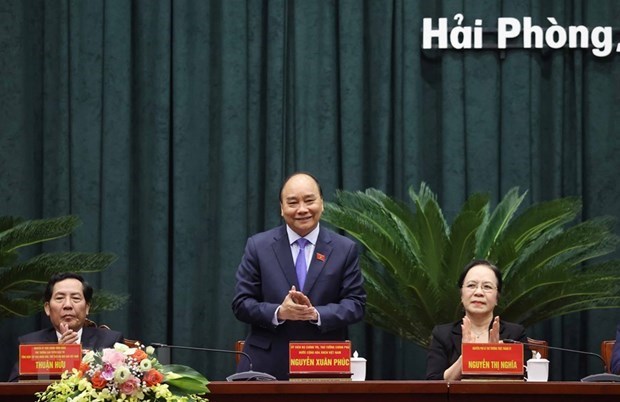 Prime Minister Nguyen Xuan Phuc meets Hai Phong voters. (Photo: VNA)


At the meeting, municipal leading officials also reported to voters on the main achievements of the socio-economic development over the past five years.
Speaking at the function, PM Phuc expressed his thanks to the municipal Party Committee, People's Committee and locals for their sentiment to the deputies and himself.
Rejoicing at the achievements recorded by the city over the past five years, he described them as outstanding and comprehensive, attributing them to the high determination and solidarity of the committees and people. However, the leader said the municipal administration must continue its efforts.
For the development orientations for the city, the PM stressed the three economic pillars, namely sea-based economy, high technology and tourism, and said billion-USD projects are coming to the city.
Hai Phong should strive to become a centre of education-training and health care of the northern coastal region; a smart, modern and exemplary of the country, the leader said.
He also brief the participants of the meeting on the key achievements of the country over the past five years.

VNA
PM Nguyen Xuan Phuc has sent a message of congratulations to a ceremony marking the 60th anniversary of Organisation for Economic Cooperation and Development (OECD).