PM blamed ministries for Moody's negative action

Delay in paying government debts was due to the lack of seriousness of related government agencies in following the instruction of the prime minister.
Prime Minister Nguyen Xuan Phuc has requested clarification of responsibilities of individuals and groups in a number of government agencies and ministries that led to a delay in the government's debt payment and the subsequent negative action of Moody's Investors Service, according to Minister of the Government Office Mai Tien Dung.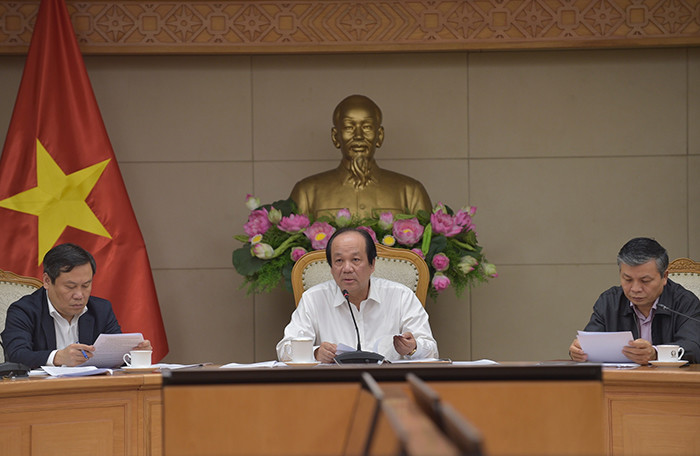 Minister of the Government Office Mai Tien Dung (middle) at the meeting. Source: VGP.
Ministries are requested to learn from this lesson and address the delay in debt payment, in spite of the fund availability, said Dung, who is also the head of PM's working mission, in a meeting with the Ministries of Finance (MoF), Planning and Investment (MPI), Transport (MoT), Industry and Trade (MoIT), and the State Bank of Vietnam (SBV), regarding their respective responsibilities in delay in debt payment of foreign loans for two road and one hydropower projects namely on December 20.
Dung attributed such delay to the lack of seriousness of these government agencies in following the instruction of the PM and Deputy PM Vuong Dinh Hue, and failure to timely report the issue and the deadline for debt payment to the government.
According to Dung, in June, the World Bank sent a letter to the MoF proposing three quick payment methods for the international development association (IDA) grants and set a deadline for response before November 30. However, the MoF only reported to the PM on December 5.
The issue would have had a greater impact, if it had not been addressed in a timely manner, stated Dung.
"The MoT should have worked with the MoF and the MPI to allocate sufficient funds to pay the interests for the projects," Dung said, adding that in the coming time, ministries are requested to report to the PM on plans to allocate sufficient resources to ensure timely payment on both direct and indirect debt obligations. 
Previously, the PM had assigned specific tasks for each ministry to pay foreign debts and prevent negative impacts on Vietnam's credibility rating.
On December 18, Moody's confirmed to the Government of Viet Nam's Ba3 local and foreign currency issuer and senior unsecured ratings, and changed the outlook to negative, concluding the review for downgrade that was initiated on October 9, 2019.
According to Moody's, the decision to place the outlook on negative is driven by some ongoing, albeit diminished, risk of payment delays on some of the government's indirect debt obligations, in the absence of more tangible and significant measures to improve the coordination around contingent liability management within the administration.
On the same day, the MoF released statement stressing the outlook change by Moody's "is inapt given it is grounded on an isolated incidence and does not adequately recognize the government's instituted policies and procedures to ensure smooth and timely repayment of government guaranteed borrowings."
The MoF affirmed that the government of Vietnam always honors all debt obligations in a reliable and timely manner as per commitments made with development partners and international financial institutions. Hanoitimes
Hai Yen