Phan Van Mai elected as Ho Chi Minh City's Chairman
Standing Deputy Secretary of the HCM City Party Committee Phan Van Mai was elected as the city's new chairman, replacing Mr. Nguyen Thanh Phong, at a special meeting of the HCM City People's Council this morning (August 24).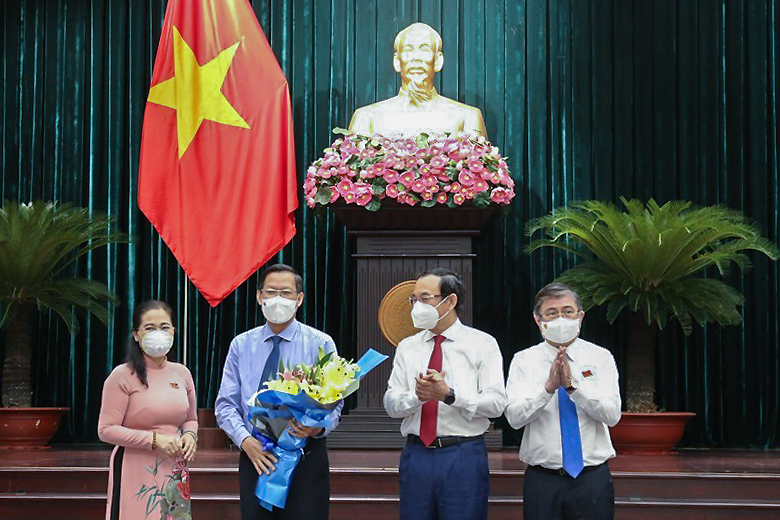 HCM City officials present flowers to new Chairman Phan Van Mai.
The former chairman Nguyen Thanh Phong was assigned by the Politburo to be Deputy Head of the Central Economic Commission on August 20.
Speaking at the meeting, the new chairman Phan Van Mai introduced three key tasks that he would focus on in the coming time.
The first is to carry out drastic measures to control the Covid-19 pandemic and restore normal life to local people. Secondly, he will build a post-pandemic economic development plan which aims to realize the targets set earlier by the city. And thirdly, he will study measures to best utilize all resources, especially human resources for social development.
Mr. Mai was born in 1973 in Thanh Phu Dong commune, Giong Trom district, Ben Tre province.
He holds a bachelor's degree in English, bachelor's degree in economics, and a master's degree in economic management.
Before being appointed as the Permanent Deputy Party Secretary of HCM City on June 1, he was the Party Secretary of the southern province of Ben Tre.
Mai held various positions in government agencies of Ben Tre province such as Chairman of the Provincial People's Council, Secretary of the Provincial Youth Union, an expert at the Foreign Affairs Department, Office of the Provincial People's Committee.
He was Secretary of the Central Youth Union in 2008-2011, Standing Secretary of the Central Youth Union and Deputy Secretary of the Party Central Committee of the Youth Union and Chairman of the Vietnam Youth Union from 2012 to March 2014.
In March 2014, he was appointed Deputy Party Secretary and then Standing Deputy Party Secretary of Ben Tre Province in November 2015.
He was Ben Tre's Party chief from August 2019 to June 2021.
Tran Thuong

The Politburo today, August 20, assigned HCMC Chairman Nguyen Thanh Phong as vice chairman of the Party Central Committee's (PCC's) Economic Commission.