Permanent Court of Arbitration sets up rep. office in Vietnam
The Permanent Court of Arbitration (PCA) has decided to establish its representative office in Vietnam under an agreement signed with the Vietnamese Government in Hanoi on October 27.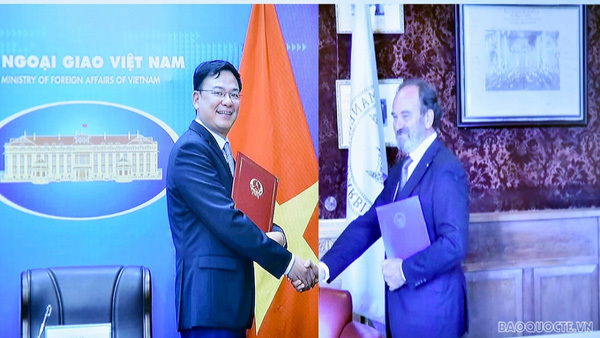 Deputy Foreign Minister Pham Quang Hieu and PCA Secretary General Hugo Siblesz sign a document on the establishment of a PCA Rep. Office in Vietnam, at a virtually held ceremony on Oct. 27. (Photo: baoquocte.vn)
Signatories to the document at the virtually held ceremony were Deputy Foreign Minister Pham Quang Hieu and PCA Secretary General Hugo Siblesz.
Addressing the signing ceremony, Hieu and Siblesz highly valued cooperation between Vietnam and the PCA over the past time, noting the PCA plays an important role in training Vietnamese legal experts in various areas.
The two sides affirmed that the opening of the PCA's representative office in Vietnam demonstrates the country's rising position in international integration as well as its unified stance on supporting the principle of peaceful settlement of disputes.
At the same time, they said the move will help the PCA realize its vision of "accessible at all times" so that Vietnam and other regional countries can easily use the court's legal services.
The PCA was established in 1899 and headquartered in the Hague, the Netherlands, with 122 member countries, aiming to facilitate arbitration and other forms of dispute resolution between states. It has developed into a modern, multi-faceted arbitral institution perfectly situated to meet the evolving dispute resolution needs of the international community.
Since 2012, there have been a number of famous Vietnamese jurists acting as arbitrators at the PCA.
Source: VOV