Nicaraguan Foreign Minister visits Vietnam
Nicaragua considers Vietnam a friend and an important partner in Asia-Pacific, stated visiting Nicaraguan Foreign Minister Denis Ronaldo Moncada Colindres on September 6.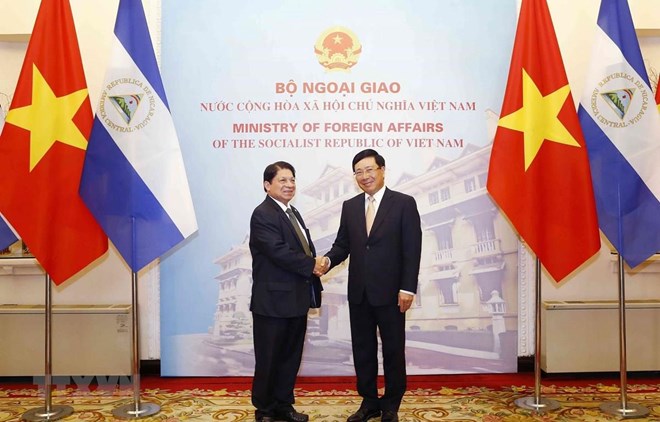 Deputy Prime Minister and Foreign Minister Pham Binh Minh (R) shakes hands with Nicaraguan Foreign Minister Denis Ronaldo Moncada Colindres 


The official made the statement at his talks with host DeputyPrime Minister and Foreign Minister Pham Binh Minh in Hanoi, expressing hisadmiration for Vietnam's heroic history and reform progress.

For his part, Minh affirmed Vietnam always appreciates thesupport of the Nicaraguan Government and people toward its past struggle forindependence and current national construction.

He said Vietnam wants to further enhance the bilateralcooperation for the common development of the two nations.

Both host and guest agreed to consolidate the traditionalpolitical ties and mutual trust between the countries, increase delegationexchanges, and carry out negotiations and signing of pacts that form the legalframework for bilateral collaboration.

They said it is necessary to create favorable conditions forlinking Vietnamese and Nicaraguan firms in trade, agriculture, aquatic farming,health, construction, infrastructure, energy, and telecommunication.

The officials also highlighted their concurrence with boostingthe Vietnam – Nicaragua cooperation across the fields of defence,culture-sport, and tourism

The sides said they will continue working together andsupporting each other at international organisations and multilateral forums.

The Nicaraguan FM is paying an official visit to Vietnam onSeptember 5 – 7. As part of the visit, he met with head of the Party CentralCommittee's Commission for External Relations Hoang Binh Quan and leaders ofthe Ministry of Industry and Trade. He also paid tribute at the mausoleum oflate President Ho Chi Minh and toured a number of historical and cultural sitesin Hanoi.

Vietnam and Nicaragua established diplomatic relations onSeptember 3, 1979.
Vietnam wants to increase trade with Nicaragua: PM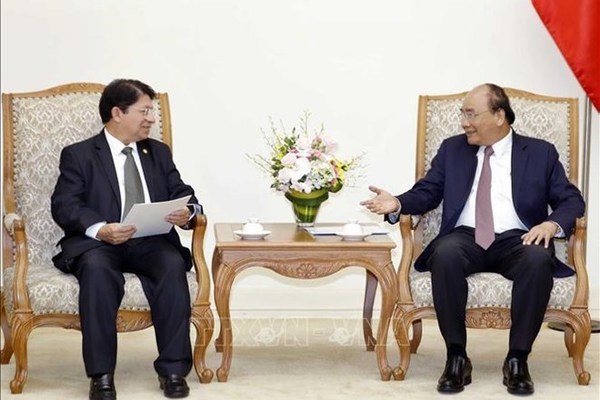 Prime Minister Nguyen Xuan Phuc (R) hosts Nicaraguan Foreign Minister Denis Moncada in Hanoi on September 6.
Vietnam always pays attention to the development of trade ties with Nicaragua, said Prime Minister Nguyen Xuan Phuc when receiving visiting Nicaraguan Foreign Minister Denis Moncada in Hanoi on September 6.
At the reception, PM Phuc thanked Nicaragua for supporting Vietnam in its bid to become a non-permanent member of the UN Security Council for the 2020-2021 tenure.
He lauded the outcomes of the recent talks between his guest and Deputy PM and Foreign Minister Pham Binh Minh, adding that he believes the guest's visit will help open a new chapter in the Vietnam – Nicaragua relations.
The Government leader said bilateral trade remains low, suggesting the two countries capitalise on their potential for a better turnover in the coming time.
Vietnam has strengths in agriculture, farm produce export, infrastructure construction, and telecommunication, and can cooperate with Nicaragua in such fields, PM Phuc stated.
For his part, the Nicaraguan top diplomat stressed his current visit aims at boosting bilateral economic, trade and investment collaboration and opening up new cooperation areas.
He told his host that during the talks with Minh, both sides agreed to increase delegation exchanges and named agriculture, animal husbandry, processing industry, and health, among others, as sectors for improved bilateral engagements.
The Nicaraguan official affirmed that his country wants to reinforce cooperation with Vietnam by optimising strengths of both nations.
He is paying an official visit to Vietnam from September 5 to 7 on the occasion of the two countries celebrating the 40th founding anniversary of their diplomatic relations (September 3, 1979 – 2019). VNA