National Assembly Election 2021: Stories of self-nominated candidates
Taking the stage at a meeting with voters in Thanh Oai District constituency, Hanoi, earlier this month, Luong The Huy shared his personal story of how he encouraged his 73-year-old father to learn how to use modern technology in his daily life.
"It is also my idea for socio-economic developments, which should not leave anyone behind and let everyone enjoy the benefits of the country's development," said Huy, 33, a self-nominated candidate who is running in the upcoming 15th National Assembly election, slated for this Sunday.
A total of 76 candidates put themselves forward as self-nominated candidates in this year's National Assembly elections, but only nine made it to the last round after passing a strict five-step vetting process including three rounds of public consultation at different levels.
Besides candidates nominated by State agencies and organisations, Vietnam has allowed self-nominated candidates to run in the elections for the country's top legislature body and the People's Councils since its first elections in 1946, a year after the country's independence. Since then, a handful of independents have won the seats in the Ba Dinh Hall.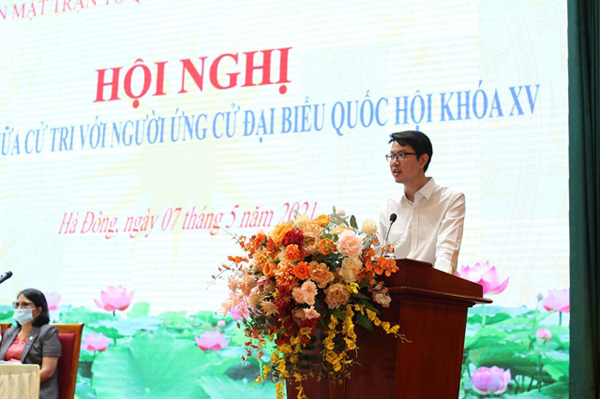 Luong The Huy speaks at a meeting with voters in Ha Dong District consituency, Hanoi. Photo courtesy of Luong The Huy
Huy, director of the Hanoi-based Institute for Studies of Society, Economy and Environment (iSEE), is the youngest self-nominated candidate chosen to run for the election for the past several decades.
"I am running for the National Assembly and People's Council with the sole and sincere purpose of contributing my best to the development of the capital and the country, and of course, carrying the dream of the diversified minority communities in the society which I am also a member of," he wrote on his social media page when he announced his candidacy a month ago.
He said the decision to run for election came to him very naturally as he had been inspired by lawyers and judges in movies and books since he was young.
"Then I started working for a research agency where I had the chance to meet with people from marginalised and disadvantaged groups, and I felt like I was a messenger that brought their voices to policymakers," Huy told Việt Nam News.
He hopes with his 10 years of experience in legal advocacy and policy-making consultation, especially experience working with minority groups in society, he could contribute his voice as both an expert, a young person and a non-Party member to policy discussions at the top law-making body.
"I believe that my work in the National Assembly, as well as the People's Council, will attract the participation of young people because I am of the same voice and the same generation as them, making it easier for me to approach and communicate with them," Huy said.
An independent and non-Paty member candidate, Huy said he doesn't feel any big differences compared to those nominated by State agencies and organisations in the electoral campaign.
He added: "There certainly are some disadvantages for self-nominated candidates such as we have to make time for the process and prepare the applications ourselves, and especially for a first-time self-nominated candidate like myself, I had to find out about the procedures all by myself.
"But lucky for me, the people working at the Vietnam Fatherland Front, the city's Department of Home Affairs and other agencies have given me detailed instructions and supported me in every step of the way."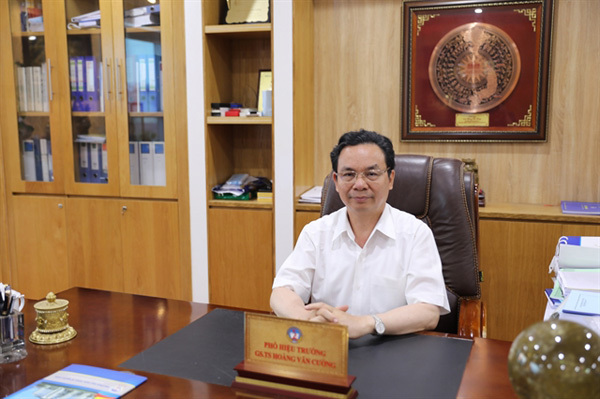 Prof. Dr. Hoang Van Cuong, the vice-rector of the National Economics University, a self-nominated candidate. VNS Photo Bao Hoa
Agreeing with Huy, Prof. Dr. Hoang Van Cuong, the vice-rector of the National Economics University, another self-nominated candidate, said the only difference lies in the initial application process.
Unlike Huy, it is the second time Cuong has vied for a post in the people's highest representative office.
During the 14th National Assembly election in 2016, Cuong, 58, was nominated by his university and was elected. Now, he no longer meets the age requirement to be nominated by a State agency or organisation.
"When I found out that I wasn't young enough to be nominated by my office, many people have encouraged me to self-nominate," he said.
"The voter's encouragement has motivated me to be more decisive and enthusiastic for continuing my role."
Cuong said his experience as an NA deputy has brought both opportunities and challenges for him this time around.
"If you have already made positive contributions as a deputy in the last term, it is easy for voters to decide to vote for you for another term.
"On the contrary, those who have performed badly will lose voters' trust and not be selected as they will not vote for those who do not live up to their expectations."
This year's campaign has also given him a new experience as most of the meetings with voters have been held online due to the COVID-19 pandemic.
"This is a disadvantage for candidates. On the other hand, this requires candidates to be more active in providing our information through different means like media and the internet so it is an opportunity for both voters and candidates to study the information more properly, for a longer time and not limited to just direct meetings like before."
An expert in economics and finance, Cuong was known for contributing many sharp opinions and questions in terms of economic management, finance and budget in the 14th National Assembly. He is determined to carry on his contributions if elected.
"Besides, I will proactively work to close legal loopholes, prevent corruption, especially policy corruption, contribute to the work of power control as well as carry out the supervisory duty on socio-economic, financial and investment development programme within the activities of the NA oversight teams," Cuong added.
Asked if he has any worries about the voting result given that he is an independent candidate this time, Cuong said it did not bother him.
"I think voters do not care whether a candidate is self-nominated or recommended. What they care most about is if that person is capable enough to represent them at the National Assembly or not."
Huy agrees, adding that in fact many recommended candidates have failed to be elected.
"I think all the candidates, when sitting in the same meetings, reading out their action plans, answering questions from voters, have equal opportunities.
"It is purely the people's votes that decide who they trust more and want to represent them. So I think I will just try to do my best," he said.  
VNS

There are 77 self-nominated candidates for the National Assembly in 24 provinces and cities, including 30 people in Hanoi and 16 in Ho Chi Minh City.

Self-nominated candidates will have opportunities to secure a seat in the National Assembly - the country's most powerful agency - in the upcoming election slated for May 23.