National Assembly to hold secret ballot to relieve Minister of Health

Nguyen Thi Kim Tien will be relieved of her post as minister of health through a National Assembly secret ballot on November 22. Even though Tien's term of office has yet to end, she has reached her retirement age.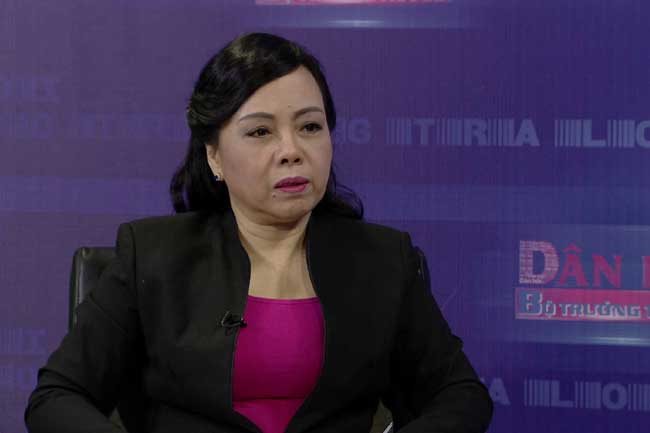 Minister of Health Nguyen Thi Kim Tien - PHOTO: VGP
In the fifth working week of the NA's eighth sitting, Prime Minister Nguyen Xuan Phuc will submit a proposal to relieve Tien, while the NA Standing Committee will submit a proposal to relieve Nguyen Khac Dinh, head of the NA's Committee on Laws, as he has been chosen as Secretary of the Party Committee of Khanh Hoa Province, Tuoi Tre Online newspaper reported.
Dinh's successor will be elected in the following week, while the election of Tien's successor is not included in the sitting.
The Politburo has appointed Tien as head of the Board of Healthcare Services for Senior Officials. Deputy Prime Minister Vu Duc Dam, a member of the Government's Party Civil Affairs Committee, has been appointed to the post of Secretary of the Party Civil Affairs Committee of the Ministry of Health, replacing Tien.
In addition, the NA will discuss and vote on a resolution ratifying the master plan on socioeconomic development in ethnic minority-inhabited, mountainous and extremely disadvantaged areas and will draft laws on labor (amended); libraries; NA organization; the exit and entry of Vietnamese citizens; the reserve force; and amendments and supplementations of several articles of the Laws on the Organization of the Government and Local Governments.
Lawmakers will also look into the ratification of the Supplementary Treaty to the 1985 Treaty on the Delimitation of National Boundaries and the 2005 Supplementary Treaty between Vietnam and Cambodia, as well as the Protocol on Mainland Border Demarcation between the two nations.
Moreover, the draft laws on public-private partnership investment; investment (amended); enterprises (amended), amendments and supplementations of several articles of the Law on Promulgation of Legal Documents; youth (amended); and mediation and dialogue at court will be tabled for discussion. SGT

Deputy Prime Minister Vu Duc Dam has been appointed to run the Ministry of Health's Party activities, replacing the former Secretary Nguyen Thi Kim Tien.