NA Standing Committee convenes 37th session

The National Assembly Standing Committee convened its 37th session in Hanoi on September 9 under the chair of NA Chairwoman Nguyen Thi Kim Ngan.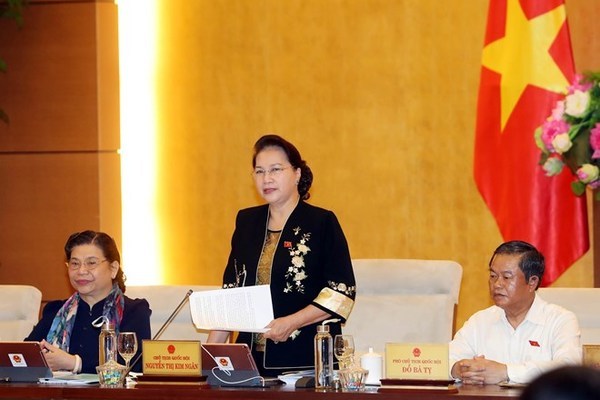 National Assembly Chairwoman Nguyen Thi Kim Ngan (standing) speaks at the opening ceremony of the 37th session of the NA Standing Committee
Speaking at the opening ceremony, Ngan said the committee will give opinions on 12 draft laws along with a draft resolution on handling tax debts for those who are no longer able to pay the State budget, and another on approving the overall scheme for investment in socio-economic development in ethnic minority, mountainous and disadvantaged regions in 2021-2025.
Legislators will discuss the allocation and use of extra revenue of the central budget in 2018 as well as the necessity of promulgating a NA's resolution on management and use of revenues from divestment of State capital and equitisation of State enterprises, and a Government's decree prescribing customs procedures and inspection of transit goods via the ASEAN Customs Transit System, she said.
Also on the agenda are reports in the field of justice, audit activities, preparations for the eighth session of the NA, a thematic supervision on the implementation of policies and laws to realise the national target programme on sustainable poverty reduction in ethnic minority and mountainous areas in 2012-2018.
The committee will consider the establishment and adjustment of administrative boundaries in three northern provinces of Quang Ninh, Hai Duong and Lao Cai, she noted.
After the opening speech of the top legislator, lawmakers gave opinions on the draft Law on resiving and supplementing some articles of the Law on Natural Disaster Prevention and Control and the Dyke Law.
NA Vice Chairman Phung Quoc Hien said as this was the first time the NA Standing Committee gave opinions on this draft law, drafting agencies should study the opinions of the committee for verification and adjustment before submitting the draft law to the NA at the upcoming eighth session.-VNA