NA leader calls on Austrian businesses to invest in Vietnam
National Assembly Chairman Vuong Dinh Hue on September 6 called on Austrian businesses to increase investment and trade cooperation with their Vietnamese counterparts to fully tap into the two sides' potential and strength.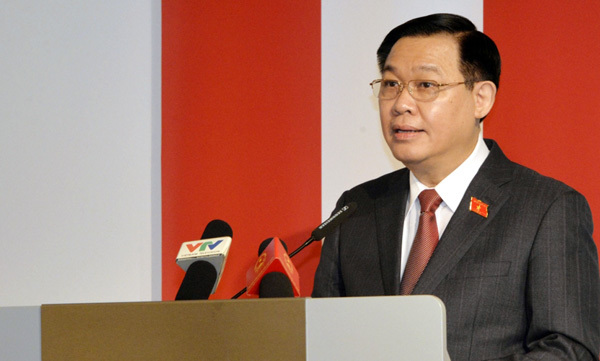 National Assembly Chairman Vuong Dinh Hue addresses the Vietnam-Austria business forum.
Addressing the Vietnam-Austria business forum in Vienna, Hue briefed representatives of leading Austrian businesses on Vietnam's development potential and cooperation opportunities.
He noted that in 2020 Vietnam achieved an economic growth rate of 2.91%, one of the highest in the world. In the first six months of 2021, its economy still grew by 5.64% while national trade turnover reached nearly US$429 billion, up 27.2% year on year. Notably, international credit rating agencies raised Vietnam's economic outlook to positive.
Vietnam became the third largest economy in ASEAN with a GDP of over US$350 billion. It was one of the 20 top countries that attracted most FDI worldwide according to the United Nations Conference on Trade and Development (UNCTAD). The International Monetary Fund (IMF) also forecast that Vietnam's economy would grow by 6.5% in 2021, or 0.5% higher than the world average.
According to the Vietnamese NA leader, the signing of new-generation free trade agreements (FTAs), the Fourth Industrial Revolution, the shifting of international investment flows, alongside the golden population structure are creating a wealth of opportunities for Vietnam to restructure its economy, apply digital transformation, and develop a fast, sustainable and inclusive growth model.
With regard to foreign investment, Vietnam plans to attract foreign investment selectively, taking the quality, efficiency, technology and environmental protection as the main evaluation criteria, said Hue.
At the same time, he said it prioritises attracting investment in the fields of high technology, innovation, research and development, while creating favourable conditions for its enterprises to participate in the value chain, promote the digital economy and actively contribute to the sustainable socio-economic development of the nation.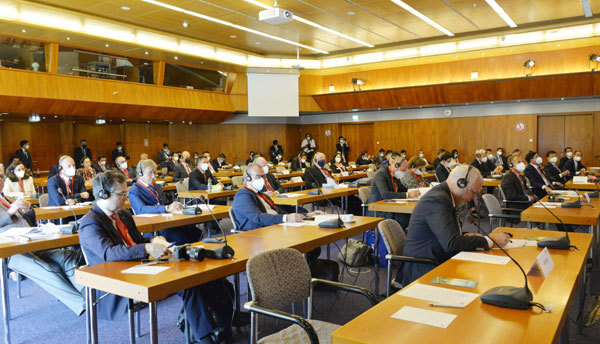 Representatives of many leading Austrian businesses attend the forum in Vienna.
To further strengthen economic, trade and investment relations between Vietnam and Austria in the near future, Hue suggested that both sides step up the exchange of information on each other's investment policies, especially in priority areas of cooperation such as clean energy, infrastructure, telecommunications, digital economy, and biotechnology application.
In addition, he said both sides increase the exchange of business delegations and implement trade promotion programmes to seek investment opportunities and business connections.
Hue expressed his hope that the Austrian business community and the Austrian Chamber of Commerce will lobby the National Council for an early ratification of the EU – Vietnam Investment Protection Agreement (EVIPA) as means of guaranteeing investors' interests, alongside the EU-Vietnam Free Trade Agreement (EVFTA) which has already come into effect.
He also hoped that Austrian businesses would support the Austrian Government to provide vaccines and medical equipment to help Vietnam combat COVID-19.
Emphasizing that Austria can serve as a bridge to help Vietnam access the EU market, Hue said that Vietnam is willing to help Austria penetrate ASEAN, a large regional market of more than 650 million consumers, and a larger market of more than 800 million consumers when the Comprehensive and Progressive Agreement for Trans-Pacific Partnership (CPTPP), to which Vietnam is a member, takes effect.
At the forum, several Vietnamese ministers answered questions from participating businesses and made strong commitments.
Agriculture Minister Le Minh Hoan called on Austrian businesses to invest in agricultural production and processing, noting that Vietnam is switching from high output-based agriculture to green growth-based agriculture.
Meanwhile, Investment Minister Nguyen Chi Dung stressed Vietnam aims to achieve fast and sustainable economic growth, relying mainly on science and technology, innovation and digital transformation, but ensuring its balance and harmony and bringing into full play its capabilities and potential.
Source: VOV
National Assembly (NA) Chairman Vuong Dinh Hue and a high-ranking delegation of the Vietnamese NA left Hanoi on September 5 morning for the fifth World Conference of Speakers of Parliament (WCSP5) in Austria.