NA Committee turns spotlight on financial support for COVID-19 affected businesses and people
The National Assembly Standing Committee yesterday continued discussions about the best ways to support businesses and people affected by the COVID-19 pandemic.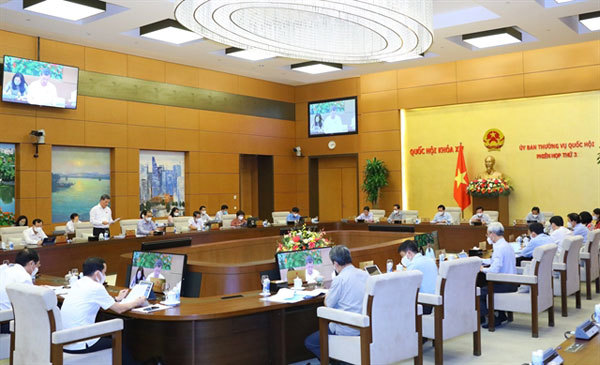 The National Assembly Standing Committee met on Thursday to discuss ways to support companies and people disrupted by the pandemic. VNA/VNS Photo
Minister of Finance Ho Duc Phoc said many solutions have already been implemented. The total amount of tax and budget revenue that had been extended, exempted and reduced according to the policies issued in 2020, has reached about VND129 trillion (US$5.64 billion).
In 2021, the Government submitted to the National Assembly Standing Committee plans to continue the implementation of four solutions for those affected by the pandemic. It includes continuously extending the deadline for paying tax and land rent in 2021; reducing environmental protection tax on jet fuel in 2021; reducing import tax rates for many groups of goods; and decreasing the collection of 30 types of fees for the whole year.
These solutions would be expected to support businesses and people with a total value of around VND118 trillion ($5.16 billion). Of that, the extended amount of tax and land rent would be roughly VND115 trillion ($5.02 billion) and the rest would be from exempted or reduced taxes and fees.
In addition, the State budget has spent more than VND26 trillion ($1.13 billion) for different supportive policies.
However, due to the complicated developments of the pandemic, which has heavily affected businesses and people, especially small and medium-sized enterprises, more solutions would be needed this year, the Minister said.
Chairman of the National Assembly's Finance and Budget Committee Nguyen Phu Cuong presented a verification report, saying that the standing committee agreed with the policy of a 30 per cent reduction in profit tax for businesses with a total revenue for this year that did not exceed VND200 billion ($8.74 million).
He suggested, however, that one more condition should be added to clarify that only businesses whose total revenue decreased this year compared to last year would be eligible for the supportive policies.
However, some deputies said that the additional condition should be removed as businesses that made a profit during the pandemic did so through extreme efforts and should be supported to overcome other financial difficulties as well.
Others members said the authorities should compare the total revenue of 2021 of businesses with their total revenue of 2019 before the pandemic began. Others proposed that the reduction of profit tax must be based on four criteria, which are affected region, affected period of time, affected industry, and damage levels.
Based on those points, businesses could claim profit tax reductions of 30 per cent, 50 per cent, and 100 per cent, depending on their individual circumstances.
Regarding tax reduction and exemption for business households and individuals in the third and fourth quarters of this year, the majority of the members agreed as most households and individuals have had to suspend their business activities since the COVID-19 pandemic became complicated.
Many committee members approved the reduction of value-added tax for businesses in a number of areas such as transport and warehousing services to stimulate consumption and reduce input costs.
The committee agreed with the Government's suggestion to exclude businesses operating in online publishing activities and goods and services supply through online platforms from the affected list.
National Assembly Chairman Vuong Dinh Hue asked the Ministry of Finance to clarify the beneficiaries.
He said there are areas and fields that receive benefits that have seen better growth during the pandemic such as the production of masks, medical equipment and supplies, e-commerce, and online companies.
Hue said the tax authorities would supervise businesses who register for the assistance.
He suggested continuing to review the interest rate credit policy for a number of affected industries and fields that are not yet on the priority list such as aviation, freight and passenger transport, travel agencies, and hotels. Businesses in these fields were facing a lot of difficulties in cash flow, he said.
Also at the meeting, National Assembly Vice Chairman Nguyen Duc Hai confirmed the National Assembly Standing Committee agreed with the proposed supportive policies.
He said the reduction of profit tax for businesses whose total revenue in 2021 did not exceed VND200 billion and total revenue in 2021 reduced compared to that of 2019, would be the benchmark for comparison and policy resolutions in the long term.
Regarding the reduction of value added tax this year, he suggested Government review the areas proposed and make sure online software publishing companies and online goods and services suppliers would not be in the priority list.
On the same day, the National Assembly Standing Committee discussed piloting a number mechanisms and policies for the development of Thanh Hoa Province.
The committee agreed that the annual additional fund for Thanh Hoa Province from the central budget would not exceed 70 per cent of the increase in revenue from import and export activities through Nghi Son seaport.
This is to help infrastructure, evacuation and resettlement in Nghi Son Economic Zone in order to attract investment in key projects in the Nghi Son Economic Zone.
Source: Vietnam News

Vietnam's tax agencies and banking groups are taking more drastic concerted efforts to buttress the domestic economy and foster resilience against the current wave of COVID-19 infections.

Over 11.2 million employees, working at 375,000 businesses, have received a reduction in their insurance premiums for occupational accidents and diseases, worth about VND4.3 trillion (US$187.6 million), according to Vietnam Social Security.