More than 69 million eligible voters to go to the polls on May 23
A total of 69,198,594 voters are eligible to go to the polls on May 23 to elect deputies to the 15th National Assembly and People's Councils of all levels for the 2021-26 tenure.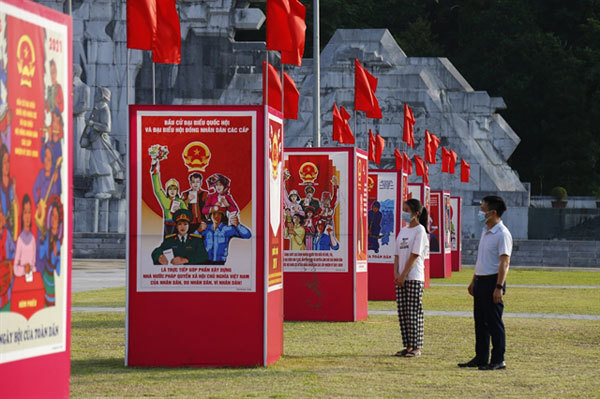 Graphics and panels for the national election day on display at Nguyen Tat Thanh Square, the northern city of Tuyen Quang. — VNA/VNS Photo Nam Suong
Although the COVID-19 pandemic is still a problem in localities nationwide, the National Election Council, Election Committees and election units at all localities have been rushing to finish preparations for election day.
The Vietnam Fatherland Front Central Committee has worked with People's Committees and Election Committees to hold meetings between candidates and voters.
Together with the establishment of election committees at all levels, 184 constituencies have been set up with 84,767 voting stations across the country.
Localities have made and published lists of candidates at polling stations for voters to learn about the candidates' profiles.
They have also developed scenarios for voting to take place safely in far-flung areas and detention camps, and in the event of COVID-19 spreading far and wide.
Local administrations have been told to work closely with their Election Committees to ensure security, social order and safety as well as COVID-19 prevention and control for the election.
Some localities have made response plans to certain situations, for example, if a voter with a fever is reported at a voting station, households under health quarantine will cast their ballots at home, while those in locked-down areas and COVID-19 infectees will cast their ballots in treatment areas.
In some localities, staff working at polling stations will be tested for SARS-CoV-2.
Early voting has been allowed in certain polling stations of 14 cities and provinces including Hai Phong, Can Tho, Ba Ria-Vung Tau, Binh Dinh, Ca Mau, Dak Nong, Hau Giang, Kien Giang, Khanh Hoa, Quang Nam, Quang Binh, Nghe An, Kon Tum and Dak Lak.
Voters in the south-central province of Ba Ria-Vung Tau were the first to go to the polls as early voting was held in five constituencies on May 4.
The voters were officers and soldiers serving on marine platforms and offshore fishermen.
Voters in island and border areas in Khanh Hoa and Quang Nam provinces will go to the polls on May 16.
Eight constituencies for army forces in the districts of Ninh Kieu, Cai Rang, Binh Thuy and O Mon in Can Tho City will vote on May 20.
Ca Mau, Hau Giang, Kien Giang, Nghe An and Quang Binh provinces will also hold early voting on May 21.
Voters at polling stations in seven communes in Dak Glei District, and the border guard station in Dak Xu Commune in Ngoc Hoi District, Kon Tum Province and those in polling stations of armed forces in Ea Sup and Buon Don districts, and Buon Ma Thuot City of Dak Lak Province, will cast their ballots on May 22, a day ahead of schedule.
During early voting, voters can cast their ballots from 7am to 7pm. Local election committees can decide to extend voting hours from 5am to 9pm depending on specific situations of the localities.
The 15th National Assembly is set to hold its first session on July 20 after 500 deputies are elected from 868 candidates.
Most importantly, the new deputies will elect the NA Chairman, Vice-Chairmen, NA Standing Committee members, NA General Secretary, and heads of NA Committees.
They will also elect the State President, Vice State President, Prime Minister, Chief Judge of the Supreme People's Court and Head of the Supreme People's Procuracy.  
VNS

All localities across the country have been ready for the general election, an important political event of the country which is slated for May 23, said Bui Van Cuong, General Secretary of the National Assembly and Chairman of the NA Office.