Government encourages localities, units to procure vaccines against COVID-19
Prime Minister Pham Minh Chinh has assigned the Minister of Health to announce the encouragement of localities and organisations to procure vaccines against COVID-19.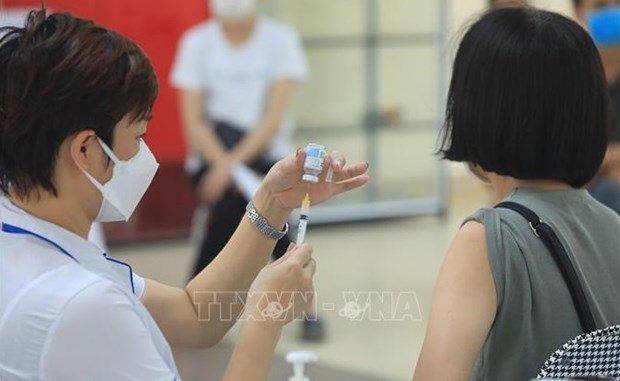 People get vaccinated against COVID-19.
The move came after the People's Committee of southern Dong Nai province, which is currently hit hard by the pandemic, recently sent a document seeking to the PM's permission of the Donacoop Company to import the vaccine against COVID-19 from Pfizer.
The Ministry of Health is tasked with managing the licensing, quality control and preservation of vaccines, and offering free injections for people.
In the past time, the ministry has coordinated with all ministries and sectors and encouraged all localities, businesses and units to participate in the search for and import of COVID-19 vaccines to vaccinate people in a fastest, earliest and most widely manner.
The Health Ministry will create maximum conditions for all localities, units and businesses in the process of importing, licensing the import and accreditation of vaccines. In case the manufacturer requests for exemption from liability, the ministry will be responsible for reporting to the Government and it will be the Government agency to implement the requirement.
In case enterprises are unable to vaccinate people, the ministry will direct the State vaccination system to conduct the inoculation.
It will minimise the processing time of implementing administrative procedures, but still ensure the quality of vaccines and vaccine safety, and prevent counterfeiting of vaccines./.
Source: VNA