Deputy PM requires efforts to prevent disruption of production chains in pandemic-hit areas
Deputy PM Vu Duc Dam asked for efforts to prevent the interruption of production chains in COVID-19-hit localities at a virtual meeting with leaders of Bac Giang and Bac Ninh provinces, the current biggest COVID-19 hot spots of COVID-19 today.
He said that the localities should consider piloting home quarantine under supervision for F1 cases if their quarantine facilities become overload.
Currently, after isolating outbreaks in the community, Bac Ninh has been making efforts to keep industrial parks (IP) operating, according to Chairwoman of the provincial People's Committee Nguyen Huong Giang.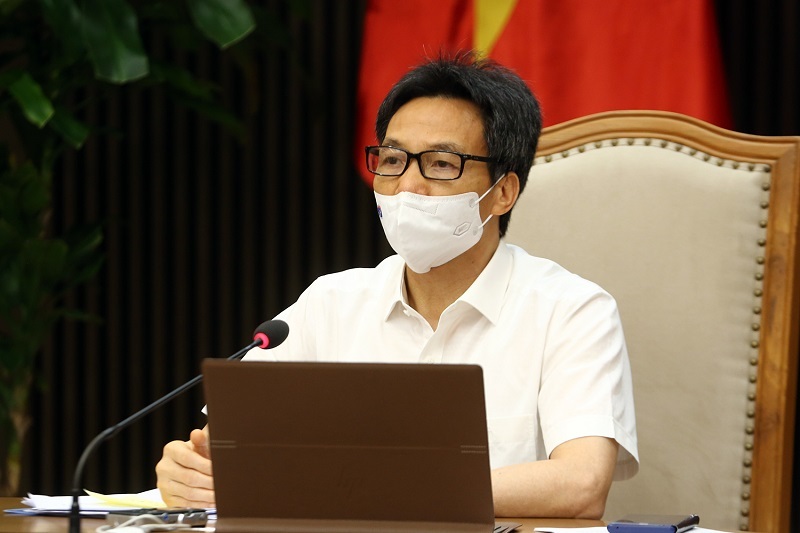 Deputy Prime Minister Vu Duc Dam
She said that as of May 20, Bac Ninh has detected 371 COVID-19 cases in eight districts and Bac Ninh city, including six in IPs.
Bac Ninh IPs have nearly 500,000 workers, she said, adding that the locality's testing capacity is still below the requirement.
However, Bac Ninh is determined to avoid the closure of IPs by applying strict preventive and control measures, Giang stressed.
Meanwhile, Bac Giang reported that the number of infections will rise in coming days, but all in quarantine facilities.
According to Chairman of the Bac Giang People's Committee Le Anh Duong, after closing four IPs and applying social distancing in four districts and Bac Giang city, the province has managed to monitor all workers related to the outbreaks and focused on preventing the pandemic from spreading to the community.
He said that currently, the risks of COVID-19 spreading come from local IPs and the outbreak in Thuan Thanh district of the neighbouring province of Bac Ninh.
The COVID-19 testing capacity of Bac Giang has reached 100,000 samples per day, he said, adding that the province has eight hospitals with 1,280 beds for COVID-19 treatment, while another temporary hospital with 300 beds will be launched on May 25, and another 600-bed hospital is being set up.
Deputy PM Dam, who is head of the National Steering Committee for COVID-19 Prevention and Control, said that Bac Giang should review each company in IPs, and allow those which effectively enforce COVID-19 prevention and control regulations to resume operations, especially those engaging in the supply chain for large-scale and multinational groups like Samsung.
He asked Bac Giang to install camera system and other technology tools in quarantine sites, and Bac Ninh to consider piloting home quarantine for F1 cases when concentrated quarantine sites are overload.
Along with improving its testing capacity, Bac Ninh should consider to give workers instruction on how to take their samples themselves for quick testing under medical supervision, he suggested.
The Deputy PM added that the two provinces should expand health declarations in the community, towards having all residents make such declarations./. VNA

The Government has issued Resolution No. 09 dated May 18, 2021 on the purchase of Covid-19 vaccines.