Defence cooperation is pillar in Vietnam-Myanmar ties: Myanmar Vice President

Myanmar has attaches much importance to developing the comprehensive cooperative partnership with Vietnam, with defence collaboration described as an important pillar in their relations, said Myanmar Vice President Myint Swe on September 25.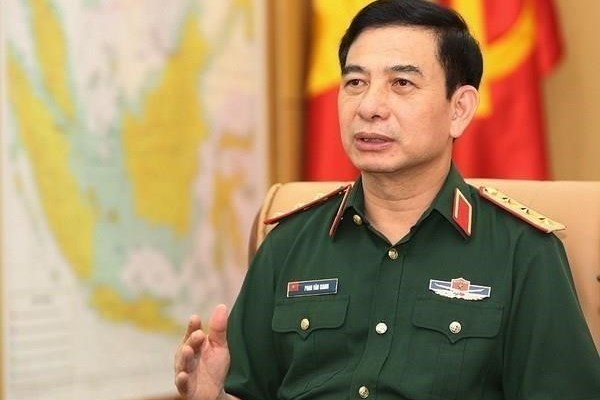 Sen. Lieut. Gen. Phan Van Giang is leading a high-ranking Vietnamese military delegation to visit Myanmar from September 24-27.
He made the statement while having a meeting on September 25 with Sen. Lieut. Gen. Phan Van Giang, Chief of the General Staff of the Vietnam People's Army and Deputy Minister of National Defence, who is leading a high-ranking Vietnamese military delegation to visit Myanmar on September 24-27.
Myint Swe affirmed that the Myanmar Government will continue support, and create favourable conditions for the bilateral defence ties to further develop for the benefit of the two peoples.
Giang, for his part, laid stress on the long-lasting diplomatic relations with Myanmar, and thanked the Myanmar Government for supporting Vietnam during the struggle for independence in the past and national construction and safeguarding at present.
Earlier the day, Giang had a meeting with Senior General Min Aung Hlaing, Commander-in-Chief of the Myanmar Armed Forces, during which he stressed the Vietnamese Party, State and Government always treasure and develop the traditional friendship and comprehensive cooperative partnership with Myanmar.
In the past years, both sides have maintained collaboration in 12 prioritised fields, he said, adding Vietnam is currently the 10th largest trade partner of Myanmar, and they are working towards a trade value of 1 billion by 2020.
At the meeting, the host and guest agreed that the bilateral defence relations have developed strongly on the basis of the defence cooperation agreement signed in 2011. Particularly, collaboration in several areas like delegation exchanges at all levels, training and military medicine has surpassed expectations.
They reached consensus on promoting the cooperative potential through naval ships' visits, cooperation between border guard forces to fight drug crimes, and collaboration in defence industry.
Min Aung Hlaing expressed his belief in the success of the Viettel Military Industry and Telecoms Group in Myanmar, and pledged support for the group's operations.
He also voiced support for Vietnam when the nation plays the role of the ASEAN Chair in 2020./. VNA