ASEAN to move forward under Vietnam's chairmanship

Despite confronting a lot of challenges, Thailand has mobilised all resources to ensure the success of its ASEAN chairmanship, said Sihasak Puangketkaew, former Permanent Secretary of the Ministry of Foreign Affairs of Thailand.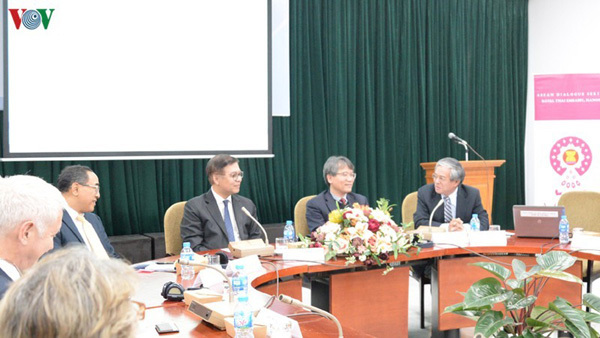 Local and international experts at a dialogue held in Hanoi on Monday. — Photo vov.vn
Speaking at a dialogue held in Hanoi on Monday entitled 'Driving ASEAN forward: From Thailand's chairmanship in 2019 to Vietnam's cohesive and responsive ASEAN 2020', the former senior official to the Association of Southeast Asian Nation (ASEAN SOM leader) of Thailand said the country took over chairmanship amid the trade war between the US and China and weakening globalism.
Thailand elected a civilian government which helped ensure peace and political stability for the country, he said.
"I think we've had a successful chairmanship. We did our best to do the work built upon from previous chairmanship of Singapore," Sihasak said.
Thailand also oversaw the conclusion of negotiations for the Regional Comprehensive Economic Partnership (RCEP) between ASEAN countries and partners.
Although the agreement has not been signed because India dropped out at the last minute, it marked a milestone in the economic integration of all participants, particularly given rising protectionism, he said, adding that he hoped the agreement would be signed during the chairmanship of Vietnam.
According to Sihasak, there are some outstanding issues that weren't solved during Thailand's chairmanship.
Despite the fact that the ASEAN Community was established in 2015, a lot still has to be done to promote the community including the growth of digital economy among ASEAN, he said.
How to maintain the sustainability was also a problem, he said, emphasising the need for sustainable development.
Sihasak said connectivity should be reinforced. He mentioned the importance of enhancing connectivity within ASEAN and between ASEAN and other partners such as Japan and the Republic of Korea to create momentum for regional economic integration.
Pham Quang Vinh, former deputy Foreign Minister and former ASEAN SOM leader of Vietnam, said taking over the chairmanship from Thailand would allow Vietnam to affirm the role and spirit of ASEAN.
The country would have to cope with the impact of trade wars, the Fourth Industrial Revolution as well as traditional and non-traditional challenges, he said.
"The theme of ASEAN 2020 'Cohesive and Responsive' showed our wish to have an ASEAN standing firm to impacts of the regional and global situations.
"Vietnam wants ASEAN to unite in all fields including institutions, economy and people, from which ASEAN can reach a common view on global and regional issues," he said.
During the ASEAN chairmanship in 2020, Vietnam will promote five priorities, Vinh said.
The country will promote the role and contribution of ASEAN to maintaining peace, security and stability in the region on the basis of strengthening the bloc's unity, he said.
He also mentioned hopes to bolster partnerships for peace and sustainable development with all countries and promote ASEAN's role to the international community.
Vietnam aims to promote regional connections and enhance the region's ability to take advantage of the Fourth Industrial Revolution.
The nation will raise public awareness about ASEAN's identity and improve the adaption and efficiency of ASEAN and institutional reform.
When asked about his comment on the chairmanship of Vietnam, Sihasak said: "We have high expectations of the chairmanship of Vietnam as we're confident in the ability of Vietnam."
The dialogue was organised by the Diplomatic Academy of Vietnam and Royal Thai Embassy in Hanoi. — VNS

Defence Minister General Ngo Xuan Lich hailed Thailand's role in promoting defence cooperation among ASEAN member states at his meeting with Thai Defence Minister General Prawit Wongsuwan in Bangkok on July 10.

Vietnam is ready to take over the ASEAN Chairmanship for 2020 with the highest sense of responsibility, said Deputy Foreign Minister Nguyen Quoc Dung, reiterating Prime Minister Nguyen Xuan Phuc's statement.