55 public services to be provided on National Public Service Portal
The Prime Minister has approved a list of 55 online public services that need to be provided on the National Public Service Portal in 2021.
Among these are public services related to the issuance, re- issuance, and change of identity cards; identification of the identity card number after citizens are granted new-form identity cards; registration of permanent and temporary residence; declaration of temporary absence; notice of residence; birth and residence registration, issuance of health insurance cards for children under 6 years old; and granting of ordinary passports.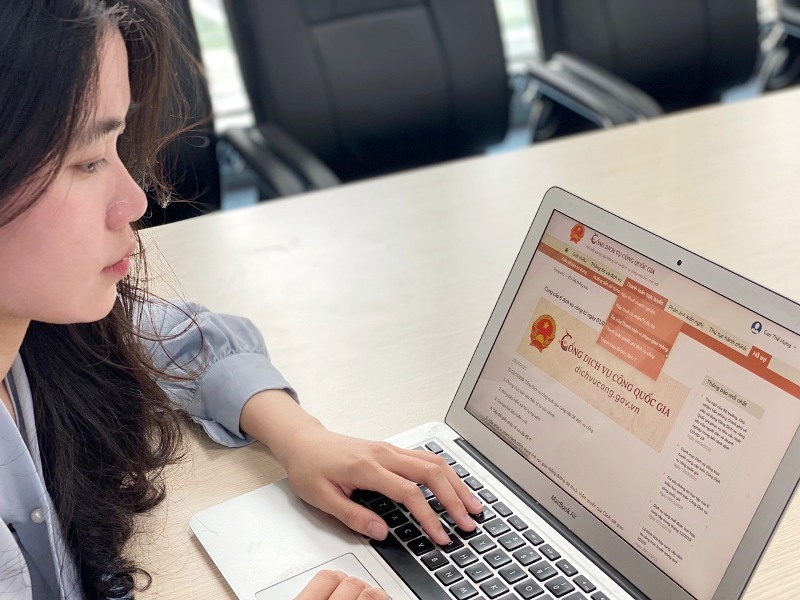 The National Public Service Portal includes many online public services of ministries, state agencies and localities to better serve the people.
The list also includes 44 services belonging to the group of essential online public services such as: Renewal of temporary residence, granting of visa for foreigners in Vietnam; granting of construction permits for individual houses; provision of information on construction planning; registration for national high school graduation exam and application for university and college entrance exams; registration and issuance of number plates of motorcycles; change of driving licenses issued by the transportation agency; payment of tuition fees; payment of hospital fees…
In addition to the online public services listed above, the Prime Minister also requested that Ministers, Heads of ministerial agencies, General Director of the Vietnam Social Security and Chairs of provincial and municipal People's Committees to approve the list, roadmap and responsibilities of affiliated agencies and units in integrating and providing online public services, online payment under their management on the National Public Service Portal in 2021, ensuring the minimum rate as prescribed in Resolution 01 dated January 1 2021 of the Government.
Specifically, in Resolution 01, the Government assigned the following targets: The rate of online public service provision at levels 3 and 4 of the total number of administrative procedures under the jurisdiction of ministries, state agencies and localities on the National Public Service Portal must increase by 20% compared to 2020.
Ministries and provinces continue to promote online public services.
According to the Government Office's report at the National Committee for E-Government's regular meeting on March 10, one of the highlights in the e-government building of Vietnam in the last two years was the inauguration of the National Public Service Portal on December 9, 2019.
As of March 8, 2021, more than 2,800 out of a total of nearly 6,800 public services had been provided through the portal at four administrative levels. The portal has received over 116 million visits and more than 468,000 registered accounts. More than 940,000 administrative documents were processed online through the portal, while 67,000 e-payment transactions were made with a total amount of VND26.7 billion.
The portal also received more than 10,000 feedback responses. The portal has helped save more than VND 8.1 trillion ($351.53 million) each year, along with over VND1.2 trillion each year in paper and delivery costs.
So far, the national reporting information system has been connected to the systems of 14 ministries and agencies as well as 37 localities, helping save about VND9.9 trillion each year according to the calculation used by the Organization for Economic Co-operation and Development (OECD).
MT

Administrative reform has been thoroughly implemented at all levels and helped save more than 18 million working days each year, equivalent to over VND6.3 trillion ($274.32 million) of social expenditure, Deputy PM Truong Hoa Binh has said.

After two years implementing Resolution No. 17/NQ-CP on e-government, Vietnam has made great progress, adopting a new approach to solving bottlenecks and problems that have existed for a long time.