Vietnam stresses settlement of maritime disputes by peaceful measures

Pham Hai Anh, Vietnam's representative to the United Nations, on December 10 affirmed Vietnam's consistent stance that all disputes should be settled via peaceful measures, in line with international law.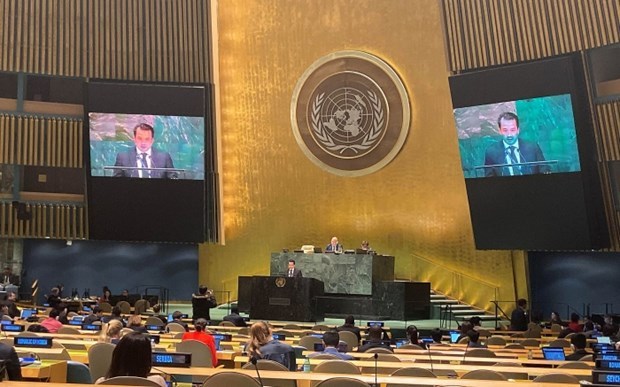 Vietnamese representative to the UN speaks at the 74th session of the UN General Assembly in New York. (Photo: baoquocte.vn)
While speaking at a plenary meeting on oceans and the law of the sea of the 74th session of the UN General Assembly in New York, Anh said the settlement of disputes should also respect diplomatic and legal processes and not use or threaten to use force.
He stressed the role of the UNCLOS as a constitution on oceans and the sea, especially in waters with disputes like the East Sea, over the past 25 years.
As a coastal country, Vietnam is well aware that the peaceful and sustainable use of the sea is a vital condition for sustainable development, he said.
He went on to say that Vietnam calls on all countries to fully observe regulations of the UNCLOS and related agreements, and respect the rights of coastal countries in waters defined in the convention, including maritime economic activities.
The official also expressed Vietnam's concern over the recent events in the East Sea, which have seriously violated the sovereign right and jurisdiction of Vietnam.
Vietnam appeals to concerned parties not to repeat such violations and avoid unilateral activities that exacerbate tensions in the East Sea, and urged efforts to ensure safety and security of navigation and aviation in the waters.
All parties need to exercise restraint, not militarise or carry out activities that may complicate the present situation or expand and increase disputes, while fully implementing the Declaration on the Conduct of Parties in the East Sea (DOC) and working for the early completion of an effective and pragmatic Code of Conduct in the East Sea (COC), Anh said.
The plenary meeting looked into the UN Secretary General's reports on oceans and the law of the sea, as well as relevant draft resolutions.
Many countries such as the US, Germany, Japan and Australia also touched upon the disputes in the East Sea and raised their concern over claims of historic rights, and historical claims towards maritime resources.
They shared the view that all claims must conform to international law, including the UNCLOS, and affirmed that the freedom of navigation and aviation must be guaranteed.
They also called on parties to address international disputes without force or threats.
At the end of the meeting, the 74th session of the UN General Assembly adopted annual resolutions on sustainable fisheries, and oceans and the law of sea./.VNA