Vietnam requests businesses to respect its sovereignty over Hoang Sa, Truong Sa
Vietnam requests that businesses respect the country's sovereignty over Hoang Sa (Paracel) and Truong Sa (Spratly) archipelagoes, as well as its sovereignty, sovereign right and jurisdiction over related waters in the East Sea, 
said Foreign Ministry's spokeswoman Le Thi Thu Hang at the ministry's regular press conference in Hanoi on April 8.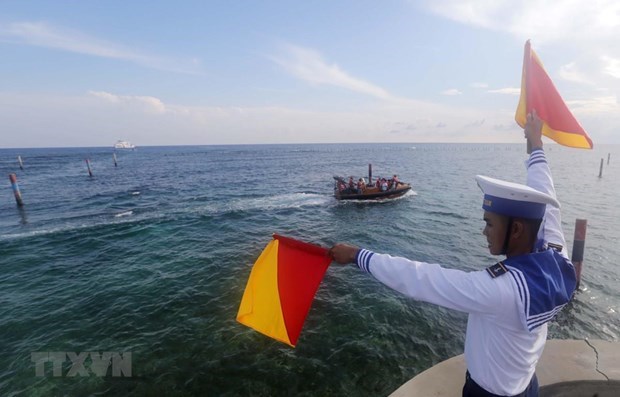 A Vietnamese naval officer  
Commenting on several foreign brands' use of maps showing the illegal nine-dash line on their Chinese-language websites, Hang stressed that as affirmed many times before, Vietnam has sufficient historical evidence and legal ground to affirm its sovereignty over Hoang Sa and Truong Sa in line with international law, as well as sovereignty, sovereign right and jurisdiction over relevant waters in the East Sea as defined in accordance with the 1982 United Nations Convention on the Law of the Sea (UNCLOS).
Every form of propaganda to spread things that are against historical truth and international law is valueless and will not be able to change the truth about Vietnam's sovereignty over Hoang Sa and Truong Sa, as well as the East Sea issue, she said.
About Vietnam's stance on recent developments in the East Sea and related issues, including Chinese vessels' operation in the Bai Ba Dau (Whitsun Reef) in Vietnam's Truong Sa, the spokeswoman affirmed that Vietnamese competent authorities always keep a close watch over developments in the East Sea, and protect and enforce the country's sovereignty, sovereign right and national jurisdiction at sea and in Vietnamese waters in accordance with international law and the 1982 UNCLOS.
She made it clear that peace, stability, cooperation and development in the East Sea is the common aspiration and goal of countries in the East Sea, in the region and of the international community. The respect for legal order at sea and the full, consistent, good-will and responsible implementation of the 1982 UNCLOS hold significance to achieving such goals.
Vietnam calls on countries to contribute to maintaining peace, stability and cooperation in the East Sea, follow international law and the UNCLOS, seriously abide by the Declaration on the Conduct of Parties in the East Sea, especially the obligation to exercise self-restraint, refraining from complicating the situation, creating a favourable environment for the negotiations on an effective and efficient Code of Conduct in the East Sea, thus contributing to fostering trust, maintaining peace, stability, and promoting international order at sea and security, safety, navigation freedom in the East Sea, she said.
Vietnam yet to issue specific entry requirements for vaccinated people
Vietnam has not yet issued specific entry requirements for people who are vaccinated against COVID-19, Foreign Ministry spokesperson Le Thi Thu Hang said.
As some countries have applied the "vaccine passport", per request of the Prime Minister, relevant agencies are assessing and proposing suitable measures for this issue, she said.
"The Ministry of Foreign Affairs is working with relevant agencies to study the experience of other countries so as to devise appropriate entry and exit policy, towards the dual targets of curbing the spread of the pandemic and bolstering socio-economic development," Hang noted.
"Vaccine passport" is a certificate granted to people who have received two full doses of a COVID-19 vaccine. In some countries, holders may not stay in quarantine and undergo COVID-19 testing.
Vietnam is working with countries in the approval of the document via QR code, based on either health insurance number or ID card number.
The QR code may also be valid when the vaccinated travel abroad.
Spokeswoman reiterates consistent foreign policy of independence, self-reliance
Vietnam will consistently pursue the foreign policy of independence, self-reliance, multilateralisation and diversification of relations, including deepening ties with partners in an effective and sustainable manner with intertwined interests, said Foreign Ministry's spokeswoman Le Thi Thu Hang.
"The entire political system, including the Vietnamese Government, will follow the policy," she affirmed while answering reporters' questions about the prospect of Vietnam's ties with major powers in the near future.
About the Vietnam – US trade ties, she asserted that the Vietnamese Government treasures economic and trade ties with the US as well as seriously implement high-level commitments, bilateral agreements and multilateral trade commitments to which Vietnam is a member. In such spirit, the Vietnamese authorities actively worked with the US partners to deal with problems in bilateral economic and trade ties.
Vietnam will continue maintaining dialogues and consultations in a constructive manner with the US, thereby sustaining stable trade relationship towards a harmonious, sustainable and mutually beneficial trade balance, she said.
As regards Vietnam's hosting of the 31st Southeast Asian Games later this year and measures to ease concern over the COVID-19 pandemic, Hang said according to the Ministry of Culture, Sports and Tourism (MCST), the tournament is scheduled for November 21 – December 2. Another event will be the 11th PARA Games slated for December 17-23.
The MCST is partnering with the Health Ministry, other ministries, agencies and localities to prepare scenarios suitable to pandemic situations in the country and the region, ensuring that the pandemic is under control, she said. VNA