Those who never grew old, who lie in Truong Sa

To set up landmarks and maintain sovereignty over 33 military posts in the Truong Sa islands (Spratly), blood, sweat and tears of many generations have been sacrificed.
Far from home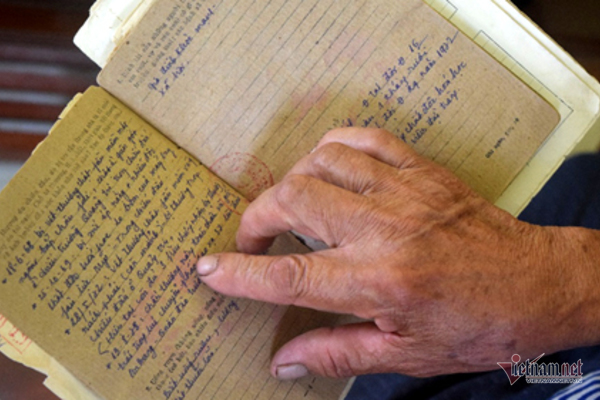 Note of wounds by Colonel Pham Cong Phan
Colonel Pham Cong Phan can never forget the days of landmarking and developing over Truong Sa (known internationally as the Spratly Islands) from 1978 to 1985.
At that time, he undertook the task of overseeing landmarking and building a series of islands from Sinh Ton Dong to Truong Sa Dong, An Bang, Phan Vinh ... Although having to endure long hard times, he considers this to be a necessary part of military life. He always kept an optimistic outlook to raise the morale of fellow soldiers.
Colonel Phan recalled that other than local mangroves, the island did not have any edible plants, which made him crave vegetables like a fish craves water. Seafood is abundant but inedible because of the lack of fibre, which makes their proteins difficult to digest.
Because many islands are located far from the coast, given the economic difficulties and limited means at the time, means ships transporting provisions only arrive once a year. Adding to the difficulties, often ships cannot get close to the islands and have to anchor 2 to 3km away. Food, fresh water and other products received from inland would then not be used for a year, as priority must be given to finish old provisions first.
To the islanders, freshwater was like gold. Often when the ships reach the islands, the water transported mixes with a quarter of saltwater on the way. Because anchored far way, water reserves need to be carried to the island by aluminum boats which allows waves to mix with the freshwater even more. Nevertheless, the soldiers stationed on the island are happy with clear water that is less salty.
Saving fresh water was a permanent task. Every day the company commander opened a 'warehouse' to give each soldier a water shift, mostly for drinking water. Using this water sparingly was a permanent task, and rationed daily to soldiers who mostly use it to drink.
Mrs. Ho Thi Lai
New recruits dispatched to the islands usually put on much weight during their first year, as apart from guard duty, they spent a lot of time sleeping. However, they stopped putting on weight in the second year and became rather skinny in the third due to living off only canned food and not fresh meat and vegetables.
The difficulties that the soldiers faced on the island cannot be adequately recounted within only a few days. But the soldiers were not so easily subdued. Many older generations completed the immense task of marking dozens of new islands, building strong foundations and developing these islands in the middle of the ocean.
Young soul, only 25, rests in Truong Sa
The ID card of martyr Le Van Xanh
During the battle on March 14, 1988 in Gac Ma reef, 64 soldiers were killed in action while marking the territorial sovereignty of Vietnam at Sinh Ton Island. Most of them were 20 years old, each with their own future plans and aspirations, but ended up under the sea.
At the time, eight soldiers from Da Nang city heard the disturbance and took off to join the battle, seven of whom heroically lost their lives.
Mrs. Ho Thi Lai, mother of Truong Quoc Hung, a deceased soldier, recounted his story to me through tears. Hung enlisted when just around twenty. They were very poor at the time. Mrs. Lai rode to work night and day on her bike, making only enough to buy some rice to make into a porridge which the whole household shared. Now conditions have improved for her, but her son lies forever at the island.
Barely able to conceal his own sorrow, Mr. Le Van Xanh spoke of his own son Xuan: "He was very young back then, only just over 20."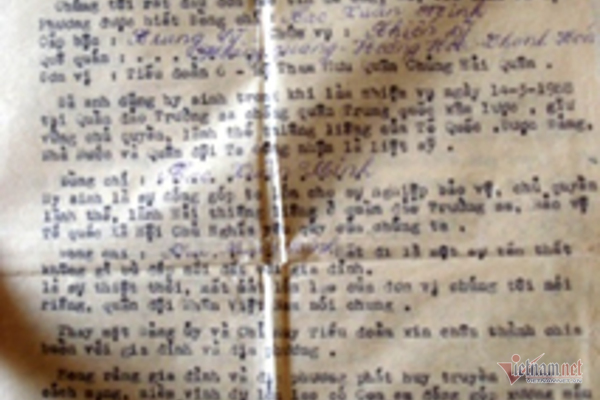 The letter of sorrow of the military unit of martyr Cao Xuan Minh
The day before leaving for the island, Xuan wrote a letter full of pride to his family, and a message to his girlfriend. Little did they know it would be his last. Overcome with grief, his lover asked to set up his altar at her house.
Father of deceased soldier Cao Xuan Minh (Thanh Hoa Province), who joined the ranks in 1986, recalled that his wife, who had suffered from mental illness which was relieved through treatment, upon hearing the news of their son's death, relapsed and could never be saved again.
In what was left of her memory, Minh was the most handsome boy in the house. He enlisted while only in his twenties. He was full of optimism and loved life, and was very filial to his parents. He wrote home at every opportunity when given breaks from training. Their only mementos of him are his letters which have gone yellow with time.
Mr. Dien trembled as he turned over the old pages for us to see. He had not even had the chance to love at the age of 20. He packed his bags to leave to serve his duty, but never returned. Now, only his parents remain with their broken memories of him, their eyes falling over his old pictures in inconsolable sorrow.
Among those who fell to protect the seas and islands of their homeland, many of them were young soldiers. They cannot return, cannot fulfill their promises to another, carry out their plans and ambitions, but remain with Truong Sa, lying in the sacred soil of their country.
Nguyen Sa (Hoang Sa Data Centre)