New book on offshore archipelago published

A new book by journalist Nguyen Viet Ton on the Truong Sa (Spratly) Archipelago has just been published by Literature Publishing House.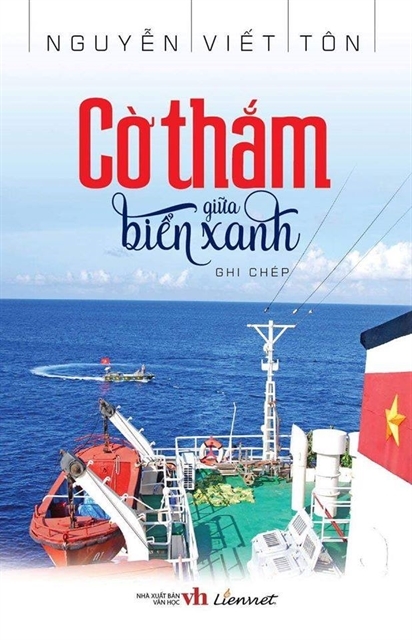 Cover of the newly-published book. — Photo courtesy of the author
As a journalist for the Vietnam News Agency's Tin Tức (News) newspaper, Tôn has been to the archipelago twice in 2010 and 2018.
His 27 pieces of writing in the book tiled Cờ Thắm Giữa Biển Xanh (Red Flag in the Middle of a Blue Sea) are not simply memories of a journalist, they are valuable material for readers, noted writer Sương Nguyệt Minh.
"I had to find a fresh way to write about Trường Sa," said Tôn. "Before me, many writers and journalists have written a lot of pieces on life on the archipelago."
Most of his pieces focus on issues of island sovereignty, sea security, preventing smuggling at sea, from which the roles of navy soldiers, marine police, marine patrol force and fishermen are highlighted.
He has featured real people and real situations happening in the area, together with impressive "delicacies" of the archipelago like the flower of the fish poison tree (with Latin name: Barringtonia asiatica), a typical tree of the tropical islands; magnificent sunsets and pristine beaches.
"Writing on sea sovereignty, writers should be determined but sometimes flexible," commented writer Sương Nguyệt Minh. "He has shown his opinions on the issues, like an international commentator with strong arguments."
In his first book, Tôn has chosen his own way to approach history, characters and events not only through his observations, notes, sound and video recordings, but also through story tellers, who may include strategic-level leaders like Senior Lieutenant General Nguyễn Trọng Nghĩa, Major General Trần Việt Khoa, Major General Hoàng Văn Đồng, Brigadier General Nguyễn Văn Tương, Brigadier General Doãn Bảo Quyết and Brigadier General Nguyễn Văn Thăng.
"Thus his pieces surpass normal memoir level, reaching a higher level of generalisation," writer Minh noted. "Readers believe in what is happening in the book."
The book was released on the 32nd anniversary of Gạc Ma Navy battle between the Vietnamese army and Chinese invaders (March 14, 1988).
"I hope he continues to write realistic pieces that contribute to encouraging people working and guarding the sea," said Rear Admiral Đặng Minh Hải – Deputy Political Commissar of Việt Nam Navy Troop. "He has helped mobilise spiritual and material strength to the cause of protecting sea and island sovereighty."
"The book bears both characteristics of news and profound analysis," said writer Minh. "It's a worthwhile book to read among many published recently." — VNS