Naval troops prepare on land for dangers of the sea
Soldiers in Brigade No.167 of Naval Region 2 undergo hard on-land physical training to make them stronger and adaptable to the harsh working conditions at sea.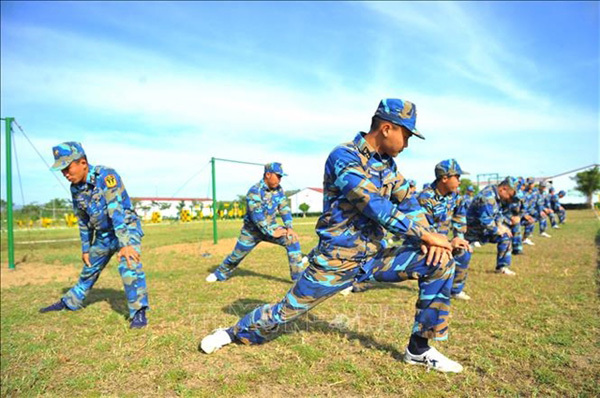 An on-land physical training course of soldiers in the Brigade No.167 of Naval Region 2.
Artillery-Missile Ship Brigade 167 under the Vietnam People's Navy was established on July 12, 2013. The brigade, outfitted with many modern weapon systems, is a strategic unit that can operate independently or in coordination with other units in naval campaigns to protect the country's sea and island sovereignty, covering the waters from the south of Binh Thuan Province to Bac Lieu Province along with Vietnam's southern continental shelf.
Visiting the brigade's training area, Vietnam News Agency reporters had a chance to see naval soldiers do on-land physical exercises.
Their exercise ground is very wide, square and flat with a full range of exercise fitness equipment for obstacle crossing, wall climbing, horizontal rope swing, single-beams, double-beams, three-step jump, running, long jump, weightlifting, bodybuilding, football, volleyball, and badminton.
Among various equipment is strange wing-shaped equipment that soldiers have to stand and move on it instead of sitting.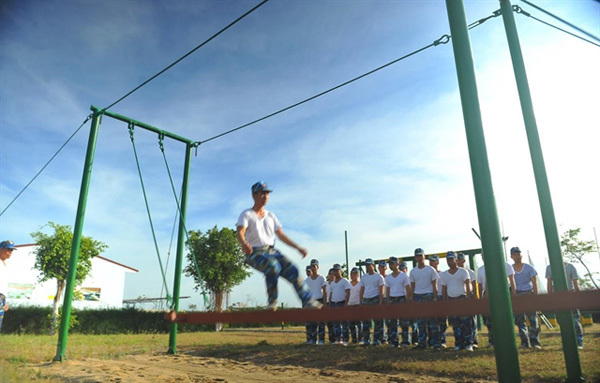 Lieutenant Nguyen Canh Ngoc keeps balance on the wave bridge - a big challenge to many naval during their on-land physical training.
"It's like crossing a bridge amid waves," Major Nguyen Tuan Thanh, captain of the Ship 380 said, adding that the game was one of biggest challenges for many soldiers.
"The swing keeps moving horizontally and vertically and soldiers are not allowed to hold anything. We must completely rely on our balance ability," said Thanh.
The 'wave bridge' course aims to train the navy soldiers to withstand waves and winds at sea.
The 'wave bridge' required innate ingenuity plus elaborate practice, Thanh said, adding that the game was not simple as it looks.
In order not to fall off, the swinging person must co-ordinate the movements of their arms, legs and body to keep balanced.
The height of the 'bridge' is adjustable depending on the requirements of the training session. At its highest, the 'wave bridge' is 1 metre from the ground and this is a great challenge even for anyone.
Thanh said the 'wave bridge' simulated a ship at sea, being swayed almost all the time and the training helped sailors get used to life at sea.
Lieutenant Nguyen Canh Ngoc from central Nghe An Province, who is head of Radar Information Branch on ship 380, is well known in the brigade for his hard work.
Besides official training time, Ngoc spends his free time training to sharpen his skills.
"We stay and work on sea almost all of our time in any kind of weather and sea conditions," he said.
"The skills must be sharpened regularly," Ngoc said.
"To gain a high score in the 'wave bridge', I must expend a lot of time, effort and sweat," he said.
Another big challenge for many soldiers is the equipment featuring an iron circle with a diameter of nearly 2 metres that can rotate clockwise or forward.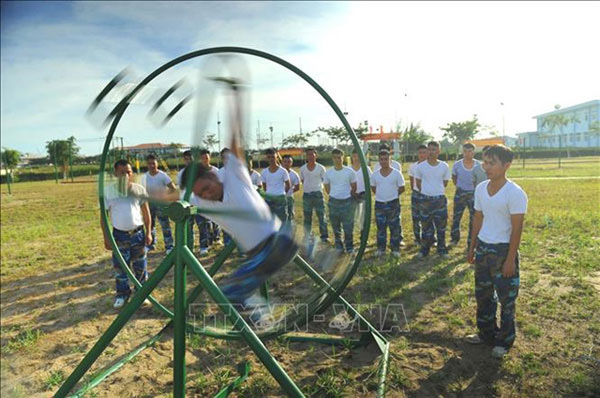 The iron circle keeps moving clockwise and back. — VNA/VNS Photos Minh Duc
"The game helps us to be more adaptive to the conditions when we work in a narrow cabin of the ship and strong winds plus big waves are screaming outside. We just feel everything thanks to the ship's shake," Lieutenant Colonel Dang Xuan Phuong, Deputy Chief of Staff of the Brigade 167 said.
"Practice makes perfect. Everyone can complete the game, some are quick, others slower and must work harder," he said, adding that when soldiers master the skill, they could move faster.
Lieutenant Nguyen Van Thang said when he started practising the circle, he could do about 15-20 rounds and then he felt sick.
"I used to be so dizzy that I could not stand on my feet and did not want to eat," he said.
Day by day, he increased the number of rounds, Thang said, adding that, now, he could do about 200 rounds.
"The skill helps me stay more conscious and keep my balance better when working at sea," he said.
"We – young soldiers – keep in our mind that hardship with sweating on the exercising ground will help reduce bloodshed on the battlefield," he said, adding that learnt lessons from generations before were still correct.  VNS

The Vietnamese navy has been developing fully with five service branches: surface ships-submarines, coastal defence missiles, naval commando, naval aviation and marine corps.

Naval Infantry Force performs its roles of defending islands, landing on shores or islands occupied by enemies, protecting Vietnam's sovereignty over territorial sea and land.