Japan, Canada call for compliance to UNCLOS in resolving East Sea issues
Japanese Foreign Minister Motegi Toshimitsu on July 12 issued a statement calling on relevant sides to comply with the Permanent Court of Arbitration (PCA)'s ruling in settling disputes in the East Sea.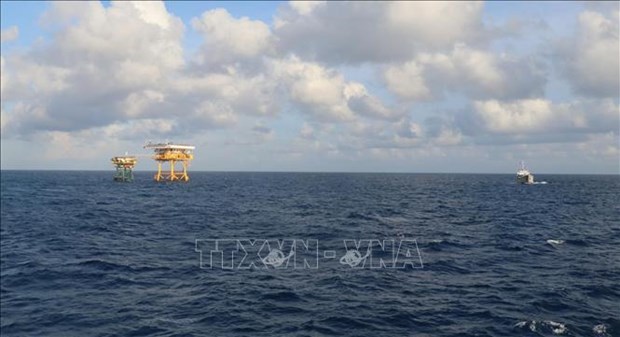 Vietnam's Que Duong defence platform on the East Sea (Photo: VNA)

The ruling on the waters was issued on July 12, 2016 by the PCA, which is based in The Hague (the Netherlands).
In the statement, Japan renews its objection to any maritime claims in the region that are inconsistent with the 1982 United Nations Convention on the Law of the Sea (UNCLOS).
As the PCA's ruling is final and legally binding on the parties to the dispute under the provisions of the UNCLOS, the parties to this case, are required to comply with the award, Motegi said.
"Given the universality and comprehensiveness of UNCLOS, all maritime claims must be based on the relevant provisions of UNCLOS," the statement read.
Japan remains seriously concerned about the current situation and reiterates its strong opposition to unilateral attempts to change the status quo by force or coercion.
The Foreign Minister said that Japan will continue working in coordination with ASEAN and other countries concerned to maintain and strengthen the maritime order based on the rule of law, and to realise a free and open Indo-Pacific.
On the same day, the Global Affairs Canada, the department that manages Canada's diplomatic and consular relations, also issued a statement in which it reiterates the need for all involved parties to comply with the ruling, stating that the decision is a significant milestone and a useful basis for peacefully resolving disputes in the waters.
Canada calls on all states to live up to previous commitments made in the 2002 Declaration on the Conduct of the Parties in the East Sea.
The country voiced its support for lawful commerce, navigation and overflight rights, as well as the sovereign rights and jurisdiction of coastal states in the waters, exercised in accordance with international law, including the UNCLOS. These principles are essential to a secure, stable and prosperous Indo-Pacific region, the statement said.
"Canada is committed to defending and revitalising an effective rules-based international order, including for the oceans and seas, and to the peaceful resolution of disputes in accordance with international law," the statement affirmed./.
Source: VNA