Hoang Sa island district has first Vice Chairman
The central city of Da Nang on June 30 announced the appointment of the first Vice Chairman of the People's Committee of its Hoang Sa island district. ​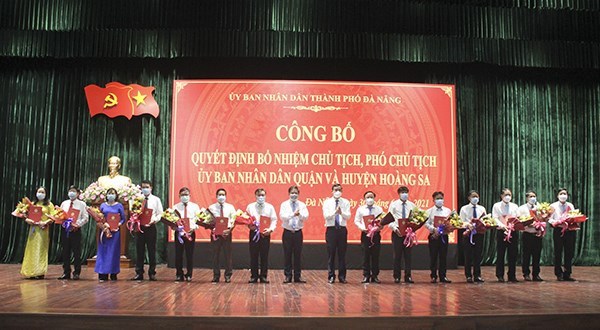 The Da Nang city People's Committee on June 30 announced decisions on the appointment of  Chairpersons and Vice Chairpersons of its districts. (Photo: VNA)
Le Phu Nguyen, Deputy Director of the municipal Department of Home Affairs and Office Chief of Hoang Sa district's People's Committee, will serve as Vice Chairman of the district People's Committee for the 2021-2026 tenure.
Meanwhile, Vo Ngoc Dong, Director of the Department of Home Affairs and Chairman of Hoang Sa district's People's Committee in the 2016-2021 tenure, was re-appointed as the district's Chairman for the 2021-2026 tenure.
Also at the ceremony, the municipal People's Committee announced decisions on the appointment of six Chairpersons and 13 Vice Chairpersons of the People's Committees of Hai Chau, Thanh Khe, Lien Chieu, Son Tra, Ngu Hanh Son and Cam Le districts.
The officials will face heavy duties when taking up the leadership of the districts as Da Nang has begun to pilot the urban administration model, said Nguyen Van Quang, Secretary of the municipal Party Committee.
He urged the officials to make every effort to help Da Nang recover and develop amidst the impact of the COVID-19 pandemic, saying it is a must to renew mindset and management methods, while ensuring the observance of the centralised democracy principle in the Party.
Quang also asked the newly-appointed local leaders to soon issue working mechanisms, along with other typical mechanisms and policies to serve the city's development./.
Source: VNA

"The State of Vietnam was the first state in history to exercise its sovereignty over the two archipelagos of Hoang Sa (Paracel) and Truong Sa (Spratly) since they were ownerless pieces of land, at least since the 17th century.