Chinese coastguard ships 'deliberately visible' in the East Sea

Some Chinese coastguard vessels deployed in the East Sea have deliberately made themselves visible to rival claimants of the contested waters by turning on tracking signals – a move analysts described as an attempt to assert sovereignty.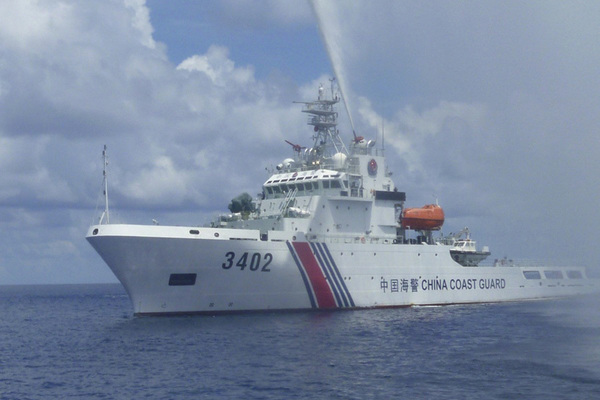 A Chinese coast guard vessel. Photo: SCMP
A report released by the Washington-based Asia Maritime Transparency Initiative said it had identified 14 Chinese coastguard vessels broadcasting automatic identification system (AIS) signals while patrolling the Luconia Shoals, Second Thomas Shoal and the Scarborough Shoal over the past year.
Commercial vessels over 300 tonnes are required to broadcast AIS signals for collision avoidance, while military and law enforcement vessels have discretion about when and where to do so, the think tank said, adding that many Chinese coastguard vessels patrolling in other parts of the East Sea broadcast the signals only when entering and leaving port.
But the vessels patrolling the three shoals appeared to have made efforts to be seen. One at Luconia had broadcast AIS signals on 258 of the past 365 days, one at Second Thomas had done so for 215 days, and one at Scarborough for 162 days.
"There don't appear to be any other contested areas where CCG [China Coast Guard] presence is so persistent, and where China clearly wants regional counterparts to know they are present," the report said.
"Beijing has evidently taken a special interest in Luconia, Second Thomas and Scarborough shoals. It seems to be wagering that if it can maintain a semi-permanent CCG presence for long enough, regional states will eventually accede to its de facto control of those areas.
"And if that strategy succeeds at Luconia and Second Thomas (as it arguably already has at Scarborough), it will serve as a compelling blueprint for extending Chinese administration across other reefs and shoals."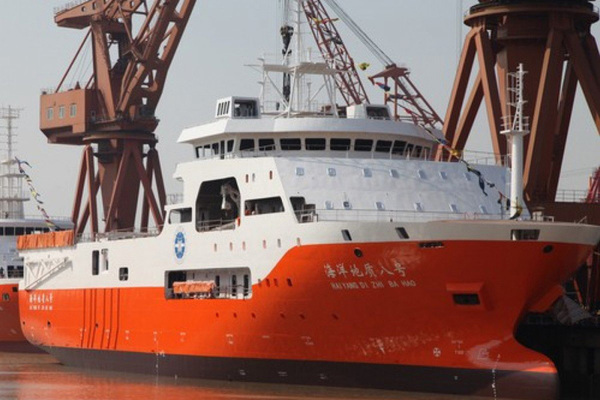 Chinese HD8 vessel violated Vietnam's exclusive economic zone. Photo: China Geological Survey
Through deploying the coastguard vessels, China can create a visible presence at sites where it claims sovereignty but does not have permanent facilities. In Luciona last September and October, the Malaysian navy spotted Chinese coastguard ship 3306 for at least two days. In the Second Thomas Shoal in May, a Chinese coastguard vessel blocked three Philippine resupply vessels.
The vessels patrolling the three shoals are not heavily armed, carrying water cannons and small weapons, but they are much larger than law enforcement or even navy vessels of rival claimants of the East Sea.
"This makes them ideal for operations that might involve threatening collisions and, if necessary, shouldering other vessels to drive them away without using lethal force," the Asia Maritime Transparency Initiative's report stated.
Tensions between China and its neighbours over the oil-rich East Sea are simmering. In early July, Chinese state-owned survey ship, Haiyang Dizhi 8, started operating off the Vietnamese coast, attempting to block oil rig operations by Vietnam at Vanguard Bank.
A large contingent of Chinese coastguard vessels escorted the survey vessel, which highlighted that coastguard vessels had access to illegal Chinese-built port facilities in the Truong Sa (Spratly) Islands.
Collin Koh, a research fellow with the Maritime Security Programme at the S Rajaratnam School of International Studies in Singapore, said allowing the coastguard vessels to be seen was a demonstration of jurisdictional control.
"The mere fact that these ships are out there, openly broadcasting AIS signals, could have a debilitating effect on non-state actors, especially fishermen of those countries who usually operate in their exclusive economic zones – particularly when they do not enjoy or expect any effective protection from their governments' maritime agencies," he said.
"That will certainly have the effect of either scaring away the other claimant states' fishermen or ensuring they toe [China's] line." SCMP

China's survey vessel Haiyang Dizhi-8 and its escorts have conducted regular oil exploration activities and expanded operations in the Tu Chinh-Vung May or Vanguard Bank region of Vietnam's exclusive economic zone.
The foundation to ensure stable peace and Vietnam's sovereignty over the East Sea is to gather and promote national strength and enlist the support of nations in the world.