Canada opposes Chinese tension-escalating actions in East Sea
Canada opposes recent actions taken by China in the East Sea, Canadian Ambassador to the Philippines Peter MacArthur said in a tweet, noting that such actions escalate tensions and undermine regional stability and the rules-based international order.
Many other countries such as the US, Japan, the UK and Australia have also raised their voice expressing concern over China's deployment of over 200 ships around Sinh Ton island cluster in Vietnam's Truong Sa (Spratly) archipelago.

Philippine Department of Foreign Affairs said in a diplomatic protest that the swarming and threatening presence of the Chinese ships creates an atmosphere of instability and shows that China is ignoring its commitments to promoting peace and stability in the region.

In his recent post in Twitter, Japanese Ambassador to the Philippines Koshikawa Kazuhiko stated that the East Sea issues are directly related to peace and stability and a concern for all. "Japan strongly opposes any action that heightens tensions. We support the enforcement of rule of law in the sea and work with the int'l community to protect the free, open, and peaceful seas," he added.

Australian Ambassador to the Philippines Steven Robinson tweeted that Australia remains concerned about destabilising actions that could provoke escalation in the region. He said that Australia supports an Indo-Pacific region which is secure, open and inclusive, and that the South China Sea – a crucial international waterway – is governed by international rules and norms, particularly UNCLOS.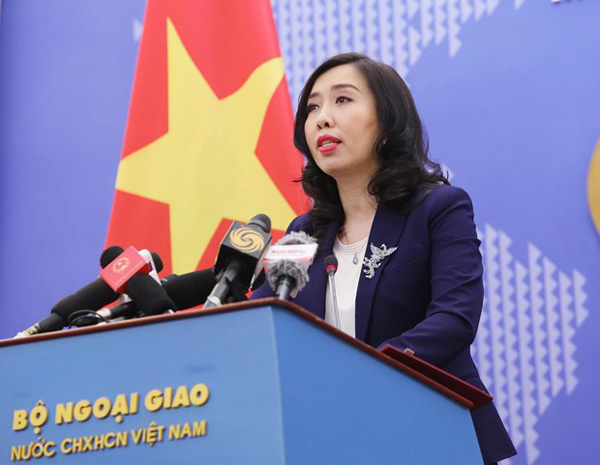 Spokeswoman Le Thi Thu Hang. – File photo
Vietnamese Foreign Ministry's Spokeswoman Le Thi Thu Hang said that the operation of the Chinese ships within the territorial waters of Sinh Ton Dong island in the Truong Sa archipelago has violated Vietnam's sovereignty and the 1982 UN Convention on the Law of the Sea (UNCLOS)'s regulations on the operation of foreign vessels in the territorial waters of coastal nations, run counter to the spirit and content of the Declaration on the Conduct of Parties in the East Sea (DOC), and complicated the situation which is unfavourable for the process of negotiations between ASEAN and China on a Code of Conduct of Parties in the East Sea (COC).  VNA
In early March this year, the East Sea saw the presence of warships from many countries.

Politburo member, Chief of Staff of the Vietnam People's Army, and Deputy Minister of Defense Phan Van Giang gave a presentation on "New perceptions, new thoughts on Vietnam's defense" at a national conference on the 13th Party Congress Resolution.