A trip to Truong Sa – a destination of attractions and emotions

I first learned about the Truong Sa (Spratly) Islands when I was at primary school in the 1980s. Every year, when Tết (Lunar New Year) approached, the students wrote letters and collected gifts to send to the soldiers stationed on the islands.
Breath of spring in Truong Sa archipelago
Sunrise and sunset over Truong Sa archipelago
Photographers show love for Truong Sa at exhibition
Stop-overs on the journey to Truong Sa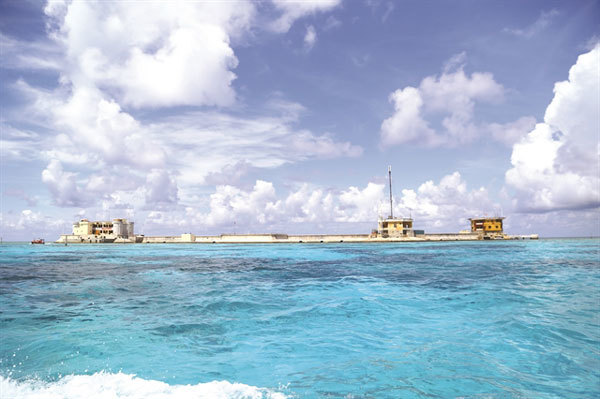 BLUE WAVES: Like other coral reefs in Truong Sa (Spratly) Islands, Da Lon (Discovery Great) Reef has concrete blockhouses surrounded by immense blue water. VNS Photos Hong Minh
In my memories, Truong Sa, through the school lessons and stories from adults, is a faraway place somewhere in the middle of the blue sea that we can only see on the map of Vietnam. But it is always an inseparable part of Vietnam.
In our letters, the naïve children were extremely excited, like we were writing to our relatives, asking about the soldiers' health and activities out there while also merrily telling the recipients about our lives and studies. At the end of the letters, most of us wished to visit the islands or become soldiers to help guard the sacred sea and sky of the country.
I always wanted to see with my own eyes those distant islands and for once in my life travel to Truong Sa.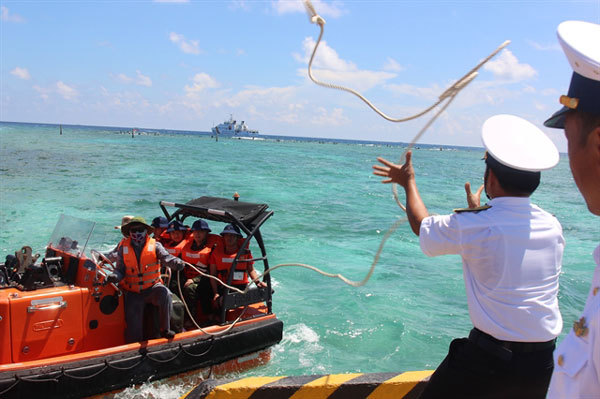 COMING ASHORE: An official on Son Ca (Sand Cay) Island catches the rope from a lifeboat transporting visitors to the island.
My dream trip came true this year as I had a chance to visit 11 of Truong Sa's 100 islets and coral reefs on a sea area of 410,000 square kilometres.
A trip to Truong Sa is probably not for everyone, as there will be strong winds, high waves or even typhoons. The ideal time for a pleasant trip to Truong Sa should be from February to May.
At 8am on a sunny morning in late May, a ship with 200 delegates sounded three long sirens to say goodbye to the mainland, departing Cam Ranh Port in the central province of Khanh Hoa. The vessel was launched in 2016 with a capacity of more than 3,000 tonnes and speed of 10 nautical miles per hour. We were told it would help us feel less seasick.
By noon the mainland had disappeared and mobile phones didn't work. The sea was sparkling like gold under the sun. Seagulls followed in our wake to catch fish. In the evening, the ship started to move faster, the waves rippled up to the lower deck and some of the passengers started to feel sick.
At noon the next day, we arrived at the first destination of the journey – Da Lon (Discovery Great) Reef. The ship anchored far from the reef and we took lifeboats to land on the islet.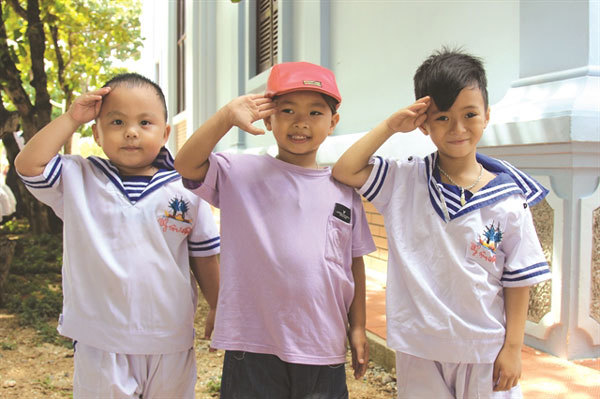 AYE-AYE: Children of families living in Truong Sa Lon (Spratly) Island pose for a photo.
Despite having seen movies and photos before, I was surprised to see the coral reef as a block of concrete surrounded by immense blue water.
The boats had to navigate carefully to avoid the submerged reef and take people to the islet. There the officials and soldiers live and perform their duties. Despite hardships and difficulties, they grow vegetables, raise chickens, ducks and pigs to improve daily meals, alongside seafood they catch.
The same stories were told at other coral reefs we visited, including Da Thi (Petley), Tien Nu (Tennent) and Toc Tan (Alison).
On bigger islands such as Son Ca (Sand Cay), Phan Vinh, Sinh Ton Dong (Sin Cowe East) and Truong Sa Lon (Spratly), besides the greenery of vegetable gardens, we saw big trees. They were truly oases in the sea.
There are also beautiful pagodas on Son Ca, Phan Vinh and Truong Sa Lon islands that drew the attention of many visitors.
Meeting the people
For more than 16 years working as a reporter, I haven't been on a trip that left me with so many emotions as my nine-day visit to the Spratlys. Here, meeting the people, hearing the stories of officials and soldiers, I understand more about their bravery in the face of hardship.
December 25, 1998, is the day Senior Lieutenant Colonel Dang Van Tam, deputy chief commander of Phan Vinh A Island will never forget. It was the day he set sail to the island and did not know that his family was preparing for the funeral of his mother, who had died some days earlier. The family did not want to disturb his mission.
Receiving Tam's phone call, his father contained himself and only asked if he was ready for the mission. When Tam responded definitively "Yes", his father said: "Then you should stay calm. I have to tell you that your mother has died."
Tam said it was the most terrible moment of his life, but with the encouragement of his father and the determination of a soldier, he dealt with the pain to go on the mission. Every time he visits his mother's grave, Tam keeps on saying sorry.
"It was a sad memory but I have never regretted what I did as the mission was important as well," he said.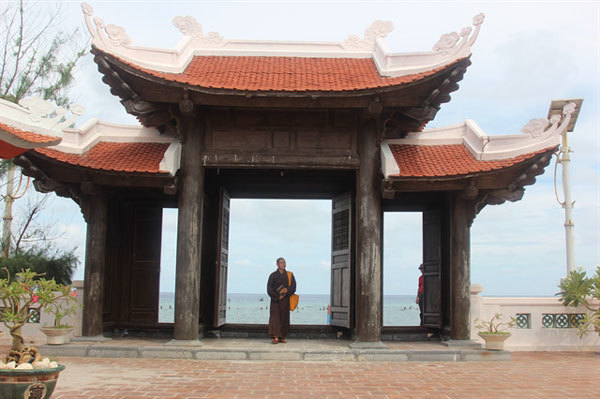 SPIRITUAL LIFE: A monk enters Vinh Phuc Pagoda on Phan Vinh Island.
For 20-year-old Phan Gia Cuong, a naval soldier at Da Thi (Petley) Reef, the emotions come from a younger spirit.
"In my first week on the island, I cried every day missing my family, my mother," he said, adding that he did not expect life on the island to be so different from that onshore.
But with the support and care from officials and fellow soldiers, Cuong got used to life on the remote island quickly. Now he has learnt how to cook, plant vegetables and has started playing the guitar with guidance from friends.
"I haven't seen people's feelings for each other so sincere as on the island," he said, "People here really take care of each other like true relatives."
"I will miss the island so much when I return to the mainland," he added.
The emotions also came from the farewell on Truong Sa Island, the unique sea snails that became precious souvenirs, the moments attending two special memorial ceremonies commemorating naval soldiers who died to protect the nation's maritime sovereignty and continental shelf. All have become an unforgettable experience for each person.
Tuyet Minh, a singer of the Lao Cai Traditional Art Troupe, said she was surprised by the vitality and happiness of the soldiers.
"Before coming to the islands, I thought I would be the one giving encouragement to those living and working in remote areas, but then I was the one to receive their warm welcome and encouragement to overcome my seasickness," Minh said.
"When I return to Lao Cai, I will surely tell everyone about this memorable trip, with the beauty of the sea, the islands and the great people there," she added.
Like Minh, I was also thrilled to enjoy the experiences at sea and the islands of Truong Sa. My childhood dream trip has come true, but the memories will never fade. VNS
Hong Minh