Zero Covid and the new quarantine strategy
The Prime Minister's approval to pilot home quarantine for F1 cases instead of concentrated quarantine is considered a turning point in Covid-19 prevention in Vietnam.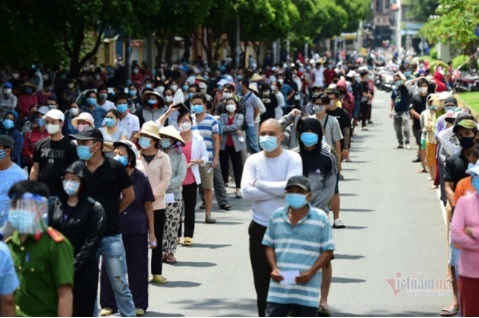 People in HCM City queue for Covid test.
For a long time, many experts believed that the SARS-Cov-2 virus was unstoppable because of its properties that caused a global pandemic. Since the Delta strain appeared along with the 4th wave in Vietnam, more experts supported this idea.

Regarding the ongoing 4th wave, Health Minister Nguyen Thanh Long has said: "According to experts, the British variant is over 1.7 times more contagious than the previous variants, but the Delta variant is 1.4 times more contagious than the British variant, which is more than 40% faster than the previous strains."

Prof. Nguyen Van Kinh, Chairman of the Infectious Diseases Association, said: told the media that asymptomatic patients made it difficult for medical screening at hospitals. "For many cases with lung x-rays performed, doctors still failed to detect the virus," he said.

Doctor Nguyen Hong Ha, Vice President of the Vietnam Infectious Diseases Association, said that many people have the virus but have no symptoms, so it is difficult to know who is the virus carrier.

"There are people who were tested 2-3 times and all tests were negative. When their quarantine time was nearly over, they were positive for the virus. This makes tracing extremely difficult," Ha said.

Thus, the tracing and zoning that once worked may no longer be effective with the Delta variant.
If Vietnam pursues the old way, under which epidemic-hit areas are locked down and then re-opened when the epidemic is controlled, the lockdown and re-opening will repeat, causing harmful effects to the economy and people's livelihoods.

There is still good news that about 80% of Covid-19 patients in HCM City during the ongoing outbreak have had no symptoms or only mild symptoms, according to Director of the Ho Chi Minh City Department of Health Nguyen Tan Binh.
The Ministry of Health has set a criteria for pilot home quarantine for low-risk F1 cases. This is a step forward in disease prevention because when the number of F1s is high, there is always the risk that they will become F0 (Covid-19 patients) when living in crowded quarantine centers.

This measure of isolation, in many cases, has become social punishment and social stigma. In some places, dozens of young people were forced to enter quarantine centers because they went to karaoke parlours, violating the social distancing order.

Concentrated quarantine that is applied for F1 cases can be counterproductive.

Home quarantine works in both pandemic prevention and does not greatly affect normal activities.

F1 cases could be quarantined at work because it is the place where they are isolated from the community but are still able to work.

One step further would be to allow infected people without symptoms or with mild symptoms to be under home quarantine.

If this form of quarantine is accepted, we will no longer see children being separated from their parents to enter quarantine centers.
Thousands of medical staff and tens of thousands of beds in medical facilities will be free to serve non-Covid-19 patients. Tens of thousands of F0 and F1 cases will be able to continue to work remotely, creating economic value, reducing the burden on the state budget when the state no longer has to maintain large-sized quarantine facilities. Thousands of military staff will be free from guarding and serving quarantine facilities.

In fact, the old-form of quarantine in the current situation is pushing the healthcare system faster to the limit of tolerance. Large-scale, centralized quarantine facilities, which are substandard both in terms of facilities and procedures, instead of helping to reduce the rate of infection, promote F1 cases that can become F0 cases on a large scale.
Sending tens of thousands of infected people who do not need medical care to hospitals in a long time of 14-21 days will quickly make the medical system overloaded.

Allowing F1 cases to be home quarantined marks a turning point in pandemic prevention and control in Vietnam. Then the time will come when we will have to allow F0 cases with mild symptoms to be under home quarantine, then allow people who enter Vietnam who have a vaccine passport to be free from quarantine and, most importantly, familiarize the population with the virus like the way our ancestors faced viruses over thousands of years.

Tu Giang

To prevent overloading at centralized quarantine facilities, the Ministry of Health has allowed people categorized as F1 cases (having close contact with Covid-19 patients) to be under home quarantine.