With over 3,000 Covid-19 cases, HCM City vows to control outbreak by end of social distancing period
Despite drastic measures, the Covid-19 outbreak developments in HCM City remain complicated. The enforced social distancing period will end on June 30 and it has been difficult for the city to decide whether to extend the period.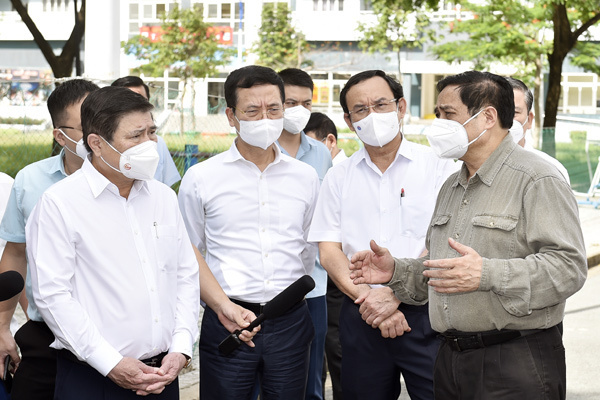 Prime Minister Pham Minh Chinh (first right) in HCM City
On the evening of June 27, HCM City reported 200 more cases, mostly related to infection chains or cases in quarantine zones. The sources of infection were unknown in 12 of the cases.
The total locally transmitted cases in the fourth outbreak in the city has reached 3,200.
HCM City has been reporting 3-digit numbers of new cases nearly each day over the last 10 days. A record number of 667 positive cases was reported on June 25 (from 6 am to 6 pm), including people in concentrated quarantine zones and 14 cases discovered after screening at hospitals.
Prime Minister Pham Minh Chinh on June 26 flew to HCM City to inspect the situation and listen to leaders' reports. This was his second working session with HCMC, just 1.5 months after the previous one, when the outbreak began in the city.
He took inspection tours from the morning to the evening to HCM City National University's dormitory, the Nanogen vaccine production facility and Linh Trung EPZ before returning to the head office of the city People's Committee where he attended an online meeting.
The Prime Minister said HCM City and seven southern provinces need to stamp out the outbreak as soon as possible.
Deputy Prime Minister Vu Duc Dam, who attended the meeting from Hanoi, said that reports showed an increasingly high number of infections. However, it is clear that the number of community transmitted cases was on the decrease.
He said that municipal authorities' Directive No 10 on prevention measures is on the right track. He said that the same measures should not be applied to all areas in the city, but specific solutions should be used depending on local circumstances. In areas where regulations still have not been strictly observed, it is necessary to tighten control.
Prior to that, at a meeting of the HCM City Steering Committee for Covid-19 Prevention and Control on June 25, Mayor Nguyen Thanh Phong said the hotspots in the city are traditional markets, wholesale markets and Industrial Zones due to the high density of people.
Deputy Minister of Health Nguyen Truong Son recommended that the municipal authorities take drastic measures to control the operation of markets.
Meanwhile, Deputy Prime MinisterTruong Hoa Binh said all the measures taken by the city must not hinder goods circulation and disrupt production chains.
The city is facing three infection chains at large-scale markets, namely Son Ky Market in Tan Phu district (64 cases have been found), the largest chain; and Hoc Mon Wholesale Market (21 cases) and Binh Dien Market in district 8 (27 cases).
Son Ky Market has been isolated since June 22, while Hoc Mon Market has suspended operation for seven days, since June 28.
Aeon Mall Tan Phu, one of the city's largest shopping mall, 500 meters from Son Ky Market, closed temporarily on June 25.
On the same day, the HCM City Department of Industry and Trade sent a dispatch to Thu Duc City and all districts on strengthening measures to control traditional markets.

Despite drastic measures, the Covid-19 outbreak developments in HCM City remain complicated. The enforced social distancing period will end on June 30 and it has been difficult for the city to decide whether to extend the period.
On the morning of June 27, the Binh Thoi Market began applying an admission card scheme for all people and petty merchants. The Binh Dien Market was disinfected.
Authorities continue to issue notices on looking for people who have close contacts with infected people. The area behind the Pham Van Hai Market in Tan Binh district has been isolated temporarily and the authorities are seeking people who had visited Yen Van Pork Shop.
Hoang Hoa Tham Market in Tan Binh district and Hoa Hung Market in district 10 have been temporarily closed. Thu Duc City is seeking people who visited the meat stall next to the grocery store in Truong Thanh Market. In District 8, the local authorities are seeking people who had gone to Binh Dien Market, Canteen No 27 and K1-018-019 Kiosk.
At the meeting on June 25, Phong asked why the outbreak remains complicated and the number of cases is still on the rise despite the application of drastic measures.
Phong told local departments, branches and district authorities to reconsider social distancing, review current measures, and apply stronger solutions. The review will provide information to the municipal authorities on whether to extend the social distancing campaign.
Large-scale screening campaign
HCM City authorities have decided to launch the largest screening campaign, expected to last 10 days, from June 26 to July 5, during which 5 million people will have samples taken for testing for nCoV.
The city plans to take 500,000 samples a day, especially in priority areas, where high numbers of positive cases were found, including districts 8, Binh Tan, Tan Phu, Hoc Mon and Binh Chanh.
On the afternoon of June 27, the Ministry of Health (MOH) agreed to allow HCM City to try a home quarantine scheme for F1 cases (close contacts of Covid patients) in order to avoid overloading of concentrated quarantine zones. The time required for home quarantine is 28 days.
Prior to that, Son of MOH said the quarantine zones at HCM City National University dormitory were getting overloaded and medical workers are getting exhausted.
MOH noted that of the 667 cases reported within 24 hours, 538 were from quarantine zones and 99 from isolation zones.
When examining the quarantine zone at the HCM City National University dorm, Prime Minister Chinh stressed that the solutions for quarantine and isolation zones are rapid testing and technology application for management.
He said HCM City needs to learn the lesson from other provinces to prevent cross-infections in quarantine zones.
He asked municipal authorities to use wifi and TV in quarantine zones so that quarantined people can have entertainment and information exchange.
Fighting Covid-19 on last days of social distancing campaign
Prime Minister Chinh described three layers of control. The city should strictly control the inner core layer where there are F0 cases (infections); apply distancing and strictly control the second layer; and take precautions at a high level in the outermost layer.
With a population of 10 million and bustling trade, HCM City has found it more difficult to control the outbreak than other localities.
At the meeting, Phong said the city aims to vaccinate 70 percent of its residents by the end of the year.
Regarding the vaccination campaign, HCM City Health Department Director Nguyen Tan Binh on June 27 said 645,000 people had been vaccinated, and more than 82,000 people had to delay the vaccination for various reasons. The program on injecting 806,000 doses was attainable, he said.
Two dorms at the national university are being used for two field hospitals. The city has drawn up several scenarios for 5,000 infections and 10,000 infections. 
Duc Bao

To prevent overloading at centralized quarantine facilities, the Ministry of Health has allowed people categorized as F1 cases (having close contact with Covid-19 patients) to be under home quarantine.

Vietnam's health ministry has granted conditional approval for the Moderna COVID-19 vaccine for emergency use.