Winning the biggest fight of her life

She may be a lean, mean fighting machine, but this teenage martial art star faced her biggest battle outside the ring.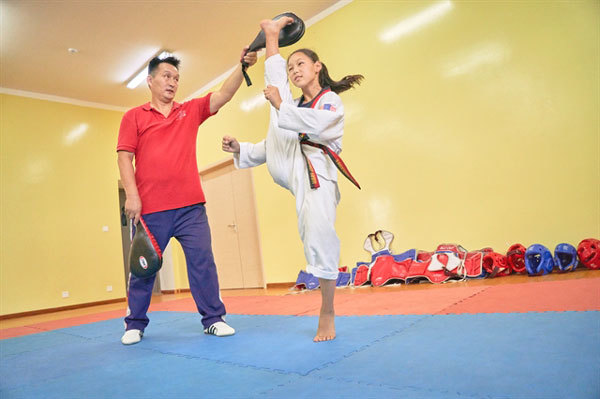 FIGHTER: Nyamaa Dolgorsuren practices with her coach Battulga Nasankhuu. — Photo courtesy of CNCF Mongolia
As a child, Nyamaa Dolgorsuren was raised on the streets of Ulaanbaatar in Mongolia with her younger sister.
Life was tough for the two siblings and there seemed little light at the end of the tunnel.
That was until they were rescued by the Christina Noble Children's Foundation (CNCF).
"They came from a very, very abusive background and a very sad situation," said Helenita Noble, CEO of the foundation.
"Nyamaa especially was angry, she was provoked very easily. She was on her guard all the time because she had lost faith and she had lost trust in the world around her, and especially the people.
"But with a lot of love, care, attention and understanding, she eventually learned to trust again, as did her younger sister."
That love and attention came from the dedicated volunteers at the CNCF.
For 30 years they have been rescuing children from the streets of Asia and helping them rediscover their childhood.
"They were picked up by local police in Mongolia because they were begging on the streets," added Helenita.
"They were very emaciated, they were very ill. They were in a very, very desperate, sad situation. They experienced things no child, no human should ever experience."
After being given shelter and a home with the foundation, one particular activity proved to be a real turning point in her life.
Nyamaa begin learning taekwondo, a martial art that originated in Korea but is now practiced the world over.
And it was clear to see she was a natural.
"For me the discipline practices of taekwondo have made me who I am today," said the 14-year-old.
"Taekwondo also helped me communicate with others and I've learned to respect one another through the sport.
"Whenever I practise taekwondo I feel everything is so positive. It was not easy for me to practice all these years, but my goal, my endurance and hard discipline have helped me overcome my difficulties.
"Most importantly it is my CNCF family that is there for me."
INSPIRING: Nyamaa with the children at the Christina Noble Children's Foundation in HCM City. Photo courtesy of CNCF Vietnam
Last month, Nyamaa was competing in HCM City, where she eventually finished in a respectable third place.
She used her time in Vietnam to visit HCM City's branch of the foundation, where she took time to speak to children and show off her taekwondo skills.
"When I got to meet Nyamaa, she really inspired me," said pupil Nguyen Trang Binh.
"I learned from her, from her love of taekwondo and how committed she is."
Nyamaa has already been made a sports master in her home country, but she has set her sights on a much bigger prize.
The teenager is hoping to represent Mongolia at the 2024 Paris Olympics.
And her coach believes nothing is impossible.
"She is building self-confidence through the sport and her hopes in life are big," said Battulger Nasankhuu, who has been teaching her martial arts for almost five years.
"Sports bring us strong self-confidence, self-discipline, a better future and the chance to become active members of the Mongolian community.
"I have worked with her from the beginning and have witnessed her progress since she came to CNCF's village and was introduced to taekwondo.
"Nyamaa now has the mental wellbeing of a sportswoman, positive attitude and works hard for big tournaments.
"Most importantly, she has learned about setting a goal and working hard for that goal. As her coach, I am very proud and thankful to CNCF for being in Nyamaa's life and supporting her."
By Viet Dung and Paul Kennedy
VNS