Will Vietnam become a new global factory?

Some have opined that spurred by the Sino-American trade war, Vietnam is likely to become a new world's factory in place of China. Nevertheless, it is the quality of that factory which counts, argue many economists.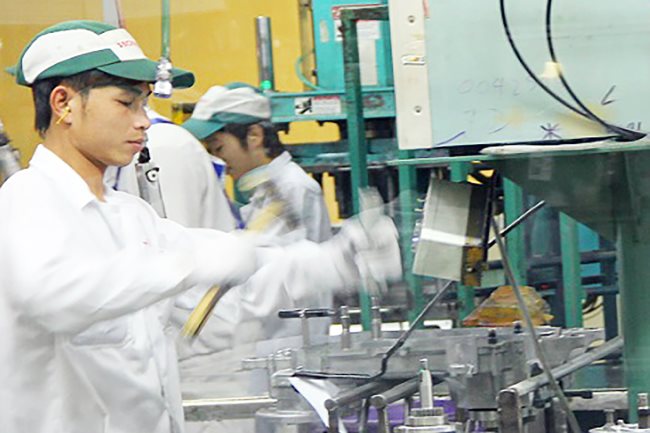 Currently still in the period of golden population, Vietnam's total labor pool was 55.64 mil. in end-2018. However, the country also suffers from the highest aging rate in the world – PHOTO: QUOC HUNG
Over recent months, the staff of DEEP C Industrial Zones in the port city of Haiphong in northern Vietnam have been awfully busy receiving a soaring number of foreign delegates coming over on business trips.
Explaining the reason, Bruno Jaspaert, DEEP C's CEO, said the interest in his industrial zone and investment opportunities in it has doubled from past year. Moreover, the total area of leased land in DEEP C by the end of April had been equal to that of entire 2018.
According to Jaspaert, the new interest may come from the recourse of investment inflows which are being shifted from China to Vietnam.
He argued that as many global enterprises have adopted the "China Plus One" strategy, when production in China reaches a certain level, foreign investors would move to neighboring countries, one of which is Vietnam.
The escalating Sino-U.S. trade war is accelerating the implementation pace of the above strategy, some economists have said. This is true, too, to even some Chinese enterprises which have found ways to escape from the deadlock.
In this context, Vietnam may become a "world's factory" in place of China. "About 20,000 Japanese companies in China are desperately seeking an alternative place for their investment," said Nguyen Duc Thanh, director of the Vietnam Institute for Economic and Policy Research (VEPR) following his meeting with a former Japanese ambassador to Vietnam.
The shift of the investment inflows is mirrored by statistics. By May 20, Vietnam had granted 1,360 new investment licenses whose total registered capital was shy of US$6.46 billion, a jump of 38.7% year-on-year, according to the General Statistics Office.
If the additional capital of operational foreign enterprises was included, the total amount would be almost US$9.1 billion, 27% higher than that in the year-earlier period.
Currently, the processing and manufacturing industry is a magnet for foreign direct investment (FDI), which alone accounts for US$4.71 billion, or 73.5% of the fresh investment inflows, reported the GSO.
Jaspaert said he noticed although most of the FDI projects are still low added value, a new trend of hi-tech has emerged, such as supporting industries serving Vietnam's carmakers.
The factory's quality really counts
The continuity of FDI into Vietnam affords a great chance for her to further create job opportunities and develop the local economy. However, Vietnam's ability to receive foreign investment capital remains limited, in particular her labor supply.
Currently still in the period of golden population, Vietnam's total labor pool was 55.64 million in end-2018. However, the country also suffers from the highest aging rate in the world. In about five to 10 years, Vietnam will be facing a labor shortage, even unskilled workers who work at assembly lines in factories.
According to the United Nations, it will take Vietnam only 20 years for her contingent of people aged 65 or more to rise from 7% to 14% of the total population, signifying a shift from "aging" to "aged," which is among the fastest paces in the world. It is forecast that by 2038, Vietnam's aged population will account for 20% of the total.
"People born in the 1980s are in the working age," said Pham The Anh, an economist. "However, in the next 10 years, this work force will enter the retirement age and won't be able to do heavy jobs at the production lines of FDI enterprises."
Which is why meeting the demand for even unskilled labor for the world's factory is a conundrum for Vietnam.
Moreover, Vietnam is a country of low middle-income earners who work mainly in processing or assembling industries. To move up a notch on the ladder of middle-income countries, Vietnam has to achieve a higher position in the global value chain, which needs skilled labor.
Yet the quality of the labor force remains a headache for policymakers as the ratio of trained workers in Vietnam is only about 22% of the total, the majority of which are university graduates while the body of technical workers is modest. This problem takes time and effort to be solved, said Anh.
Another point should be underlined. An in-depth analysis of the FDI poured into Vietnam may show that China has recently become the number-one foreign investor and has supplanted traditional rivals from Korea and Japan.
Statistics from the GSO show that during the first five months of this year, fresh and increased FDI from mainland China reached US$1.69 billion. If projects from Hong Kong and Taiwan are included, the total figure will rise to US$3.16 billion, or 34.76% of the total FDI in Vietnam during the period.
China was one of the countries from which Vietnam suffered a trade deficit in the first quarter of 2019, second only to Korea.
The fact that China has soared to the first place of Vietnam's list of foreign investors should be treated with care, especially when it comes to trade deficit, according to economists.
Another problem is Vietnam does not seem to benefit from the production shift because foreign enterprises will transfer most of the profits to their countries.
"In recent years, income transferred by foreigners out of Vietnam has been enormous," said Anh who quoted GSO sources. "It was US$17 billion in 2017, and US$20 billion in 2018."
Economist Pham Chi Lan contended that Vietnam has made great strides on her path to the global supply chain, which results in her being ranked fifth in the world as regards the economic openness.
Vietnam is also among the countries who have swung wide open the door to FDI so that this sector contributes significantly to the national economy. However, it should be a source of concern, too.
For comparison's sake, the United States is leading the world as far as FDI is concerned, trailed immediately behind by China. If the ratio of FDI contribution to GDP is used as a yardstick, FDI accounts for merely some 6% of China's GDP, way lower than the 20% mark in the case of Vietnam where FDI also makes up over 70% of her total export sales.
Commenting on the remark that Vietnam may become the world's factory, Anh said such a chance may come given the sharp rise of foreign investment pooled into Vietnam recently. Anh argued however that what could Vietnam benefit from being that factory is more important.
The quality of that factory, emphasized Anh, will depend largely on a slew of policies, from labor training and salaries to environmental standards and FDI selection. SGT
Vu Dung

The good times are expected to continue with the right governmental support, business incentives, and corporate interest. Towards the end of 2020 we will see a rise in industrial property supply in Vietnam.

The Ministry of Industry and Trade (MoIT)'s key task is to evaluate the building and adjustment of policies to support the development of the digital economy, according to Deputy Minister Cao Quoc Hung.  

Despite credit growth among Vietnamese credit institutions remaining low this year, experts are not concerned about the slowdown, saying it was a good sign for the economy.