Where love blooms for abandoned children

There is a special home in Bao Loc City in the Central Highlands province of Lam Dong that is always filled with the laughter of children. This home is Tín Thác Foster House.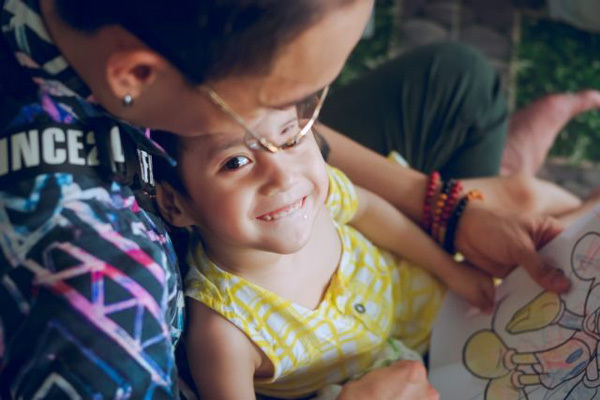 ALL SMILES: Tín Thác Foster House is filled with children's laughter. Photo giaphatreal.vn
Over the past ten years since its establishment, over 100 orphans have been raised and nurtured there with the love of nuns and the joint support of volunteers and benefactors nationwide.
Phuc An, the eldest of the 100 children, was the first orphan who was saved and raised by nun Nguyen Thi Huong, the founder of Tín Thác Foster House.
One day, the 63-year-old nun discovered a pale little boy, weighing just 1.3kg, wrapped in a woman's shirt and placed in a cardboard box by the road. She brought him home and called him Phuc An.
After three months, with the nuns' care, the tiny boy gained nearly 2 kilos.
Day by day, Huong and other nuns continued to welcome more abandoned children to the house, some of whom were just several days old wrapped in torn clothes, left in bags or boxes by the roads, in the bushes or in front of hospitals.
Like their eldest brother, all the children are named Ân – like Hong An, Thien An, Khanh An or Gia An – as a tribute to families who have been willing to foster the children when Tín Thác House was unable to.
"We have always loved the orphans like our own children. We are willing to be their mums to take care of them and educate them," Huong says.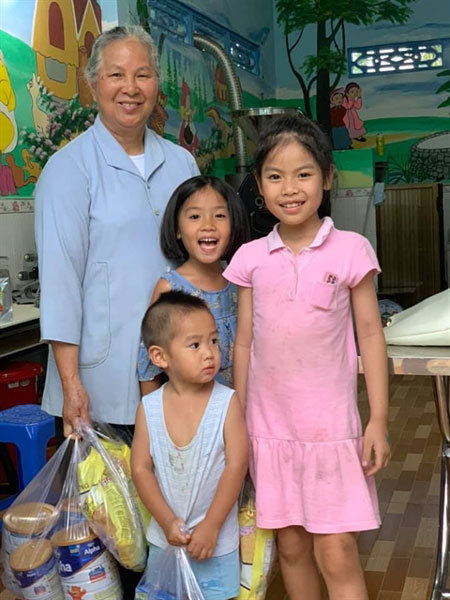 KIND HEART: Nun Nguyen Thi Huong, the founder of Tín Thác Foster House, is pictured with the children raised in the house. Photo Thanh Hai's Facebook

Established in 2009, Tín Thác Foster House cares for 66 orphans, aged between two months and 10 years old, while some others have been sent to local boarding schools.
The house has been extended with a spacious garden and enough bedrooms for boys, girls and new-borns, as well as a playground and dining rooms.
"When he was alive, President Ho Chi Minh wished that all Vietnamese children had enough food, clothes and could go to school. We also hold the same wish for the children we have been raising. Therefore, we have tried our best to care for them and let them attend school to absorb new knowledge and become good citizens," Huong says.
Among the children are some with mental or communicative disabilities, which might be due to their poor conditions on being abandoned, Huong says.
"The majority of them are just a few days old when they are abandoned, deprived of breast milk and getting cold as they are simply wrapped in old cloths. Some have suffered from insect bites and poor immunization that leads to constant sickness and communicative disabilities," she adds.
The care of such handicapped children is difficult, demanding specific methods and attention, but fortunately, they have been raised with the unconditional love of the nuns and the kind-hearted benefactors.
The house does not only offer the disadvantaged children food and clothes but also creates a familial atmosphere. The small children get together in the house and play with each other while the older ones help the nuns feed the younger ones and treat them like siblings.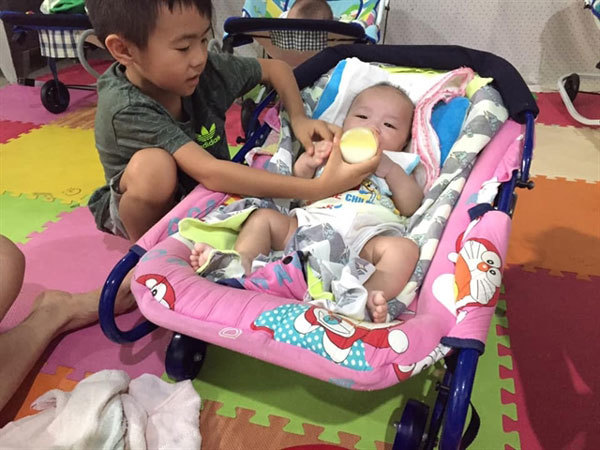 BIG FAMILY: A boy helps to feed an infant at Tín Thác Foster House. Photo Hai Vy Nguyen Lam's Facebook

According to nun Hoang Thi Cuc, who has been staying in the foster house for the past five years, the children are classified into age groups under the care of specific nuns for better management of their health and education.
"Each age group has different hardships but thankfully, all of them are obedient and keen on learning," the 73-year-old nun says.
"Seeing them growing up and caring for each other is our biggest happiness," Huong says.
Every month, Tín Thác Foster House uses their limited budget on buying milk, books and necessary personal items for the children.
However, more and more individuals, social organisations and local authorities have chipped in to improve the children's home.
One of such benefactor is Nguyen Thi Thu Thuy, a retiree from Bao Loc City. She frequently takes money from her pension to buy milk and treats for the children at the house, whom she considers her own grandchildren. Thuy has also appealed to other friends and acquaintances to support the kids.
Meanwhile, the local authority has helped with issuing birth certificates or medical insurance cards for the children to attend school.
Recently, Lam Dong Province has granted a certificate of merit to Tín Thác Foster House for their achievements in taking care of abandoned children.
"Our acts aim to lessen sad stories in this life and offer a home for the orphans," Huong says.
"I want to advise the youth to have pure love and live responsibly so that there would be no more children abandoned." VNS

Most of the children at the Tin Thac Charity House are nicknamed after fruits, vegetables or animals.
Phuong Ha