When will Vietnam begin to make electric cars?
On March 24, Vinfast made headlines after releasing its statement about receiving orders for its first electric car model VF e34 for VND690 million (about $32,000), to be delivered in the third quarter of 2021. 
The preferential price for early orders is VND590 million ($28,000), while there will be free battery hire for one year, and a gift of VND30 million if converting from a gasoline to electric car.
The news blew a fresh wind to the Vietnamese automobile industry, because there are no electric cars in the country, despite the explosion of smokeless vehicles in the world in the second decade of the 21st century.
When the world was getting acquainted with Tesla Roadster (2006), Tesla Model S (2008), Mitsubishi i-MiEV (2009) and Nissan Leaf (2010), pure electric vehicles appeared only in the US and Japan. After a decade, according to Electrek, a website specializing in electric vehicles, the market share of electric cars accounts for about 3% compared to cars with internal combustion engines. But the numbers are changing day by day.
Vietnam stands out from the trend of "electrifying" cars, though this has reached ASEAN member countries in the last few years.
Thailand, in early 2020, established the National Committee for Electric Vehicle Policy, to realize the target of exporting 1.2 million electric cars within 10 years and becoming a regional hub for electric car manufacturing in five years. Indonesia also set a target that by 2025 20% of car output (out of about 1 million cars manufactured in a year) would be electric and hybrid cars, and 25% by 2030. Even Brunei plans to increase the sales of electric vehicles to 60% of total annual car sales.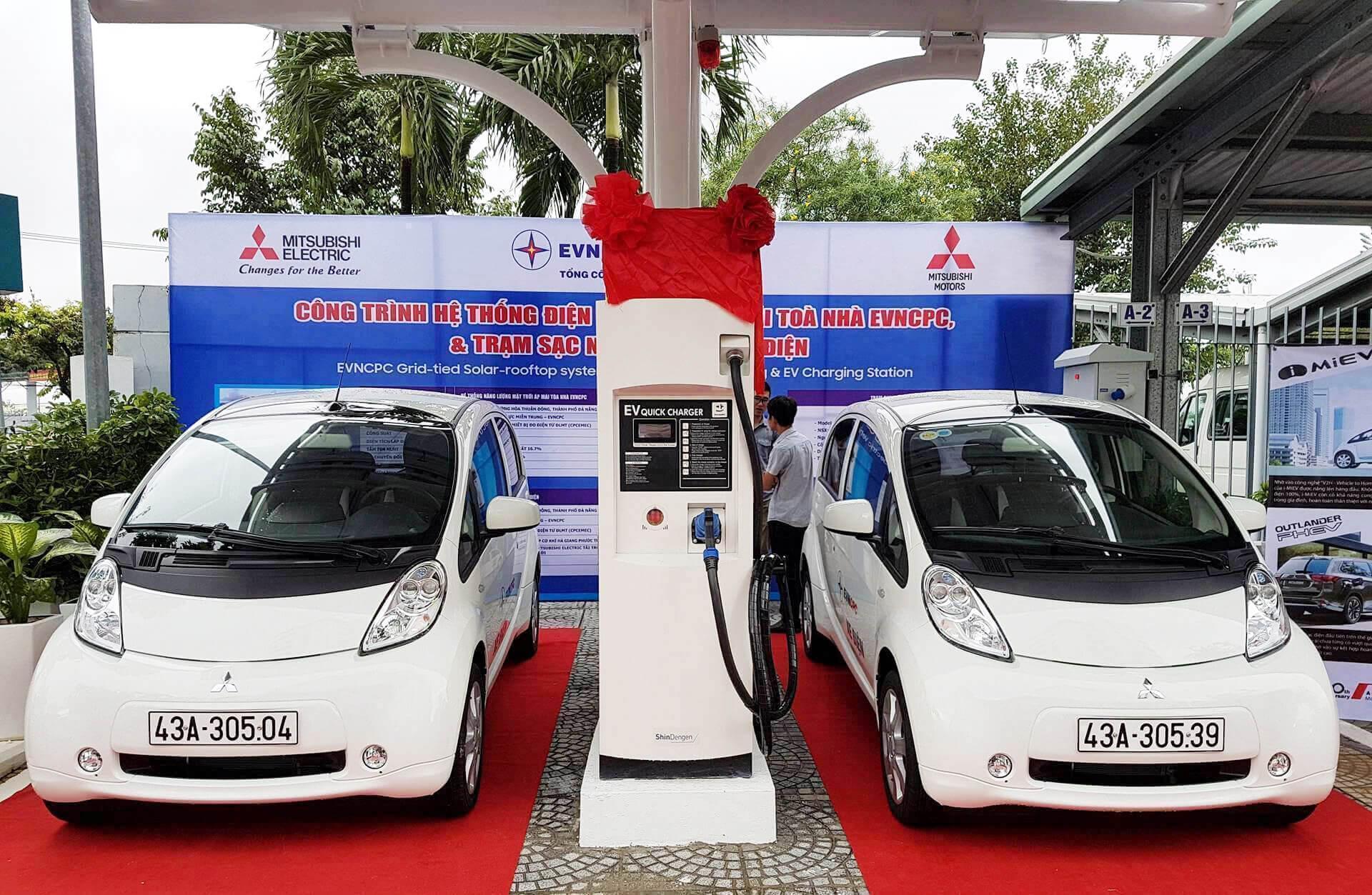 Mitsubishi's experimental charging station in central Vietnam in 2017. Photo: Mitsubishi Motor Vietnam
About seven years ago, when the Nissan Leaf first appeared in Vietnam, many people were surprised. The 4-person car had a sketchy interior but the price was up to VND1.55 billion, more expensive than the trendy Toyota Land Cruiser at that time.
Then, a 2-seat electric car shaped like a toy car priced at about VND70 million from China appeared in 2015 was much cheaper than other electric cars such as Tesla Model 3, BMW i3, and Mitsubishi i-iev, which were priced over a billion VND. However, this model, which had public interest, could not run on Vietnamese streets because of the lack of legal factors.
However, Vietnamese today do not pay much attention to electric cars because there are no models of electric cars for commercial sale in the country. Some people have imported electric cars for their collections.
Some people still think that electric cars only need to be charged at home like electric bicycles. To travel every day, electric cars need charging stations built in residential areas, offices and service areas.
Until the end of 2017, Vietnam had three pilot charging stations built by Mitsubishi Motors Vietnam: one located at the headquarters of the Ministry of Industry and Trade in Hanoi, the other two stations located in Da Nang and Hoi An (Quang Nam province). Most recently, in April 2020, Porsche installed a 350-kW electric charging station in Phu My Hung residential area (Ho Chi Minh City) to serve the Taycan model they had introduced in Vietnam.
However, the development strategy of Vietnam's automobile industry to 2025, with a vision to 2035, still focuses on the development of cars using internal combustion engines.
Challenges for electric cars
Unlike cars with internal combustion engines that can run in any market, as long as there are roads, electric cars have their own formula. They require charging stations and tax-fee support.
In the US, by visiting the plugshare.com site and registering for membership, users can see charging stations displayed on a map. Drivers can be assured of driving across the US without worrying where to charge their electric car.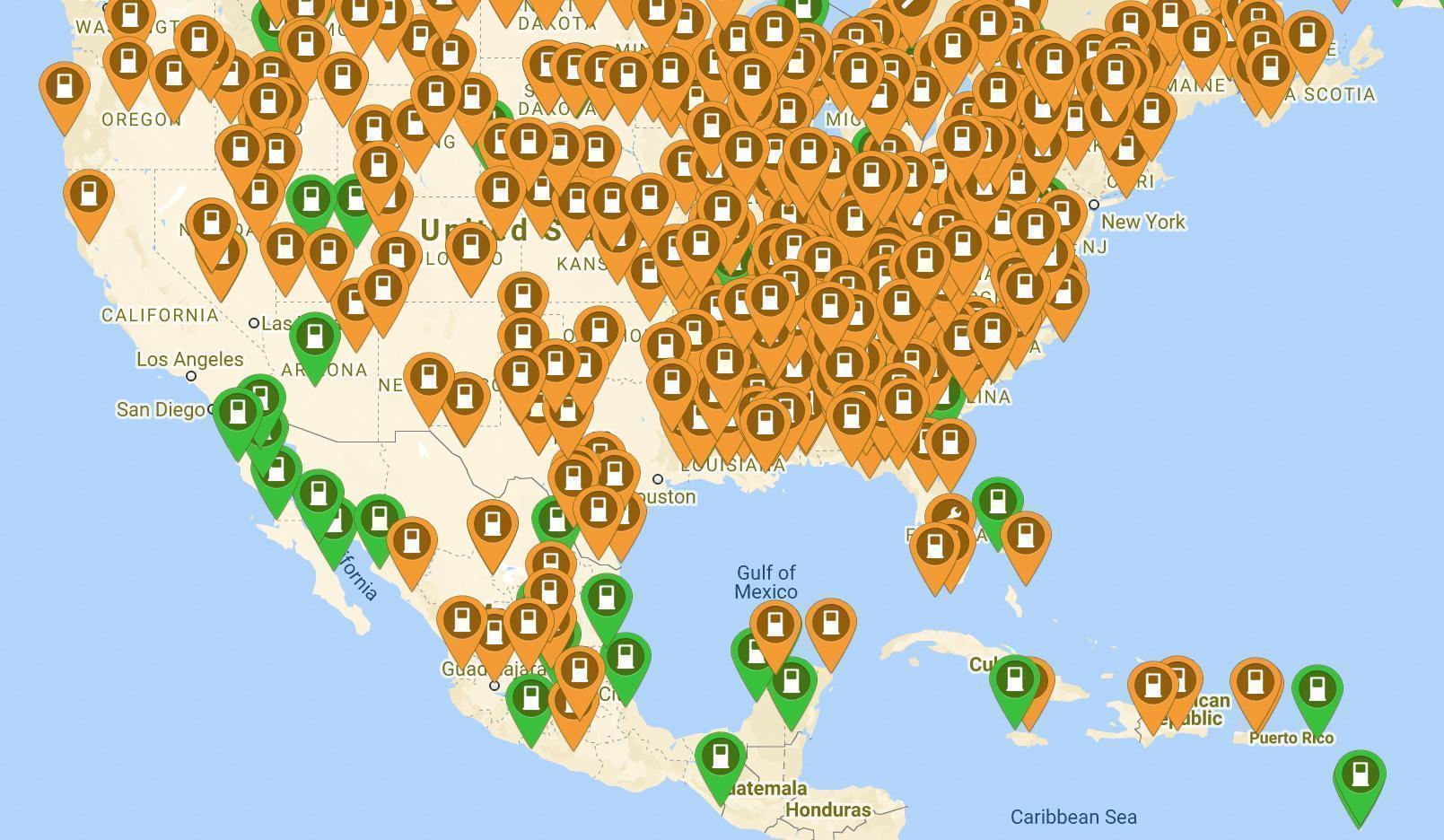 Part of the map of charging stations in the US. Source: plugshare
Around the world, energy corporations are urgently building an extremely large number of charging stations for all types of electric vehicles. US President Joe Biden has proposed building an additional 500,000 charging stations across the US. Even the small island nation of Singapore is building charging stations that match various charging port standards.
In Vietnam, only Vingroup has started to build charging stations for electric cars in urban areas in its ecosystem.
According to auto expert Nguyen Thanh Hai (Hai Kar), Vietnam has three main difficulties when developing electric cars. "At first, the stereotypes between gasoline motorbikes and electric cars are still too great for Vietnamese people. They think that electric cars are only for play, and cannot completely replace gasoline-fueled cars.
The second difficulty is the problem associated with battery and mileage. With the same performance and distance, electric cars are often more expensive than internal combustion engines. Finally, we don't really have a policy to support the development of electric vehicles," Hai said.
Hai cited Shanghai as an example. There is a clear distinction between electric cars and gasoline cars there. To register a gasoline car, it takes people 1 year and about $12,000 before driving, while registering an electric car is free and fast.
"If Vietnam makes a drastic move such as reducing the registration fee and production tax, then it is possible to think about the electric vehicle market clearly," Hai said.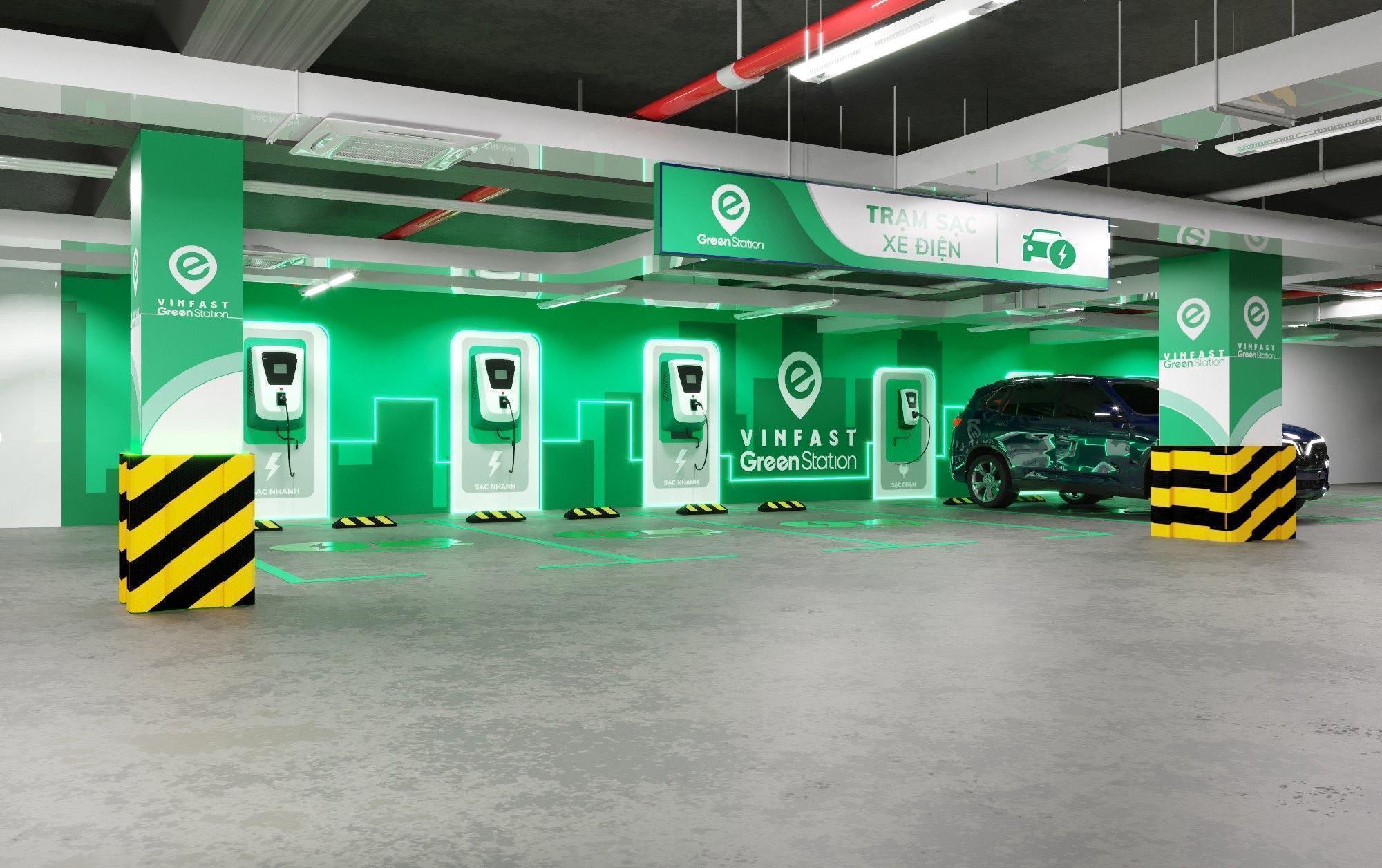 A model of charging stations in urban areas in Vietnam in the future. Photo: Vinfast
Meanwhile, a manager of a foreign-invested car manufacturing firm said that investing in electric car manufacturing is much more expensive than internal combustion engine cars and when choosing where to locate the factory, investors have to carefully consider the output market, not simply doing tests.
For electric cars, besides the selling price and charging stations, many people are concerned about how cars would be repaired.
Huynh Trong Nhan, owner of Trong Nhan garage on Lac Nghiep street, Hanoi, with more than 20 years of experience, said he has never had the opportunity to touch an electric car, so he does not understand them. "For a mechanic like me, to fix a car, I have to understand how that car works. The cars using new technology as hybrid, I have the opportunity to repair a few, but mainly to renew the electrical system. It is not too difficult," Nhan said.
Dinh Quy

In Southeast Asia, Thailand and Indonesia are running a race to become electric car manufacturing centers of the region and the world. Will Vietnam join the race?

Making solid-state batteries is a prerequisite for the development of the electric vehicle (EV) market, helping create smart cars which can run thousands of kilometers after just minutes of battery charge.