When promised land turns out to be tragedy

A phone call Nguyen Dinh Gia received on Saturday night ended his last hopes of ever seeing his son again.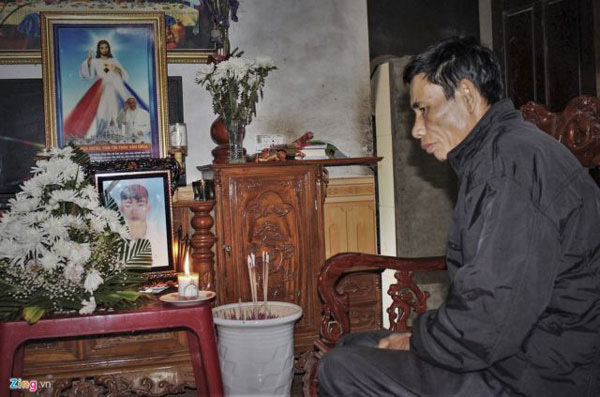 Grief-stricken Nguyen Dinh Gia, father of 20-year-old Nguyen Dinh Luong, was deeply shocked to learn his son died in the refrigerated container truck in the U.K. Photo news.zing.vn
With help from an interpreter, Gia was connected to police in Britain. The officer was working on identifying the victims of the harrowing lorry deaths discovered on October 23, in which the bodies of 39 migrants were found in a refrigerated container on an industrial estate in Grays, Essex, in the south of England.
It was an eight minute conversation – and when Gia described the tattoo that his son, Nguyen Dinh Luong, had on his right shoulder, he heard the interpreter say "then that's him".
Gia felt like he was being suffocated.
"We feared our son might be among the victims, but we prayed and hoped. Now our hopes have ended," he told online newspaper Zing.
Luong worked in France as a waiter and dutifully sent money back to his family every month. He had told them he wanted to find a better paying job and was planning to go to the UK to work.
Luong told his parents there were two options: the first one involved a precarious journey with a high chance of getting caught; and the second he said would be safer and less laborious, but cost more. The VIP migrants would be put in trucks or container trucks and taken to the UK.
He chose the VIP option, with the promise of better work.
But he didn't know he would be embarking on a final fatal journey.
His parents still owed nearly US$17,000.
"Now all we want is for his body to be brought home, but we don't even have the money to do that," Gia said.
Many families in Nghe An Province are awaiting the results of the identification process. By October 27, 24 families had reported to police missing loved ones who they feared might have been among the 39 victims.
Cao Thi Uyen, a resident of Dien Ngoc Commune, Dien Chau District in Nghe An Province, hasn't been able to sleep for the last 10 days. Her son also went missing at the same time of the Essex incident.
Her son had borrowed VND500 million ($22,000) to pay for the trip to UK. His wife is jobless, and they have four children to raise.
"I don't know how they will survive," Uyen told Thanh Niên (Young people) newspaper.
Risking it all
In this heart-rending incident, it is reported dozens of locals have paid big sums, estimated at around VND1 billion ($43,000) each, to be illegally transported to Europe to find better jobs abroad to escape poverty and support their families.
British Ambassador Gareth Ward said in an article published on September 29 that "unlike victims of trafficking to neighbouring countries, who are often tricked or even kidnapped, Vietnamese arriving illegally in the UK have usually left voluntarily."
They believed in the "promised land", Gareth said, and that they would be able to earn big money to "improve the economic situation for themselves and their families".
Mimi Vu, an independent anti-trafficking expert and development consultant who has been based in Vietnam for over 13 years, said working abroad had become embedded into the culture of those living in provinces such as Nghe An and Ha Tinh.
"Over the last 30-40 years, these traditionally poor villages have been transformed by new homes, motorbikes and cars, proving that working abroad and sending money back home is successful," Vu said.
In the first eight months of this year, more than 41,70 people left Ha Tinh looking for work elsewhere, including overseas, according to official figures.
According to a report by the National Assembly's Committee on Social Affairs, people working overseas from Ha Tinh Province send back home VND4 trillion ($173 million) a year.
The stories from successful migrant workers lead others to attempt the perilous journey, putting their lives in the hands of criminals.
Most victims of trafficking think that despite the dangers and the costs, they will find a life changing opportunity in the UK to pay back debts.
But what they face are nightmares. Survivors of such journeys have told their stories to the press over the last 10 days: long and arduous journeys over mountains and through forests on foot, being held in houses for weeks and months, and being hidden in lorries or cold containers, risking their own lives.
"I interviewed a social worker in Germany who has worked with the Vietnamese diaspora community for the last 30 years, and she admitted that she couldn't remember the last time she worked with a Vietnamese female irregular migrant (without papers) who had not been raped or sexually exploited en route to Germany," Vu said.
And what awaits those who do arrive in the UK illegally after a long and arduous journey are usually debt bondage in a nail salon or car wash, where they will have to work long hours for at least two years to pay off the initial debt plus interest; or cannabis houses, where the situation more closely resembles slavery, being prohibited to leave the house and forced into unpaid work, Vu said.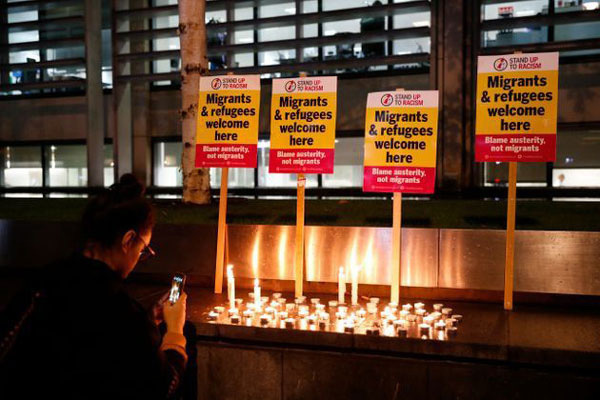 Candles were left outside the Home Office in London with signs which read 'migrants and refugees welcome here' to pay respects to those who died. PA Photo

Can it be stopped?
In the latest news, the driver who was charged with 39 counts of manslaughter has been warned his life is in "serious" danger.
The sinister messages were received by Eamon Harris and his family following the tragedy, reported the Irish Mirror.
"Police are determined to smash this trafficking ring and the crime bosses behind it are desperate to keep what is a very lucrative industry for them going," the newspaper quoted one source as saying.
According to the UK's National Crime Agency's annual report on modern slavery 2018, Vietnam was the third most common country of origin for potential victims of slavery in the UK in 2018.
According to the Washington Post, UK's National Crime Agency figures showed nearly 7,000 possible victims were reported in 2018 — a 36 per cent increase from 2017. Those people came from 130 countries, with Albanians and Vietnamese the most common foreign nationalities.
Mimi Vu said human trafficking could be stopped, but with a lot of effort and time.
"There must be multiple solutions that simultaneously address the push-pull factors that create human trafficking and smuggling. At-risk people need to be convinced that it's more beneficial for themselves and their families to stay and work in Vietnam," she said.
"The private sector needs to work with NGOs, local communities, and governments to match job seekers with employers. If Vietnamese choose to migrate for work, it should be done safely and legally through official exchange programs for both skilled and unskilled labor," she said.
In a statement made on Saturday, Foreign Ministry Spokeswoman said Vietnam strongly condemned human trafficking and considered it a serious crime.
"Traffickers must be strictly dealt with," Hang said.

In the early hours of Saturday morning, just about most of Vietnamwould have been sound asleep.  

Vietnamese Deputy Foreign Minister Nguyen Quoc Dung has thanked the Foreign and Commonwealth Office and relevant agencies of the UK for their active support and sharing of information related to lorry deaths in Essex with Vietnam.
VNS