'We'll lose another tourist season if we don't change"
In recent talks with VietNamNet, Dr. Nguyen Duc Kien - Head of Economic Advisory Group to the Prime Minister - said the pandemic battle and mass media communications have to be adjusted to support economic development.
What is your view about our economic situation under the impact of policies to fight pandemic? 
In the first two months of this year, our production has been doing well, trade surplus remains stable from FDI enterprises. Domestic enterprises still suffer a deficit. Currently, the FDI enterprises account for more than 76% of national export. It has helped to stabilize production but also reflected the slowness and weakness of domestic enterprises in the global value chain. 
Stock investors have earned high profits since the last months of 2020.
In 2020, the financial sector has done well in spite of the pandemic. So have labor intensive industries such as textile, Samsung, etc. But employees of small and micro businesses and of family business have been affected due to the lack of social security policies. 
Drastic changes are needed.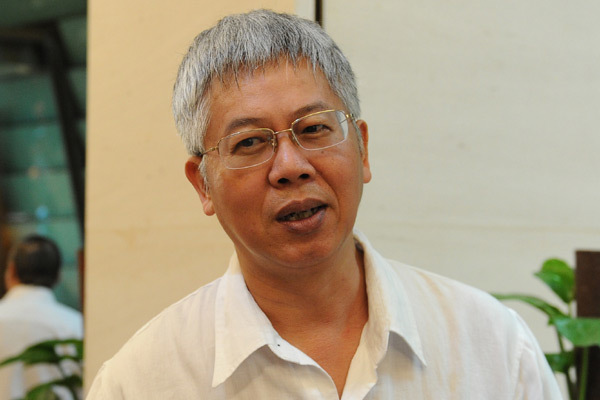 Dr. Nguyen Duc Kien: the world has set up the business of vaccines. If we don't change, it'll be difficult for us.
What do you think about the economic stimulus package under consideration?
Statistically, by May 2020, about 32 million employees were affected. The government could not support them for the whole pandemic time. They have had to spend their savings. Many of them ran out of savings. Right where I live, there are about 200 people who lost their jobs due to restaurant closures. But they still stay in Hanoi to look for different jobs.
It is necessary for social security policies to consider the benefits of workers in 5 million family businesses and 8 million farm households. We haven't admitted the reality of business bankruptcy so the workers haven't been able to receive social security benefits when there is a bankruptcy. The government should bear the responsibility due to its unsuccessful management.
Even though approved in April 2020, Resolution 42 for supporting businesses and workers started to be realized in June and has been amended a couple times since. In short, we have to push up everything we planned. We are not short of solutions but our policy realization has failed.
What do you think about the coming time when we have to develop the economy as well as fight against the pandemic?
The government tasks in the first six months are to focus more on support measures for business than on public investment as in 2020. Reduced interest rates in March have shown the participation of banks in the process.
One the other hand, the world demand has risen. The "vaccine" economy has shaped. Vietnam will be in difficulty if unchanged. In the first two months, tourism reduced by 99% compared with the same period of 2020.
Without a drastic change, we will lose another season starting in May. Tourism and supporting industries account for 10-15% of GDP. It would take ages for the economy to recover if we lose another 15%.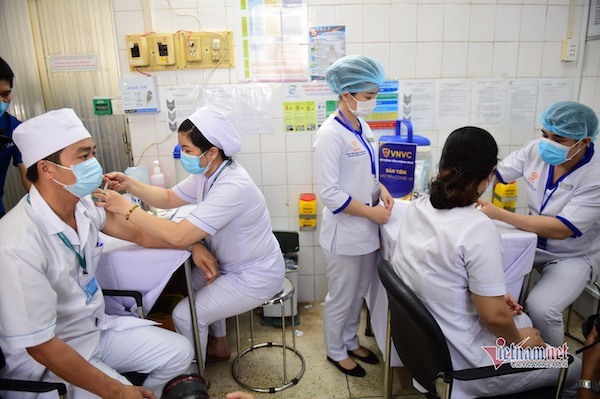 COVID-19 vaccinations in Ho Chi Minh City on March 8. (Photo: Thanh Tung)
There is a huge impact of pandemic measures on local business and people as seen in Hai Duong. What do you think about it?
Recent Covid-19 outbreak in Hai Duong has shown a huge economic loss. The pandemic continues to negatively affect farmers and low-income workers. For the past year, we have seen but not yet fully understood the tragedy caused by the pandemic until the recent agricultural loss in Hai Duong. The government has to find a support solution within its tight budget and weak management system. However, we have an absolutist thinking style. We have not yet admitted our mistakes. The people in charge of providing financial support have to check over and over and ask permission from their higher managers to avoid their own responsibilities when something goes wrong and discovered by the media. This way of working has slowed down the financial support distribution to beneficiaries.
Stay alert and keep calm
How do we balance the pandemic fight and economic development?
As I stressed earlier, we have an all-or-nothing thought. Let's look at the difference in the pandemic treatment of Vietnam and other countries.
In European countries and America, anyone positive with Covid-19 is first self-isolated at home and follows doctors' instructions. In Vietnam, he or she has to go to hospital.
We are too scared of Covid-19. We should stay alert and keep calm to create a new normal. We should change from what we learnt in the past year. We should fully understand the spread and infection rate of the virus to adopt a proper treatment.
In Europe and countries with more advanced healthcare systems, it is considered an epidemic and a highly contagious flu. If we look at it that way, we could find a solution to combine socioeconomic benefits with pandemic fight.
The past year strategy needs to be adjusted. The outbreak in January 2021 caused loss for business and people. It will take longer for economic recovery. The state budget will be tighter.
Whenever there is a positive case, local authorities apply a lockdown on that district or even the whole province, causing an unpredictable situation for people. Do you think this should be adjusted?
Covid-19 solutions should be different from mass media communication. It is necessary to carry out more effective solutions apart from quarantine. Though it is right for travelers from abroad to be quarantined in government managed isolation, self-isolation at home should be applied for community cases. The media should encourage people to understand and cooperate with the government.
At the same time, we should have a new look at the vaccine economy. Vaccine now plays an economic and political role. Currently, our economic, political and diplomatic capacity is not strong enough to help us to participate in the global vaccine chain. We should produce the vaccines on our own and apply solutions as other countries do in emergencies (America applied war-time rules for vaccine production).
More importantly, the government should purchase domestic vaccines at two-thirds of the price of international vaccines to encourage domestic manufacturers and scientists.
There is also a constraint in our PCR testing capacity. In the recent outbreaks in Da Nang and Hai Duong, other localities joined in to accelerate testing. The large-scale testing cost is huge, which is unable to be covered by the state budget. In the coming time, the production and utilization of quick test kits should be privately funded. The testing capacity should be extended too.
Tu Giang

Large-scale Covid-19 vaccinations are expected to help restore travelers' confidence, loosen travel restrictions and normalize tourism activities.

The tourism industry has never before fallen into such a difficult situation. Many travel firms have had to shut down, while tour guides have had to take temporary jobs while waiting for opportunities to return.