WBA champion Hoang gunning for more success

Left! Right! Left! Watch your head!
Truong Dinh Hoang followed his coach's advice despite a deafening crowd of more than 30,000 people who turned up to watch his World Boxing Association Asia East super middleweight title bout.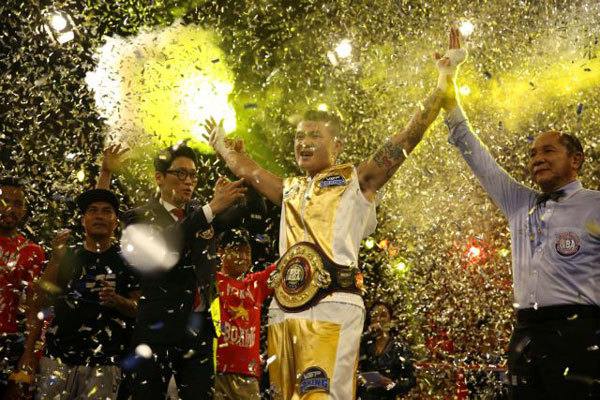 CHAMP: Truong Dinh Hoang after winning the WBA Asia East title. Photo courtesy of organisers
He reduced his opponent, Lee Gyu Hyun, to a human punch bag.
After 10 rounds, sweating and exhausted Hoang, was named the winner on a judges' decision to claim the Asia East belt, the first continental title the national champion has won.
Hoang 'The King', who has now set his sights on bigger targets, did not have an easy road to become champion.
"I've loved martial arts since I was a little boy. I watched every programme on TV and really wanted to be as good as the masters," said Hoang, 29.
The then 12-year-old boy found a traditional martial arts club in his home town in Ea Phê Commune, Krông Pak District, in the Central Highlands province of Dak Lak and he started training to make his dream come true.
Two years later he became a member of the provincial wushu sanshou (combat) squad.
However, Hoang, who was tall and thin at that time, was dropped by the coaches.
Six months later, Hoang heard about a boxing team, and he signed up on the start of his journey.
He was a natural from the start, and soon caught the eye of Vu Duc Thinh, the head of the national boxing department, who called him up to the national junior team based in Da Nang.
Hoang was coached by former Southeast Asian Games medal holders and he developed rapidly.
Four months later, he won silver at the national youth championships.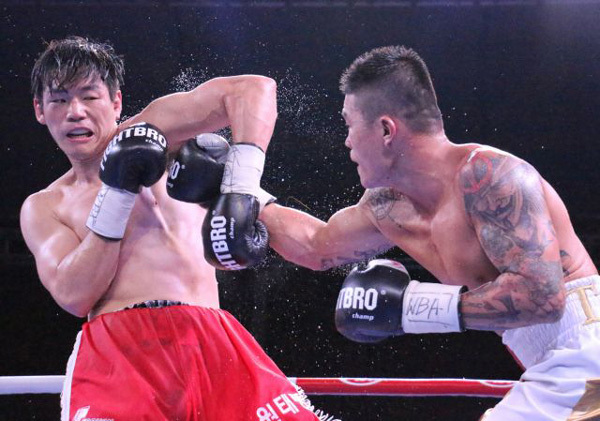 BIG HITTER: Truong Dinh Hoang (right) lands a punch on Lee Gyu Hyun during their WBA Asia East bout on October 19. VNS Photo Doan Tung
 
However, he let his head get away from him, thinking he was unbeatable and looking down on his rivals until he learnt a valuable lesson.
"I thought I was that good and no one could beat me. I took that thought into fights with guys I'd beaten before. However, there was one fighter, he beat me, yes he beat me and won the fight," Hoang said.
"I was shocked. I was so disappointed that I left the club and returned home. After several days of thinking, I came back and started boxing again like from the beginning."
"The loss totally changed my mindset. It was an unforgettable lesson. Since April 2009 I have not lost a domestic bout," said Hoang, who won his first national title in September 2009 and has dominated the national championships for 11 years.
Things seemed easy for Hoang but he still struggled at the SEA Games.
In 2009 and 2011, Hoang suffered defeats to Khankhokkhruera Aphisit of Thailand in the semi-finals. Two years later he was taken down by Myanmar's Wailin Aung, also in the semis.
Failure taught him success. In 2015, he beat his arch-rival Aphisit on points and took the title.
"Finally I've out of his shadow and on top of the podium," Hoang said after receiving his gold in Singapore.
After ending his SEA Games gold drought, Hoang made a turning point in his life, leaving the national team at the age of 26.
"I suffered a serious eye injury during an Olympic qualifying bout. The doctors said if I continued competing at a high-level my eyes would be ruined. Then I left the national team and just competed at local tournaments," said Hoang, adding that at that time he was running low on motivation.
It took him about three years before he returned to action with professional boxing in early 2019.
"My eyes are good. I still love to box and remembered the feeling in the ring, so I came back," Hoang told Việt Nam News.
"I want to be a professional boxer. It is a way to push myself and I also want to find out what my abilities are," said Hoang, who won his two return fights by knock-out.
There's a big difference between amateur and professional boxing. According to Filipino coach Do Dong, professional boxing requires more technique and stamina as fighters sometimes have to go for 12 rounds. Amateur fighters need to be more explosive and throw more punches because their fights only last three rounds.
Hoang is also targeting a global title, but his first step will be securing a second SEA Games gold.
"The recent WBA Asia East win has given me confidence ahead of the Games. I want to make the final at the very least. Then my coaches and I will decide what's next," he said.
"It will still be a challenge for me because in the 81kg class, the Thai and Filipino fighters are really strong. John Marvin is powerful and he has an Asian silver medal."
According to Do Dong, Hoang has a great right hook and left uppercut. He is also motivated and trains hard, but needs to push himself to be in top shape for the SEA Games.
"We know that guy (Marvin). He is strong too but we will find a way to beat him. It's a big task but we will do our best to come out as winners," Do Dong said.

'The King' Truong Dinh Hoang brought Vietnam their first ever World Boxing Association Asia East title on Saturday night.

Boxer Truong Dinh Hoang beat his rival Lee Gyu Huyn in the men's 76kg category and become the first Vietnamese fighter to win the WBA East Asia title.
Khieu Thanh Ha
VNS