Water puppetry made from discarded materials
Mr. Ho Van Than (60 years old, Quynh Thien ward, Hoang Mai town, Nghe An province) is very admired for his flair in turning scrap shops into riveting electric puppets.
Passion brings change
Mr. Than alongside his automated puppet system.
When little, he was passionate about puppets showing and even was accepted into a local water puppet troupe which shortly disintegrated due to the rigors of competitive environment encompassing other art forms. It however, failed to quench his affection for puppetry, according to Dan Tri News.
In 2000, Mr. Than decided to build an automatic puppet system for all the characters to reenact simultaneously in accordance with a pre-set scene. To make his ideas come to pass, Than bought old electric motors, wood and other items from junk shops to make frames, musical instruments and then shape the characters. One month into it and an electric puppet team of over 10 characters' self-dancing to music without any manipulators was released to the admiration of villagers.
He thus far has built 15 electric puppet systems with extended music genres integrated to cater to broader range of audience.
From tree leaves into valued products
The Indian-almond leaves that seem futile, under Mr. Vo Ngoc Hung's hands of magic, are transformed into impressive stylized conical hats, according to Dan Viet News.
A few years ago, after Hung saw a traditional lotus-leaf cone-shaped hat byan artist on display at the Hue Festival, an idea sprang to his mind that was to create modernized conical hats from an unconventional material. He got round to his design early in 2018 starting with Bodhi leaves, breadfruit leaves and many other types before he decided to go for terminalia catappa leaves since their thickness and breadth which he discovered during a forest trip in Binh Dien (Thua Thien – Hue province) fit the making of conical hats. A massive failure during that process never caused him to quit.
Each product embodies his great effort and time. Hung's conical leaf hat brand thrives and is adored, especially ny tourists in Hanoi and Ho Chi Minh City. It sells at 450,000 VND.
The unparalleled antique warehouse in Hue city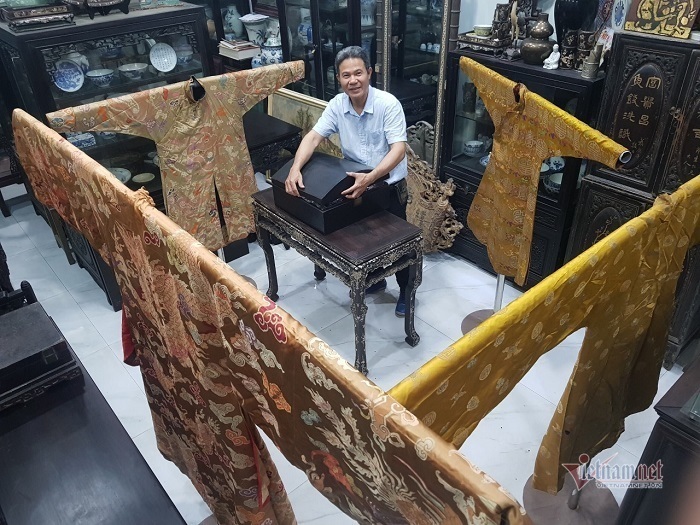 Mr. Hoang with his Nguyen royal attire.
The house of. Nguyen Huu Hoang (47 years old, Thua Thien – Hue province) in the ancient capital city of Hue abounds with thousands of antiques that are the fruits of his 30-year pursuit of relics.
His devotion to particular attire from Nguyen dynasty burgeoned at early age and has grown so huge that it made an unflinching 20-year-old boy leave home and go on the hunt cycling to every nook of land to quench his desire to collect time-honored items.
Not keeping all of them to himself, Hoang also transferred 41 antiques to the Ho Chi Minh City Museum for better preservation and public contemplation.
A homely nook amid a buzzing Saigon
Nestled in a small corner of the sidewalk of Thuan Kieu Plaza (District 5, Ho Chi Minh City), the market heaving from sunset till sundown specializes in selling all sorts of insects, reptiles and birds…which attracts male customers in particular.
The supply is 'distributed' directly from the fields by farmers who also are traders themselves. Aside from being a main source of income for people here, this special market in the middle of Saigon is a cosy nook that satisfies the love of animals and the nostalgia of the homeland.
Giant grapefruits with edible peel
This rare fruit was popular in Saigon during Tet 2021. credit: @phandiemvlog
Resembling a grapefruit but multiple times the size, this strange fruit was at buzzing markets during this Tet.
According to some sellers, it is called 'fragrant grapefruit', and has massive appearance. The smallest one in the stall is half the size of a human body, shaped similarly to a bell, and is a vivid yellow. Particularly, the peel of this fruit can be eaten unlike most of the fruits we see today. The price for each is nearly a million VND.
Bonsai mulberry trees
The 'bonsai mulberry trees' grab a lot of customers' attention despite being located in the last corner of the spring flower market in Hoa Lu ward (Pleiku city, Gia Lai province).
These mulberry trees are hybrid mixes between the natural great root of bonsais and mulberry scions which is skilfully done by gardeners. They have become highly valuable bonsai trees and are priced around 2-5 million VND on average, 13-15 million VND for larger ones.
Two perennial bonsai trees set record in Vietnam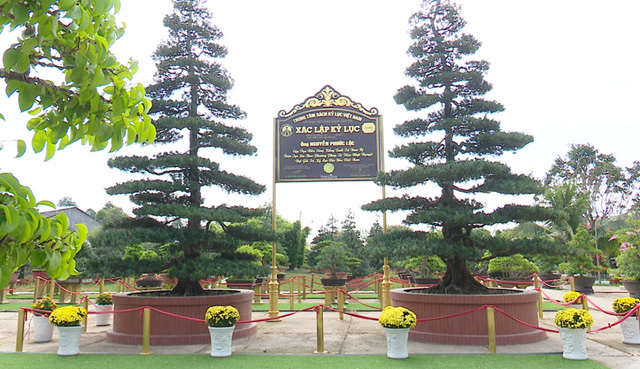 The bonsai pair has set a record in Vietnam. Photo: Dong Thap Newspaper
According to Dong Thap Newspaper, the pair is about 150 years old, each has a height of about 7 meters, a canopy diameter of approximately 4 meters, a trunk diaphragm of 1.3 meters, and a root diaphragm of about 40 centimeters. This is a rare that a perennial bonsai possesses such large diameter with branches intricately globe-shaped in all dimensions and interwoven like sun and moon.
The pair of bonsai shaped by artist Nguyen Phuoc Loc (Tan Khanh Dong commune, Sa Dec city, Dong Thap province) has just established a record certified by Vietnam Record Organization for its exclusive shaping method.
Mr. Loc revealed the trees are worth about 10 billion VND.
Hanh Nguyen

No measure of money can be exchanged for the mark of time. These trees, with a lifetime of over 1,000 years, are associated with national culture and history.