Wake up and smell the cinnamon

Cinnamon might smell like Christmas to many in the West, but to some Vietnamese farmers, it smells like prosperity.
The spice has been long seen by farmers of Phong Du Thuong Commune in the northern province of Yen Bai as a path to escaping poverty.
In recent years, demand for cinnamon has become greater than ever and has helped many households in the province's Van Yen District get a better life.
Spices could be nice export earner for Vietnam
Yen Bai to hold Van Yen cinnamon festival in October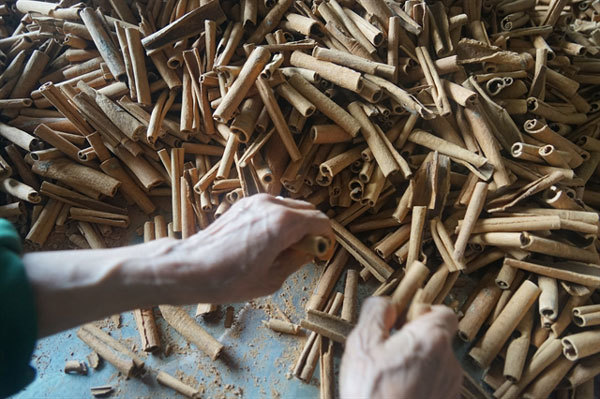 A worker selects cinnamon to put into a package. Photos courtesy of Gia Chinh
Bearing that in mind, the province has developed an organic cinnamon platform, focusing on building an agricultural sustainable chain from this valuable spice.
Export organic cinnamon
To see how cinnamon has helped develop Yen Bai Province's agriculture and enriched farmers, Viet Nam News travelled to the fourth factory of Visimex Viet Nam Joint Stock Company, which was opened two years ago in Van Yen.
As a reputed supplier of finished spices and agricultural products in Vietnam and abroad, the company's key products are pepper, cashew nut, cinnamon and star anise.
Nguyen Thanh Lam, head of the company's quality supervision department, said the company always made every effort to provide clean and safe agricultural products to clients.
"Five years ago, our main markets were China, India and Bangladesh. Later, we realised European and American markets have big demands for cinnamon products, and they pay higher, so we decided to switch to business partners in this area. To meet the demands of EU partners, the product must be made under an organic process and be controlled and given certification by a third party.
"In 2018, we built an organic planting area in Van Yen District. To safeguard the area, we co-operated with Regional BioTrade Project* officials to train local farmers not to use chemicals, apply hand-crafted cultivation, collect products with special-purpose vehicles and use bar codes to show their origins. The use of preservatives is forbidden in the company's producing process."
Heading to the packaging store, we saw seven female workers standing around a table stacked high with cinnamon, selecting the best ones to put into package.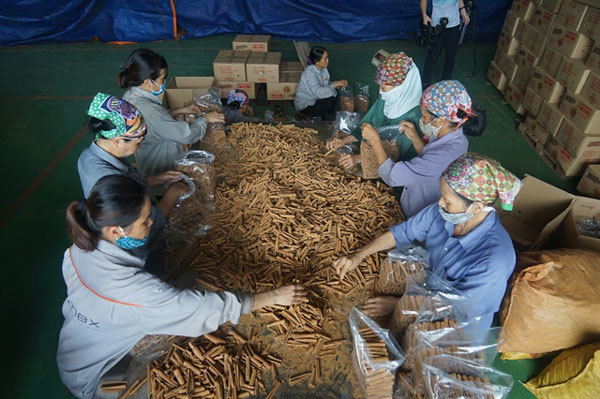 Female workers pack cinnamon in the store of Visimex JSC.
Nguyen Thanh Mai, a worker, said all labourers must try their best packing their assigned quota of 10-kg boxes of cinnamon, with a maximum quantity of 15 boxes per day.
"After we finish picking up the best cinnamon and are done packaging it, a supervisor will check again if our work is qualified. If any pack of cinnamon is not good enough, the worker must do another one. The rules are strict here."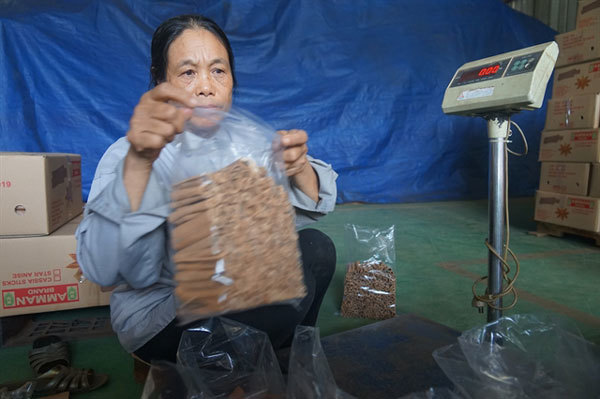 Nguyen Thanh Mai said each worker has a quota to finish each day.

Connections between locals and project makers
After passing a zigzag pathway, we reached the birthplace of cinnamon in Van Yen. The vast fields and the seemingly boundless horizontal lines spread out before our eyes.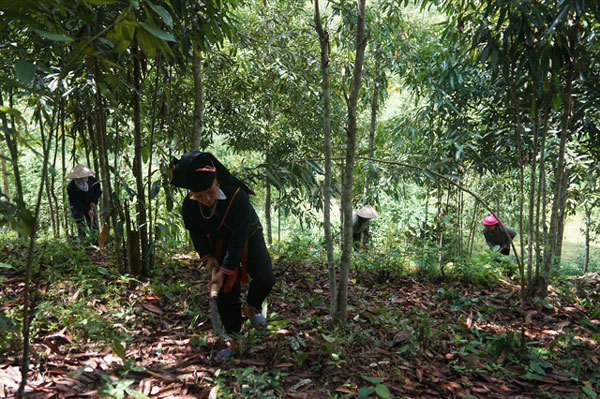 The Thai ethnic farmers harvest cinnamon up on the mountains of Phong Du Thuong Commune.

Stopping by the cinnamon field of Trieu Toan Phu in Phong Du Thuong Commune, we were stunned at how fast the farmers' lives had changed.
Leaning by the harvested cinnamon, Phu told reporters his living conditions were extremely tough in the past.
"Perhaps poverty would still stalk us if we didn't have the cinnamon, especially this organic stuff. Our lives have been changed thanks to it."
Pointing to the cinnamon forest in front of him, he joked that, "We tell each other if we run out of money, we can go up to the forest and 'harvest' the money from the trees to bring back home."
"For each cinnamon tree trunk I peel, I sell for VND300 – 500,000 (US$13-21), depending on the quality and quantity of the product," he continued.
His house has a total area of 9 hectares of cinnamon, which he harvests twice a year, once in March and again in August.
His family has joined the province's cinnamon planting group under the organic process, and won a sale contract with an entrepreneur for VND60,000 ($2.60) per kg, three times more than if it were sold to small traders. The previous season alone, his family sold cinnamon bark for a total income of VND180 million ($7,780).
His organic cinnamon planting must also follow clean procedure, without chemical fertiliser, herbicide or any chemical substances.
Each day, he takes careful notes on each step of his working process to submit to officials of Regional BioTrade SECO and Extending Commercial Initiative to protect Biodiversity and Ethical Values in the Herbs Field in Vietnam (Biotrade EU)* to ensure the products can be certified as quality.
While visiting a household which has become the main supply of cinnamon in Lang Tram Village, with a total area of 10-hectare cinnamon, we were guided by Nguyen Thi Phuong, the house owner, to hike up to her planting area.
"Huge trees are better. We bark the trunk first, then cut it down. Wood is sold for VND1.2 million per cubic metre. The rest of the roots will grow sprouts. The newly planted trees can be harvested after five years," Phuong said.
By harvesting the whole 10ha, her family collect 10 tonnes of fresh bark, equal to five tonnes of dried bark, and sell it for VND250 million ($10,760). As the main supplier of Phong Du Thuong, Phong Du Ha and Xuan Tam communes, she takes charge of buying cinnamon from local farmers to sell to other companies to process and export.
This year alone, her agency has bought 600 tonnes of dried cinnamon bark, of which 200 tonnes was certified as organic ingredients.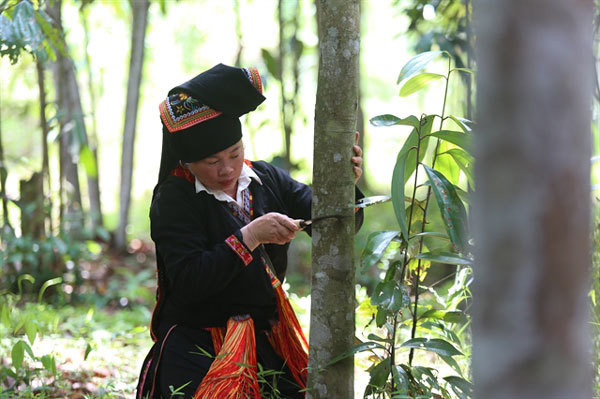 Huge trees are said to be better in quality. The farmers bark the trees first and then cut them down.
The commune currently has 200 local households signed up to the organic cinnamon project of BioTrade SECO and Biotrade EU. All products are purchased by Visimex JSC for European export.
Sustainable development
An official of BioTrade SECO Nguyen Dieu Chi told Việt Nam News the project established an organic cinnamon planting chain at Phong Du Thuong Commune.
"With that in mind, we have been successful in building a chain between farmers and entrepreneurs, aiming to have a higher qualified product for EU export target. This platform guarantees forest, bio-diversity and natural resources development purposes," she said.
According to head of the commune's People's Committee Lo Van Manh, cinnamon has long been a precious tree, used by locals to treat many diseases. To meet growing demand, farmers have started to plant the tree, expanding the area to 2,000ha from 300ha, with the participation of 1,000 households, taking up 94 per cent of the commune's population.
"Since 2018, the local authority has co-ordinated with several businesses to encourage farmers to switch from natural cultivation to planting organic cinnamon for export. The tree not only helps us to eradicate poverty but also re-greens the land and protects the environment," Manh said.

Consumers are paying more and more attention to products made from natural materials, especially products they use every day, like food, personal care and phyto-pharmaceuticals. They also have a growing desire to protect biodiversity. Companies in these sectors use hundreds and sometimes thousands of ingredients from nature in their products.
This can include fragrances, flavours and colourants in food or cosmetics; fruits, herbs and flowers for tea; natural ingredients and oils in skincare; and medicinal herbs.
To ensure sustainable practices, companies need systems for ethical sourcing and innovation. The Union for Ethical BioTrade (UEBT) provides guidelines for ethical sourcing and gives companies a roadmap for implementing such systems. The UEBT Ethical Sourcing System Certification validates that a company has incorporated Ethical BioTrade practices into its systems for sourcing and innovating natural ingredients.
Since 2009, the UEBT has measured consumer awareness of biodiversity, and how this affects purchasing. A decade of research, among 68,000 people from 16 countries, and among hundreds of leading companies, provides valuable insights that may guide firms and governments in their approaches towards people and biodiversity. The UEBT Biodiversity Barometer findings in 2019 show Asian consumers claim high awareness of biodiversity and expect to see greater corporate social responsibility in protecting biodiversity. Most surveyed Asian consumers also believed companies have a moral obligation to have a positive impact on people and biodiversity, while claiming they have more faith in a company whose commitment to ethical sourcing biodiversity is verified by independent organisations.
According to Jonas Grunder, deputy head of Cooperation at the Embassy of Switzerland in Việt Nam, the presence of UEBT Representative in SEA has confirmed its role in promoting the sustainable collection, production, processing, and commercialisation of products derived from native biodiversity.
"With SECO's support to the Regional BioTrade project, biodiversity-based products from Việt Nam, Laos and Myanmar will be internationally recognised and traded through supply chains that conform to the principles of BioTrade and the objectives of the Convention of Biological Diversity (CBD). Ultimately, the project contributes to inclusive and sustainable growth of these economies," Grunder said.
Simona Damico, representative of UEBT, said the Standard built on the BioTrade principles and criteria developed by the United Nations Conference on Trade and Development (UNCTAD) BioTrade Initiative and validated best practices of companies committed to ethical sourcing and innovation of natural ingredients.
"Companies that adhere to the UEBT standard respond to growing consumer awareness on biodiversity and expectations that companies take actions in this regard. In view of its rich biodiversity and vibrant private sector, Việt Nam can position itself as a provider of a wide variety of natural ingredients that are sourced with respect for people and biodiversity. The UEBT/CRED collaboration seeks to support this ambition." VNS
Thanh An