Vuon Chuoi reveals life in Hanoi thousands of years ago

A year and a half after Việt Nam News called on authorities to stop a construction project to protect the first and most important heritage site of civilisation in Hanoi, the latest archaeological findings make it
 even more urgent to draw a line around the relic site and protect it for future generations. Nguyen My Ha digs into the story.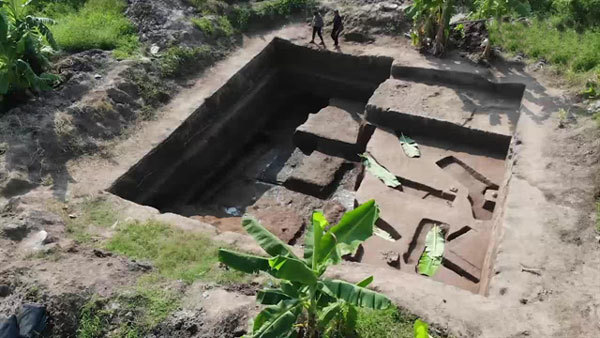 fPRESERVATION: A half century of continuous efforts to understand who inhabited this land, cultivated on it, raised cattle and made pots and pans, jewellery and weaponry. Photo Nhu Y
 
An on-site press conference was held last week to brief the public about the latest discoveries at the Vuon Chuoi, or Banana Field, site.
The name is a reference to the Archaeological Vườn Chuối Mound, and a week on, archaeologist Bui Van Liem is still visiting people in the capital's outskirts district of Hoai Duc who helped him and the team during the five months of excavation.
"I'm not on site, but meeting with people in the village, paying them and thanking them for helping us during the excavation," Liem told Việt Nam News.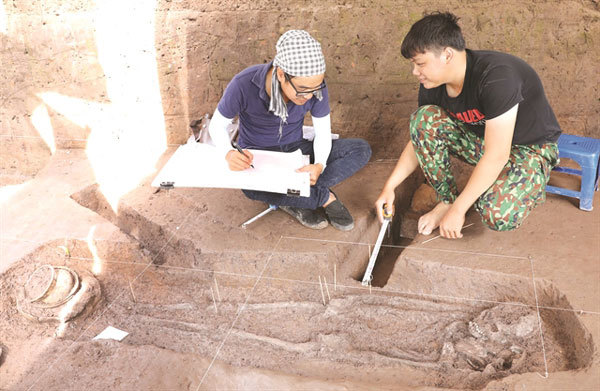 UNEARTHED: Researchers study the human remains from the earthern tombs found at Vuon Chuoi during an excavation. Photo courtesy of Vietnam Museum of History
 
Future archaeological park
Archaeologist Lam Thi My Dung, who headed the excavation project, desperately wants to protect the site.
Speaking via phone as she is currently on-site in another project in Nghe An Province, she said: "I am hoping that we can keep the site intact and protect the total 12,000 square metres and turn it into a preservation park.
"This method of architectural preservation has been done in many countries in the world," she said, "I strongly believe that Vietnam will and can make it happen."
Professor of archaeology and Dean of the History Department at the National University, Dung said she would do her best to preserve common heritage for many future generations.
"Archaeological excavation is like reading a precious book, and you keep tearing the pages after you read," she said. "After you dig it up, the history is gone. You may put the artefacts on a museum shelf to showcase them, but the real history that surrounded it in the ground is gone."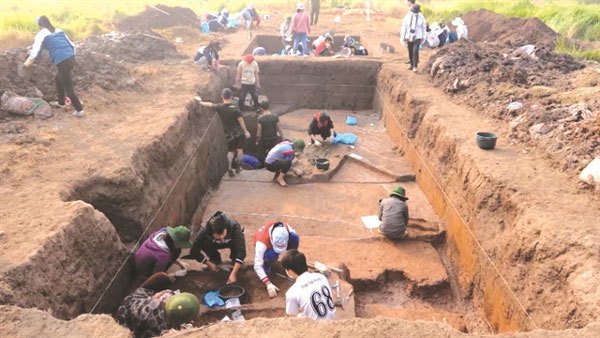 HARD WORK: Over the past 50 years, eight excavations had been held with a total excavated area of nearly 800sq.m. Photo courtesy by Vietnam Museum of History

She spoke about solutions proposed by the excavation team, led by archaeologist, associate professor Bui Van Liem from the Vietnam Archaeology Institute. The team proposed three options for site preservation.
The first was to preserve the whole 12,000sq.m Vườn Chuối, Banana Field, 3,200sq.m of Den Ran site and 500sq.m of Mo Phuong site. No more construction would be allowed in these protected areas and archaeological institutions would continue studies and documentation to rank it for national approval.
The second option would keep a part of the current Vuon Chuoi site with a plaque to record the history of the site and inform the ongoing construction project and residence owners about the artefacts still underneath their construction so that the excavation is completed before any construction continues.
TIME TEAM: The latest excavation at Vuon Chuoi that ended last week shed light on life some 3,500 years ago on the land of today's Hanoi. Photo courtesy of the Vietnam Museum of History

The final option would keep 6,000sq.m on the east of the site, excavate 6,000sq.m on the west of the site, and allow the continued documentation of material for cultural heritage status approval.
"Science and technology will allow us to know more about life in the past if we can keep the whole site intact. If we dig up the 6,000sq.m now to give way to the city's surrounding highway now, future generations with better technology will not have anything to study," Dung said.
She quoted Prime Minister Nguyen Xuan Phuc as saying: "We can produce many things, but not heritage."
Vuon Chuoi: 50-year discovery
The Vuon Chuoi site was first discovered by archaeologists in 1969. Over the course of 50 years, eight excavations have unearthed secrets of the past and revealed sketches of the lives of a community 3,500 years ago in today's Hanoi.
"Today the Vuon Chuoi is the only site where we see continuous archaeological layers of residents habitation from the Phung Nguyen (2000-1500BC), Dong Dau (1500-1000BC), Go Mun (1000-600BC) to pre-Dong Son and Dong Son (700BC -AD100) eras," Dung said.
She said that in Hanoi, there were several sites where previous excavations revealed artefacts from prehistoric times.
"But over the past few decades, mushrooming construction has been built on top of the old relic sites.
"Only in Vuon Chuoi and at Dinh Trang (in Co Loa Citadel), we still find artefacts underground, which revealed the consistent habitation of a community over a long period of time," she said.
A copy of initial archaeological reports by the team was sent to Việt Nam News.
"Especially in Vuon Chuoi, the cultural developments grew on a hereditary pattern with two continuous periods: from Dong Dau to Go Mun found in the northern part and from Gò Mun to Dong Son found in the southern part.
"However, artefacts from all three above-mentioned cultures have not been found in one place," reads the report.
"The Vuon Chuoi so far has provided us with most of the artefacts from the Iron and Bronze Ages, that shed light to these very important prehistoric times for us all," Dung said.
Bring the past to life
Over the past few dozen years, the process of urbanisation along Road 32 that runs through suburban districts of Hoai Duc and Dan Phuong has grown very fast. Community roads, new houses, shops, small workshops, family businesses have all sprung up. The original scenery has changed beyond recognition.
The Vuon Chuoi that was first discovered 50 years ago cannot be recognised today.
Over that time, nearly 800sq.m have been unearthed.
Last May, the Hanoi authorities permitted the city's culture department to restart the excavation at the Vuon Chuoi site and complete documentation to apply for its cultural heritage status.
New excavation holes have been opened at the edge of Vuon Chuoi, when a crane from the city's ongoing Ring Road 3.5 project was revealed.
"The ongoing land clearance invaded a few hundred metres of the overall relic site," reads the excavation team's report.
The Vuon Chuoi is actually named after a mound of the same name where residents used to live on the higher ground, while artefacts were also found at the bottom of some ancient ponds, which have been filled over time.
"Perhaps the hollows were filled due to a large flood in the early Dong Son time, and on top of the filled ground, inhabitants of Dong Son era continued living here," reads the report.
"If the initial design of the city's road maintains its current progress, the relics located underneath the ground in this area shall be gravely affected," concludes the report.
What has been found
A large number of tombs have been found during the excavation, including 13 earthen and two pottery tombs. Bronze produces and pottery urns and pots have also been found.
The Vuon Chuoi was the residence of a community, so the artefacts found were related to the everyday lives of humans over a thousand years.
The excavation also found remnants of former cooking places, remnants of a bronze tempering urn, some black earthen holes, wooden pillar holes and remnants of ancient yards or construction grounds belonging to different historical eras.
The artefacts collected from the Vuon Chuoi showed that ancient residents of Dong Dau - Go Mun – Dong Son mastered and developed an expertise in handicrafts to make stone objects, pottery, carpentry, bronze items, spinning and clothes making.
The remnants of rice husks printed on some pottery pieces and terracotta pieces shed some light on rice farming. Pieces of domesticated cattle and pigs showed proof of animal husbandry by residents of the Vuon Chuoi.
Fishing was recorded in the terracotta plumb balls of the fishing nets and the bronze fishing hooks found in the cultured layers after excavation.
Forest fruit picking and hunting revealed ancient inhabitants used the forests, reflected in the bamboo and wooden pieces collected in the excavation since 2012.
Archaeologist Liem said that in the time of forest exploiting, Vuon Chuoi inhabitants since the Dong Dau era used surviving methods including producing (rice planting, husbandry and developing basic handicrafts) and exploiting (hunting, gathering and fishing).
"These traditions were maintained for a rather long period of time," he said.
Some Western researchers studied Dong Son civilisation and suggested that this civilisation came from external sources.
They believed the Dong Son civilisation spread from China, or further from the Hallstatt civilisation in Austria to China and then into today's Vietnam.
"These artefacts helped answer old questions about the dawn of history some thousands of years ago in this land. They proved civilisation originated in this very land, with its inner strengths that arise from local needs, cultivation and development."

Artefacts collected
A preliminary assessment of the artefacts collected during the excavation have been classified as follows:
Stone objects: more than 1,000 stone objects including working tools such as axe blades, chisels, lead knots in fishing nets, made mostly from basalt stone, and some axe blades made from nephrite stone. Some stone jewellery was collected including bracelet fragments, earring fragments, necklace beads and decorative things to wear, mostly made from jade.
Bronze objects: nearly 40 objects were collected including axes, knives, needles and fishing hooks, armory including spears and arrows. More than 300 tiny bronze balls were also collected from the urns/fireplaces.
Bamboo and wooden objects: Some bamboo and wooden objects were collected at the bottom of the ancient lakes and ponds. Many of these objects still bear the traces of chopping, cutting or chiseling.
The bones and teeth of animals were also found in some of the holes. Most of them were cattle bones. Some shells were recovered from the bottom of lakes and ponds.
Pottery: Beside some small pottery objects found like the plumb balls for thread spinning and fragments of the moulds, most of the pottery collected were broken pieces of earthen cookers, urns and bowls from different eras from Dong Dau through Go Mun to Dong Son culture periods and even later. Initial estimates have it at more than 10,000 pieces, or more than a tonne.

An excavation in Vườn Chuối archaeological site will start from April 25th, the 9th excavation since it was first discovered in 1968.


VNS