Volunteers help homeless people

On a stormy Friday night, Nguyen Thi Van, 80 something, shivered in her worn out raincoat. Leaning against a wall on a quiet Hanoi street, she wiped her dark and wrinkled face. 
A group of young people approached her and gave her some food and a bottle of water.
"Charity food is so delicious and hot," the woman said after eating for a while. "I long for it every Friday night. I just wonder why they are so kindhearted."
Helping Hanoi's homeless
Volunteers provide health care for homeless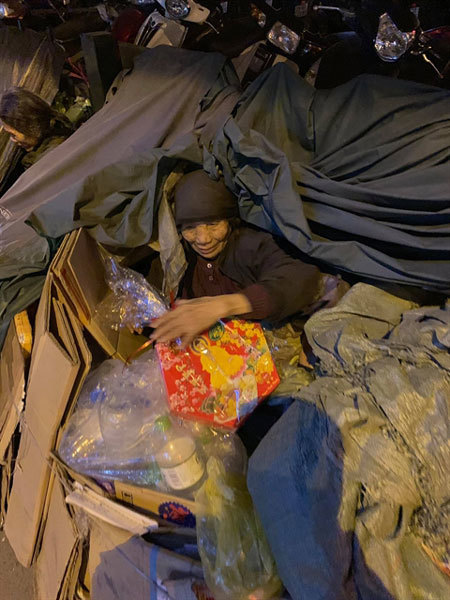 A homeless woman keeps herself warm in worn-out clothes and sacks. VNS Photos Le Huong
Van was fed by a group of dozens of young volunteers called "Chia Sẻ Vì Cộng Đồng" (Sharing for Community), who meet weekly to help the needy in the capital city.
Nguyen Duc Huy is the head of the group and prepares each voluntary activity and contributes most of the money the group needs.
His mother died when he was only 11. The shock turned him into an aggressive and stubborn boy. For five years, he was something of a 'wild' child and would hear from the police regularly over fighting.
When he reached the 11th grade, he thought about how his life was passing meaninglessly. He decided to change and sought a part-time job to earn some cash while he studied.
Once he fell asleep while he was washing dishes at a restaurant. The owner slapped his face hard.
"The hard life might have made me more sympathetic to needy people," he told Việt Nam News.
At the end of secondary school, Huy was working as a bell boy at a restaurant. Once, when he returned from work at midnight, passing a park, he saw a woman crying and embracing a baby boy.
He stopped to talk to her and learned she had fled her abusive husband, and she and her baby had been on the streets for several days. The child was thirsty for milk.
"I then knocked on the door of an acquaintance who ran a small shop to buy some milk for the baby," he recalled. "I'm still obsessed with the image of the hungry child, who finished the small milk box in just one gulp."
After that meeting, he brought leftover food from the restaurant to the poor mother and her child.
But a week later, the mother and her son disappeared without warning.
He wandered the streets looking for her and met an old man sleeping on the pavement under the rain. He talked to the man for a while and found there were more homeless people.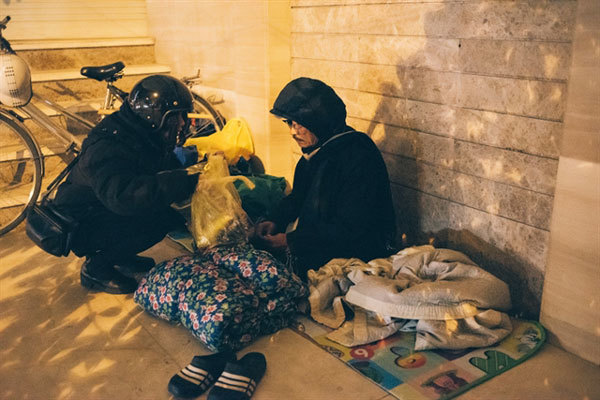 The Sharing for Community group distribute food, blankets and warm clothes to homeless people around Hanoi every Friday night.

"Since then, I decided to help wandering people, with at least a meal a week," he said.
Huy and two of his cousins brought leftover food home, warmed the food, put it in boxes and gave it to the homeless.
"I remember we just gave several boxes," he said. "I didn't know where the wandering people I had met before disappeared to. Giving food to them was not easy at all."
Whenever meeting homeless people, the three volunteers chatted with them and noted their daily route to distribute food to them.
They continued the charity work for around two years until Huy's two cousins got married and no longer had free time.
At that time Facebook had become popular.
Bom distributed the food himself, took photos of the homeless people and posted them on the Facebook page "Chia Sẻ Vì Cộng Đồng" that he set up.
"At first many of my old classmates asked to go with me," he said. "They then persuaded others to join. The page gathered more than 1,000 members."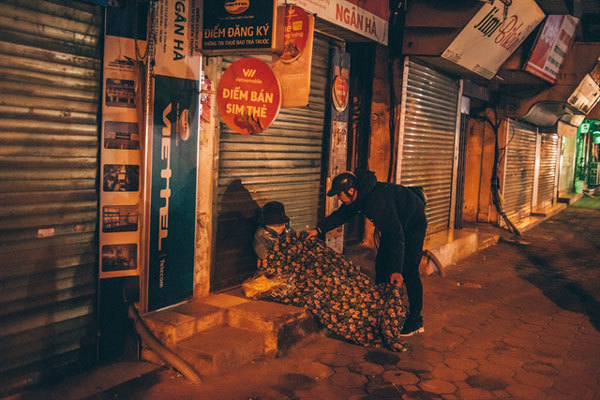 Nguyen Duc Huy (right) gives food to a homeless man in a street of Hanoi.

Giving means receiving
At present, the group provides free food to the needy on Friday evenings, when many members can join as they have finished the working week.
The group has also offered free porridge to patients at various branches of the Cancer Hospital on Mondays, Wednesdays, Fridays and Saturdays and the same free service to patients at the Heart Hospital.
The group has also raised a fund from individuals to take poor people to hospital.
"I remember most a woman with paralysed legs," Huy said. "She uses a wheelchair and sells chewing gum. I met her in winter and she wore only a thin shirt.
"We stopped to give her a food box, a warm coat and a blanket. She thanked us, grabbed the blanket and cried.
"She said she had saved some money and intended to buy a blanket as she got cold when sleeping at night."
The woman had suffered from polio since she was small. Her family members had gradually passed away and she was alone.
She talked a lot about her life and cried.
"All of us cried as we sympathised with her," Huy said.
The group members contribute money for the activities and take turns to distribute food and things like coats and blankets to homeless people. The group takes about 30 members to each session.
In the food box, they leave a card with phone numbers so homeless people can call when they need help.
For the past 10 years, the group has offered food to needy people, rain or shine.
"Giving is receiving and I'm happy to do that," Huy said.
Tran Hoang Nam
VNS