Villagers benefit from reviving natural farming practices

A group of farmers in Thanh Dong Village, Hoi An's Cam Thanh Commune, have transformed their land into a healthy organic garden and a favourite rendezvous for nature lovers by moving away from their prolonged use of pesticides and fertiliser.
Organic farm project revives traditional, sustainable farming methods
Positive policy making needed for agri-tourism booming
Hoi An river dyke takes its cue from nature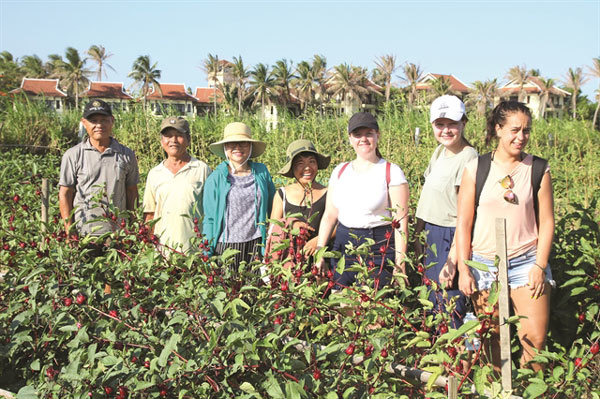 Tourists visit an organic garden at Thanh Dong Village in Hoi An. The farm has become a favourite site for educational trips and tourists as well as a source of safe food for local residents. VNS Photo Chu Manh Trinh

It was one of the first villages in the suburbs of Hoi An that completely stopped using chemical-based nutrients and protective substances, setting the stage for the development of a unique organic agricultural destination.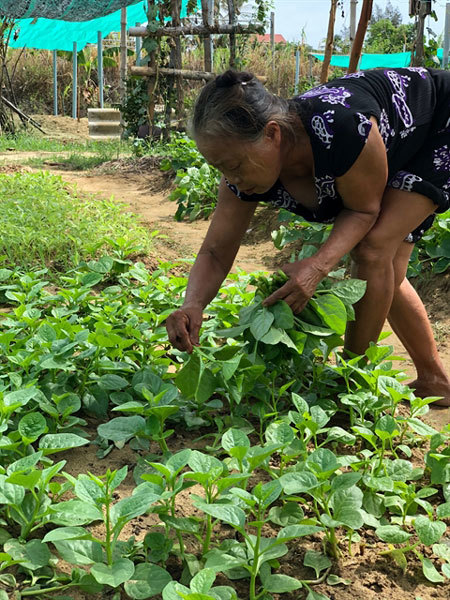 A farmer works on a vegetable plot in Thanh Dong Village. Organic farming requires regular manual work from farmers because it does not involve the use of chemical pesticides and fertilisers. VNS Photo Thuy Huong
Now, the one-hectare garden in Thanh Dong Village supplies certified organic vegetables for the residents of Hoi An and is soon expected to provide herbs to businesses to produce organic essential oils.
Le Nhuong, head of Thanh Dong organic co-operative, said the first 10 farmers voluntarily began using organic farming practices in 2014 before introducing their first product free from chemicals in 2016.
Nhuong said that before the switch the over-use of chemical fertilisers, pesticides and growth simulators had exhausted the natural nutrients in the soil, forcing farmers to continue using the artificial products to see results.
"It's like we were returning the old farming model our ancestors used in past centuries," Nhuong said. "The natural structure has slowly returned to the farm and we gradually replaced chemicals with environmentally friendly 'green fertiliser' to provide nutrition for vegetables."
"Elephant grass – a tufted perennial grass that can grow tall – was planted as a boundary for the farm to isolate the influence of pesticide, weed-killer and fertiliser from neighbouring farms," he said. "Meanwhile leaves, kitchen ash and cow dung are processed to use as compost to improve soil fertility."
He said natural farming practices have helped farmers improve their skills by forcing them to visit their crops every day.
Le Thi Boi, 68, visits the garden twice a day to wipe out grass and clear away insects – the practice that she did not do before.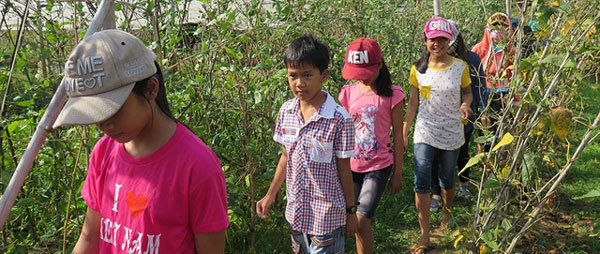 School students join a field trip for organic farming skills experience in the village. Nearly 2,000 students visited the farm in 2018. Photo courtesy of Thanh Dong Organic Farm
"Previously, farming productivity was based mostly on chemical fertiliser and stimulants, and we rested for days after spraying weed-killer and pesticides. But now we go to the garden very often with assigned work each day," she said, adding that cultivation was only halted for two months during the rainy season each year.
"All households are working together on the farm," she said. "We recognised that fostering natural harmony and peaceful coexistence between insects, flowers and plants can bring us a bumper harvest."
The old farmer said flowers were grown on the farm to lures birds, bees, ants and beetles to protect plants from harmful insects. Meanwhile, spices – ginger, chilli and garlic – were used as a natural pesticide.
"It has been a big change for us," Boi said. "We earn much more from safe and fresh products and the working environment is healthier since we no longer breath in poisonous air emitted from chemical fertiliser and pesticides."
Each member of Thanh Dong Co-operative now can earn around VND60 million (US$2,600) per year – 30 per cent higher than before – from the organic vegetable farm.
The farm has also become a destination for tourists looking to learn about farming or cooking, with 3,500 visitors last year.
Nhuong said visitors can explore the farm by paying the VND30,000 ($1.3) entrance fee and VND150,000 ($6.5) for a tranquil lunch.
Brand building
He said produce from the co-operative is labelled with the symbol of Hoi An – a UNESCO world heritage site – and sold at shops in Da Nang and Hoi An as well as online.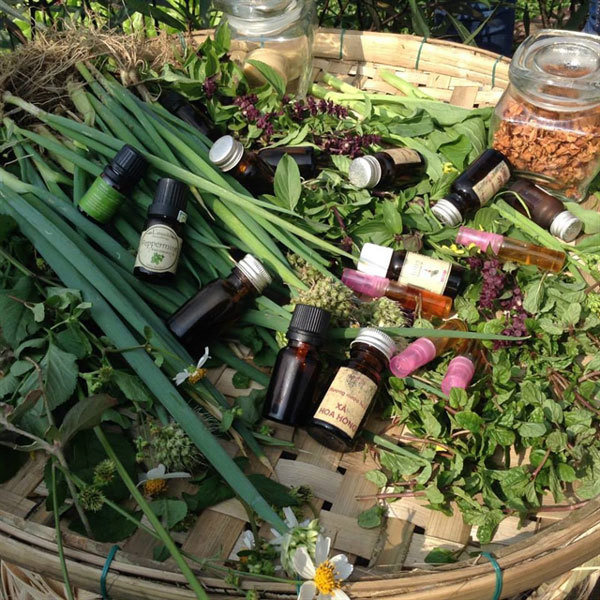 Chemical-free essential oil products on display at a rural fair in Hoi An. Some organic farms in Hoi An will provide organic materials to produce oils and cosmetics. VNS Photo Ngoc Anh
The village was the first rural area near Hoi An to ban plastic bags and promote the sorting or rubbish to aid in recycling.
The village of 1,000 residents has made plans to grow rice and vegetables on an expanded area of 20ha.
Vice chairman of the Hoi An People's Committee Nguyen The Hung said Thanh Dong Village had been included in the 2016-20 master plan to boost organic farming, community-based ecological tourism and rural experience in the suburbs of Hoi An.
"We assigned villages in the suburban communes of Cam Ha, Cam Kim, Cam Thanh and Cam Nam to form a complex of organic farming areas and provide eco-tourism services," Hung said.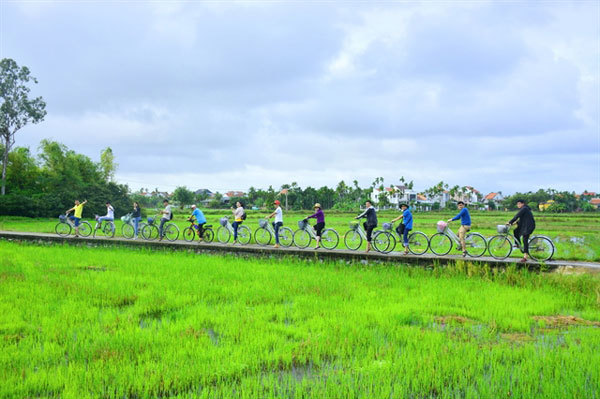 Tourists explore rural villages in Hoi An. Eco-tourism services have developed on the outskirts of the ancient city. VNS Photo Bui Van Tuan
"The organic farms will supply safe food for local residents and tourists and will provide herbs as a material to produce essential oils in the city in the near future," he said.
Hung said the organic farms in these communes have been designed as educational centres for college and school students.
He said developing these sites in the suburbs of Hoi An also helped provide tourists with more options after they explored the UNESCO-recognised old quarter.
Chemical-free
Farmers in Cam Kim Village were next to follow suit, beginning to eliminate the use of chemical fertilisers last year.
Five households began a pilot project to cultivate a 3,500sq.m farm on the banks of the Thu Bon River.
Head of the Cam Kim organic farm project, 54-year-old Phan Cong Thieu, said green fertilisers and herbal pesticides were used to replenish the soil's nutrients to make sustainable growing practices possible.
"We raised beds and mulch for crops by growing plants that enrich the nutrition of the soil over six months," Thieu said. "The first crop was half damaged by harmful insects that moved from neighbouring farms, but the second crop was recovered by rotated planting."
"Insects that eat one vegetable cannot live on other plants," he explained. "Worms that destroy morning glory cannot eat the leaves of sweet potatoes."
"The cost of organic farming is often higher than using chemical fertilisers, but organic products earn double the income," he said. "We are trying a healthy, environmentally friendly farm practice with fresh air, free of toxic chemicals to be a source of safe food."
Many villagers in Cam Kim have been encouraged not to use chemical fertilisers, pesticides or preservatives in their gardens to grow safe food.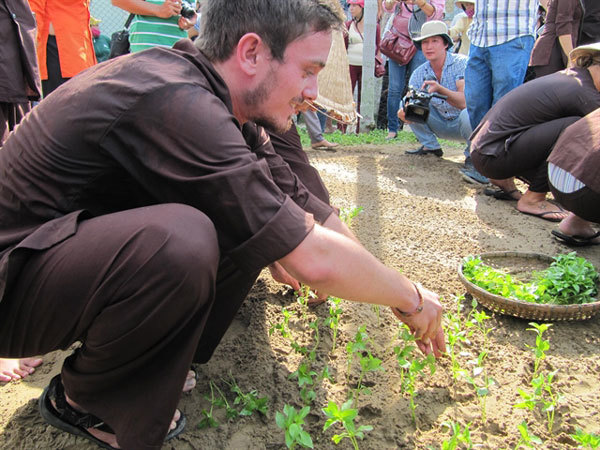 Tourists practise gardening skills at a farm in Hoi An. VNS Photo Cong Thanh
Hoi An has recently opened a plant to produce natural essential oils at Thanh Ha Industrial Park in the city in an effort to boost the use of local materials from organic farms.
The plant, the largest of its kind in central Vietnam, has a capacity of one million units of oil from local herbs for cosmetics.
The director of the plant, La Ngoc Anh, said organic farms in the suburbs of Hoi An would join the production chain by supplying at least 30 tonnes of local materials including sweet basil,
peppermint, citronella, agarwood, coriander, Chinese parsley and pepper for use in shampoo, shower gel, skin cream, soap and perfumes.
He said the development of the production chain and the Hoi An brand would help farmers earn more from their chemical-free agriculture. VNS
Bui Hoai Nam