Vietnamese super-wealthy spend more on luxury items
Thu Hoai turned up at a party with a Bulgari handbag valued at over VND100 million, a favorite of many celebrities in the world, including Miranda Kerr and Kate Moss.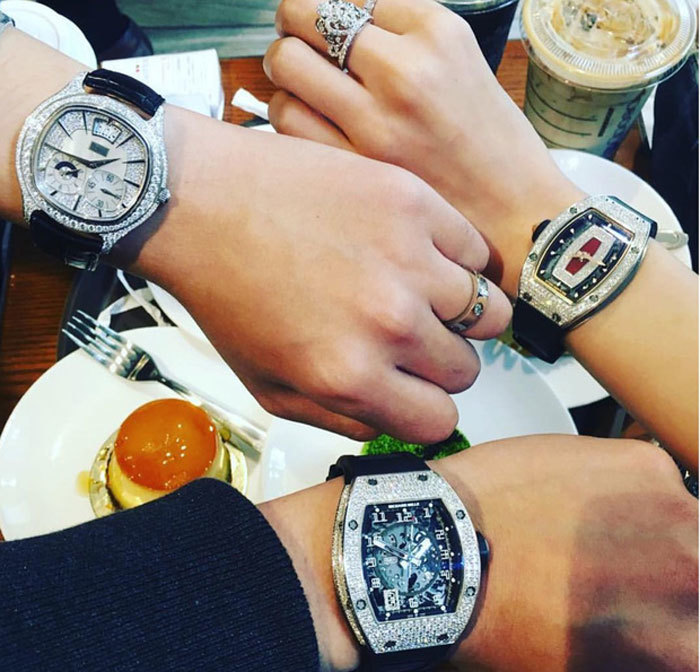 Hoai said the gown and accessories she wore had a total value of VND400 million. But this was just a 'small figure', because she once appeared at another party in a gown worth VND3 billion.
"It is just middling," she said, adding that there are many people richer than she is willing to spend more money on party clothing.
Hoai said that 99 percent of women want to own at least one item of a famous brand. The first branded item she had was a Louis Vuitton handbag.
The daughter of a billionaire in the real estate sector, she has many products from famous brands Dior, Hermes, Gucci and Chanel, travels all over the world, and has dinner at luxury restaurants.
In order to satisfy the demand of luxury item fans like Thu Hoai, Louis Vuitton has opened a large store on Ngo Quyen street in Hanoi. There are two VIP rooms at the store, with private space where clients can fully enjoy unique experiences with all senses.
The famous brand set foot in Vietnam in 1997 when it opened the first store at Metropole Hanoi Hotel.
The International Center, which is not far from the hotel, operational since 1995, has a lot of luxury brands, such as Prada, Hermes, Gucci and Patek Philippe. At Trang Tien Plaza, the products of 200 brands are displayed.
However, analysts note that the number of luxury brands in Hanoi is still lower than in HCM City.
Online shopping is unsuited to luxury product distribution. Many shopaholics fly to HCM City to do shopping, according to Johnathan Hanh Nguyen, called the 'Branded goods King'.
The next-generation of wealthy people
Vietnamese fans of luxury goods have been younger in recent years. The article 'Rich Kids of Vietnam' was published in Business Insider in mid-July 2017. It noted that they had luxury items with famous brands when they were just 18 or 20 years old.
Savills Vietnam reported that the number of young people conversant with knowledge about technology is increasing rapidly and are the clients that luxury brands target.
With the strong development of technology, youth now have more chances to see luxury products through celebrities on social networks and go to stores to see the products with their eyes and buy them.
Middle class people are also willing to spend money on luxury items. These people tend to save money to buy valuable things, and like branded products.
A report released in 2018 showed that the Vietnamese middle class has been expanding rapidly with 1.5 million people each year in recent years and it is expected to account for 33 percent of Vietnam's population by 2020.

2020 was a tough year for luxury brands. The border closure and the spread of the coronavirus have mostly stopped the world's tourism and caused a sharp fall in the sale of luxury items.
Even people with lower income also wants to own luxury products. A film director said at a talk show that a young girl he knows who lives in a rented room with unstable income has a Gucci handbag worth VND70 million.
A survey by Luxury Institute found that luxury products are not only considered high-quality items, but also the manifestation of the class of their owners.
Promising land
According to Matthew Powel, director of Savills Hanoi, the latest presence of LVMH with Louis Vuitton and Christian Dior stores in Hanoi is a good sign of confidence in the Vietnamese market.
Thierry Stern of Patek Philippe, talking about his impression about local wealthy people, said he knows Vietnamese businessmen have watch collections and own high-end real estate.
2020 was a tough year for luxury brands. The border closure and the spread of the coronavirus have mostly stopped the world's tourism and caused a sharp fall in the sale of luxury items.
McKinsey, a market analysis firm, predicted that the global fashion industry worth $2.5 trillion lost 27-30 percent of revenue in 2020. Meanwhile, luxury brands saw sales decrease by 35-39 percent.
A lot of luxury brands have flocked to Vietnam as they believe that it will be a potential market for them.
Previously, wealthy Vietnamese people had to fly to Thailand, Singapore and Hong Kong to buy luxury clothes and cosmetics. But now many luxury brands are present in Vietnam.
The income of Vietnamese people has been increasing. According to IMF, Vietnam's economy had value of $1.05 trillion in 2020 and GDP per capita was $10,000 if calculating in the PPP (purchasing power parity) method. The Economist in August 2020 listed Vietnam among the 16 most successful emerging economies.
With the growth slowdown in China, Bain and Altagamma believe that Vietnamese consumers will benefit from the massive landing of luxury brands in coming years.
Statista estimates that Vietnam's luxury goods market was valued at $974 million in 2020, a slight decrease of 6 percent from 2019. 
Duy Anh

The enterprises of billionaires Pham Nhat Vuong, Ho Hung Anh, Nguyen Dang Quang and Nguyen Thi Phuong Thao have reported good business results for 2020.

The National Centre for Socio-Economic Information and Forecasting (NCIF) has released a forecast on Vietnam's economic performance in 2021, with GDP growth of 6.72 percent and CPI of 4.2 percent under an optimistic scenario.