Vietnamese find opportunities in crisis
Vietnam became known internationally for overcoming big difficulties last year, while finding opportunities during the Covid-19 crisis.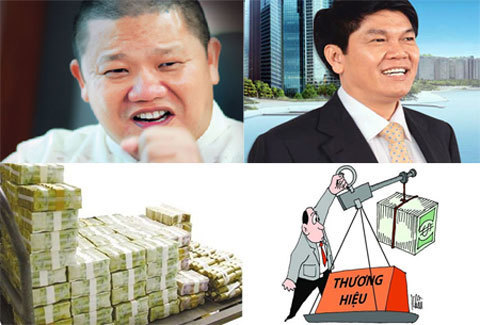 Billionaires saw their assets increase sharply in 2020
2020 was expected to be a gloomy year for Vietnam because of the pandemic, which broke out early in the new year. However, it was a prosperous year for many businesspeople.
"Everything seemed to be lackluster and many people thought of the possibility of losing jobs. But finally they succeeded beyond expectations," Nguyen Hung, an investor in Hanoi, said, adding that his savings had doubled by the end of the year.
Hung did not think of doing business and he deposited all his idle money in banks or bought gold. But because of Covid-19, Hung unexpectedly became an F0 securities investor and gained great success.
As bank deposit interest rates became unattractive and gold prices unpredictable, Hung decided to withdraw deposits and sell gold at VND60 million per tael in August and use the money to invest in securities. The strong rise of the stock market in 2020 helped Hung earn the amount of money that he had saved for 10 years.
Many people also earned big money in 2020 thanks to securities investments. Just within one year, the number of new securities accounts increased by 600,000, which was equal to the number of accounts in the last 10 years combined.
Vietnam's economy witnessed impressive growth in 2020, listing itself among the world's top 10 economies in growth. The FDI (foreign direct investment) capital kept flowing and Vietnam's exports kept growing.
Le Quang Tri from Tri Viet Securities (TVB) said that never before had the word 'Vietnam' been mentioned so many times in international reports and mass media.
The phrases "legendary story ", "rising star ", "Asia's miracle ", "rising star", "leading country", "fastest growing economy", and "Asia's brightest economy" were used to talk about the achievements gained by Vietnam's economy.
Vietnam still achieved a positive GDP (gross domestic product) growth rate in 2020 despite the pandemic, being one of the fastest growing economies in the world. This was the background for the stock market to see a strong rise in the year.
Nikkei reported that most business fields did well, helping Vietnam become one of Asian fastest growing economies in 2020 with a GDP growth rate of 2.9 percent, while the figure is expected to reach 6.5 percent this year.
Opportunity from crisis
Despite difficulties, Vietnam was among the top 10 economies with highest GDP growth rates in 2020. In 2016-2020, its GDP grew by 6 percent on average. The GDP increased by 1.4 times compared with 2015, becoming the fourth largest economy in ASEAN.

Despite difficulties, Vietnam was among the top 10 economies with highest GDP growth rates in 2020. In 2016-2020, its GDP grew by 6 percent on average. The GDP increased by 1.4 times compared with 2015, becoming the fourth largest economy in ASEAN.
According to IMF (the International Monetary Fund), by October 2020, Vietnam's GDP per capita had exceeded the Philippines.
As Vietnam gained great achievements in public health protection and pandemic control, it could gather strength on economic development. Many Vietnam's enterprises have been thriving amid the pandemic.
Hoa Phat Group reported steel pipe sales up by 10 percent in 2020 and an export growth rate of 12 percent. Vinamilk reported a revenue increase of 8 percent from international business, which was higher than the 5.1 percent export growth rate of the whole country.
International institutions and newspapers have given optimistic predictions about Vietnam's economy in 2021. The National Center for Socio-Economic Information and Forecast (NCIF) and United Nations Development Programme (UNDP) predicted a 6.8 percent GDP growth rate in 2021-2025.
The World Bank has predicted that Vietnam's GDP would grow by 6.8 percent in 2021 and 6.5 percent in coming years. ADB has predicted a 6.1 percent growth rate for 2021 and IMF 6.4 percent.
FIDT, a team of consultants and asset management specialists, named four factors that will be possibly the driving force for Vietnam's growth in the 2021-2025 period.
The V-shaped recovery model in the world is feasible for 2021 thanks to the popularity of Covid-19 vaccine in Q1. This will have a positive impact on Vietnam's economy which has high openness with many FTAs (free trade agreement), including RCEP (Regional Comprehensive Economic Partnership) and CPTPP ) The Comprehensive and Progressive Agreement for Trans-Pacific Partnership) trade agreements.
The global recovery will help Vietnam's major export sectors, while domestic consumption has recovered thanks to the government's measures to fight the pandemic.
The other two factors include the acceleration of public investment and the improvement of the business environment. 
M. Ha

The enterprises of billionaires Pham Nhat Vuong, Ho Hung Anh, Nguyen Dang Quang and Nguyen Thi Phuong Thao have reported good business results for 2020.

After a surge in new community COVID-19 cases which were reported last week, the State Securities Commission of Vietnam (SSC) ordered industrial units to reenact measures to stabilise market activities.