Vietnamese capable of making high tech products
Many Vietnamese enterprises are diligently researching and developing Make in Vietnam products with high technology content.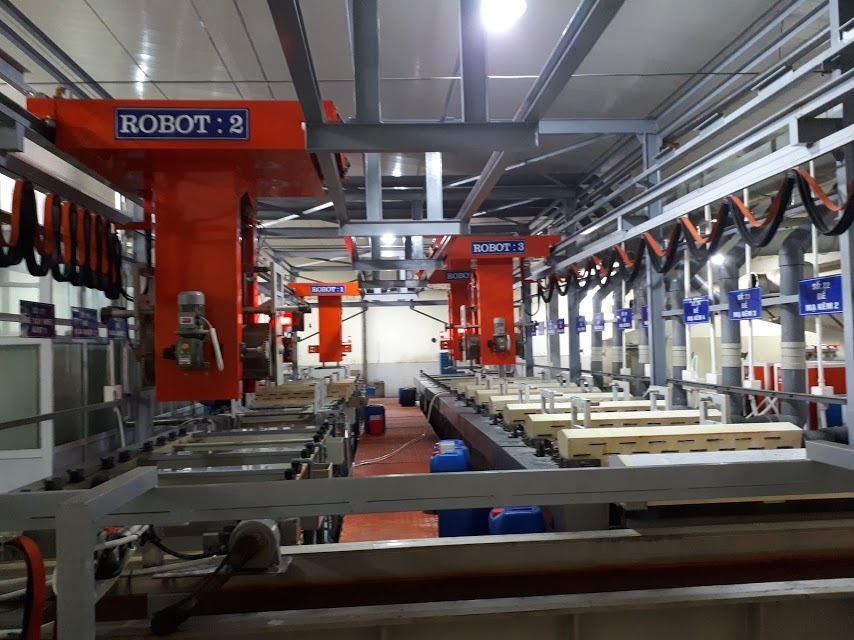 Story about Viet-Tiep Lock
Three years ago, Luong Van Thang, chair of Viet-Tiep Lock JSC set to 'dissect' a bank card.
He was surprised when hearing that credit and visa cards were made by Vietnamese enterprises and praised in the world. And he began to learn about the security mechanisms of the cards.
Thanks to a friend, he contacted the owner of the enterprise which manufactured bank cards. And then he visited the factory after many requests.
"After visiting the factory, I came up with an idea for the technology for my locks. If other people can do, I also can," he said.
This is the first time he revealed his story after three years of research and development.
Thang then considered a lock utilizing high technology with an absolute security level, connected with users' smartphones. A lock, with no key needed. It could be opened by smartphone and secured with bank security standards.
However, making a lock is not like making a bank card. Bank cards are put into wallets and can avoid sun and rain. Meanwhile, locks are exposed to the sun and rain.
Smart locks must withstand the temperature of over 50oC and minus 40oC. At these temperature, many components won't be able to satisfy the requirements.
Also, smartphone software is updated regularly, which means that locks need to be integrated again regularly.
After three years of research, the special lock is taking shape and is under the final stage of manufacturing.
"The product will target youth, who have deep understanding about technology and can easily install software," he said.
This will be a completely Vietnamese product, from idea to design and circuit board. Only the chip is imported.
The 'crane King'
Nguyen Tang Cuong is also a well known name in the mechanical engineering field. He is the engineer who successfully invented a 1,200 ton oversized and overweight crane for the Son La hydropower construction project.
In 2008, when Cuong said he would make a 1,200 ton crane, no one believed that he could do this, though by that time, he had been famous as the person who could laminate hundreds of specialized steel types that no one else in Vietnam could do, and could make hundreds of tons cranes for large construction works.
Making such a big crane was a challenge for him. He was warned that if the dam got broken, this would cause disaster to 28 million people in the downstream. It would be better to buy a foreign made crane.

But Cuong vowed to make the crane, using his Labor Hero title to bet on the work.
Cuong and his co-workers from the QuangTrung Mechanical Engineering Enterprise successfully designed and manufactured a 1,200 ton crane, the 100 percent Vietnamese made equipment, at the cost of $10 million (import product was priced at $36 million), which helped make the century-work complete two years ahead of schedule.
Products with high technology
Vietnamese enterprises in recent years have created impressive products in many fields, changing the traditional way of operation. The education sector has Topica – an online education platform.
The healthcare sector has ViCare – a medical information lookup platform, connecting users and medical services. In biomedicine, Vietnam has the cold plasma generator used in treating wounds created by Dr Do Hoang Tung and Nguyen The Anh. The equipment has placed Vietnam on the list of the countries successfully utilizing cold plasma technology in healthcare and aesthetic treatment.
In robotics, Vietnam has Robotics 3T, whose products are being used by many enterprises and in tens of countries in the world.
Vietnam also has famous names in the fields of cybersecurity, hi-tech agriculture and others.
The national digital transformation plan built by MIC points out that digital transformation is vital for enterprises. Digital transformation can bring productivity increase, optimization of resources. It also helps enterprises improve competitiveness, keep up with the development pace and lead the trends.
Minister of Information and Communications Nguyen Manh Hung said at ICT Summit 2019 themed 'Digital transformation for a powerful Vietnam' that Vietnam now has great opportunities. Vietnamese are quickly adapting to new things, eager to learn and creative in utilizing them.
Meanwhile, Thang of VietTiep said: "Vietnamese can do. When we are determined to do, we will succeed". 
Luong Bang

In the context of today's issues and Industry 4.0 rolling out globally, low investment in technological innovation and human resources development is undermining the competitiveness of Vietnam's economy and businesses.

Vietnam's strategy regarding the development of science, technology and innovation should focus on the diffusion and adoption of new technologies in companies,