Vietnamese can create Metaverse virtual universes
Anyone can have another life inside a virtual world: what seemed like sci-fi movies only is coming very close.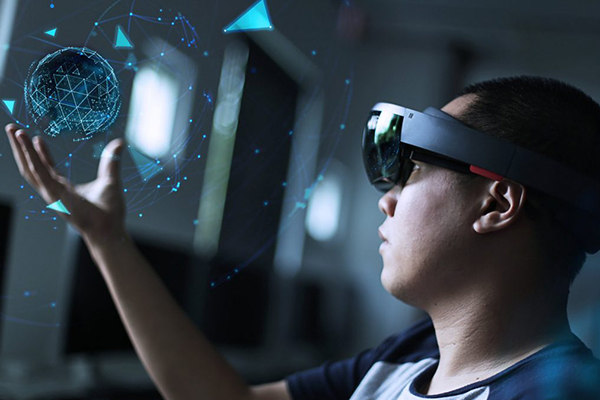 It is a fact that many Vietnamese are also pursuing the dream of the Metaverse.
In late July, Mark Zuckerberg, Facebook founder, surprised the world when he announced that Facebook would develop Metaverse, a digital universe where people can be present and communicate with each other in the virtual world.
In a later interview, he said that within the next five years, Facebook can transform from a social media company to a Metaverse company.
Most people are still unfamiliar with the Metaverse. However, the term has been around since 1992, even before Facebook. This is a virtual world in the novel "Snow Crash" by Neal Stephenson.
Like its name, the virtual world of Metaverse is outside the physical universe and exists parallel to the real world. It is where people have a virtual self to interact with others on the virtual environment created by the computer.
We can associate Metaverse with the world in "Ready Player One", a movie released in 2018. In this film, the real world is just a place for people to eat and sleep, and the place where they live is actually a virtual world. It is a world without pollution, waste, and restrictions, and people are free to do what they want.
It is also the simulated world in the movie "The Matrix", where robots are created to control humans. They are locked in a virtual world since birth, even though they always think they are in a real world.
Perhaps books and movies are the inspiration for Mark Zuckerberg to think of the next version of Facebook, that is when this social network with over 1 billion users will turn into a virtual world. According to experts, if this becomes true, a new industry worth billions of dollars will be born in the virtual world developed by Facebook.
Should Vietnamese people pursue the Metaverse dream?
It is a fact that many Vietnamese are also pursuing the dream of the Metaverse. Vietnamese games Faraland and Axie Infinity are such projects. However, these are only very primitive worlds because Metaverse is not simply about owning a game character and entering the virtual world.
According to Ngo Van Cuong. Chief Technology Officer of Meta Spatial, a company that is cherishing the ambition to build a virtual universe, Metaverse is a rather vague concept. In the simplest terms, Metaverse is a virtual world where people can freely work and create like in the real world.
To create such a world, it is important to make the two worlds coexist. That is the key to showing the role of technology. Spatial Studio will apply virtual reality and augmented reality (VR/AR/MR/XR) technology, combined with blockchain technology to create the Metaverse virtual world, Cuong told VietNamNet.
He believes that the essence of Metaverse is a comprehensive digital transformation, including people. In the near future, Metaverse can replace the applications of today's Internet, such as social networking, OTT messaging, video calling. That is when people will connect with each other not on social networks but on a virtual world.
In the virtual world, anyone can own a smart home, or can go to meetings, watch movies, orexperience space travel through VR. However, in the opposite direction, virtual worlds like the Metaverse can make people more distant from each other in the real world.
Cuong said that Metaverse will open up a technology era of the future. All future applications will be more or less related to Metaverse in some way.
According to the expert, the strength of the Vietnamese people is creativity and learning. This is an advantage because simulated worlds like Metaverse require unlimited creativity. If they catch up with the Metaverse trend, Vietnamese people have the opportunity to make their mark on the world technology map.
Trong Dat

Several state agencies such as the People's Committee of HCM City, the Ministry of Information and Communications, and the Ministry of Industry and Trade will be the first to use virtual assistants in the near future.