Vietnamese can best solve domestic problems
'Make in Vietnam' online conferencing platforms show that Vietnam's problems are best solved by Vietnamese, but Vietnamese people need to give these platforms an opportunity to be used and improved.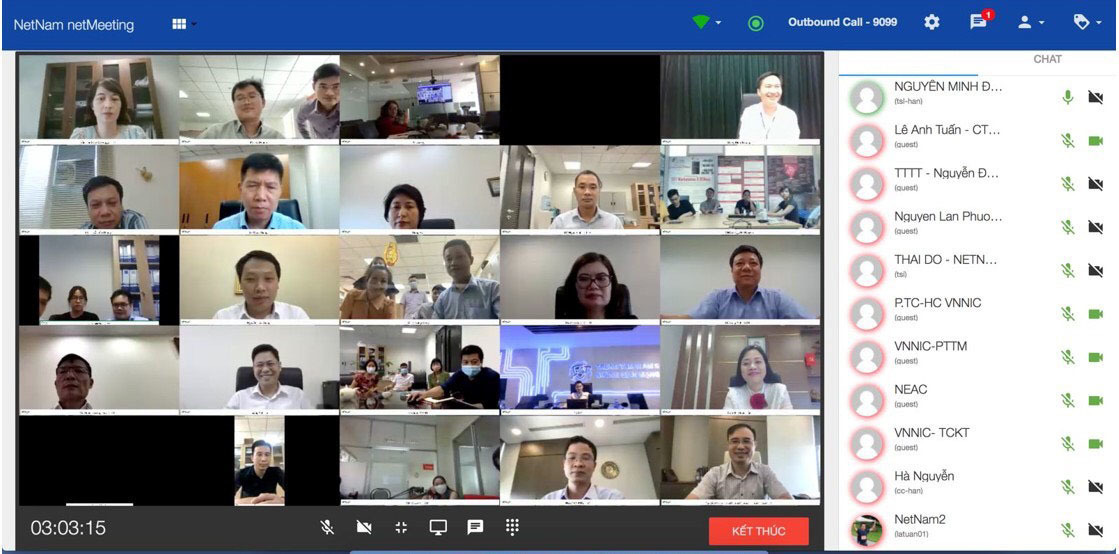 The June meeting is organized online
Several days ago, the June meeting of the Ministry of Information and Communications (MIC) digital technology division was organized online, via the netMeeting online conferencing platform developed by NetNam.
Nearly 500 officers from 100 points nationwide attended the meeting.
Online conferencing has become more and more frequent for agencies and businesses in Vietnam during Covid-19 with the support of digital technology, including 'Make in Vietnam' platforms.
Previously, most meetings of an agency or enterprise took place in a direct form, with limited attendees, depending on the organizational model. But a 'revolution' has occurred which has flattened the traditional tree-shaped organizational chart, eliminating limits and creating a no-distance working environment.
Many state agencies are using next-generation online conferencing platforms, allowing officers to attend meetings at any time and anywhere with mobile devices and at negligible cost, instead of high-cost TV conferencing system as used before.
The quality of netMeeting, as shown at the meeting, is in no way inferior to foreign products.
eMeeting, another 'Make in Vietnam' online video conferencing developed by AIC and Bkav Corporation, was chosen by the National Assembly for the first online conference in history of the legislative agency, the ninth session of the 14th National Assembly.
eMeeting allows National Assembly Deputies to participate in sessions from a distance. It allows the Deputies to attend sessions via iPads in their offices in their home provinces with standard quality images and sound. There is no need to go to specialized meeting rooms with expensive equipment.
Vietnamese cannot solve the world's questions well, but they can solve Vietnam's problems the best, because they understand Vietnam's culture, habits and its existing problems.
In the digital technology era, Vietnamese are continuing to make every effort to solve problems. The next-generation conferencing platforms are an example.
Vietnam's digital technology firms have researched, developed and put into use a series of platforms, including Zavi of Zalo, eMeeting of AIC and netMeeting of NetNam.
Vietnam's platforms use domestic connection bandwidth and can be customized to enhance security and safety.
Agencies and institutions can use the platforms on their infrastructure and control everything themselves, with no information leaking to third parties. They can further develop or rent to others to tailor the platforms to their needs.
'Make in Vietnam' products needs support
However, the online conferencing solutions developed by foreign technology firms are still favored and more commonly used by institutions and individuals in Vietnam.

'Make in Vietnam' online conferencing platforms show that Vietnam's problems are best solved by Vietnamese, but Vietnamese people need to give these platforms an opportunity to be used and improved
A NetNam representative said that in the last two to three years many agencies and businesses have begun encouraging and creating a driving force for Vietnam's technology firms to boldly make investments and develop new solutions.
"As a business, we believe that cooperating to build and improve competitiveness is very important. Vietnamese technology firms need to take full advantage of their understanding of the market demands and Vietnamese tastes, and use the world's open technology to solve questions raised by domestic institutions and businesses," he said.
He also expressed the hope that the Government would prioritize the use of Make in Vietnam services and technological solutions that have high quality and competitive prices.
Like a seed that needs good soil and regular watering to grow, Make in Vietnam platforms will only be able to dominate the domestic market and reach the world market if they are given opportunities to be used and perfected.
The market of 100 million people is a great asset of Vietnam. Each user and each comment about the weak points of products is extremely useful.
Van Anh

With many variants and outbreaks, Covid-19 is expected to be a long-term struggle requiring the contribution of the entire society.

The second locally-produced Covid-19 test kit is waiting for a license, the Ministry of Science and Technology said at a recent press conference.