Vietnam to receive first Thai tourists in December
The first Thai travelers may arrive in Vietnam in December and Vietnamese would be able to travel abroad as part of an official tourism bubble established between the countries.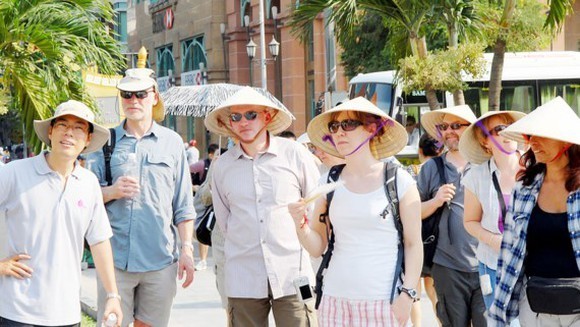 The information was confirmed by VNAT (Vietnam National Administration of Tourism) General Director Nguyen Trung Khanh at the forum on "Solutions for sustainable tourism recovery in Vietnam" on November 30, 2021.
Regarding the pilot program on receiving foreign travelers to Vietnam, Vietravel Holdings' Nguyen Quoc Ky noted that Vietnam's foreign market promotions are small scale, especially as new coronavirus variants are being found, and in the context of travel firms' limited resources.
The focus should be Southeast and Northeast Asian markets and countries with which Vietnam can establish tourist bubbles.
In Southeast Asia, Malaysia and Singapore have established a tourist bubble and Vietnam should follow the move, connecting more countries, including Thailand and Cambodia.
In Northeast Asia, China won't open its doors in the immediate time, so it is better to target Japan and South Korea. Ky from Vietravel has proposed that VNAT work with tourism representative agencies of the two countries in Vietnam on a tourist bubble. The travelers from the two countries have begun coming to Vietnam.
Khanh said Thailand has been succeeding with Phuket Sandbox model, commencing on July 1. The market has opened its doors to travelers from 63 markets using vaccine passports.
"VNAT and TAT (Tourism Authority of Thailand) will have a meeting for development. We are preparing the content for the meeting's agenda, including traveler exchange in the second phase of Vietnam's pilot program on receiving foreign travelers (from January 2022)," Khanh said.
"It's expected that a group of Thai tourists will come to Vietnam this month. This will be a model for Vietnam to consider the 'tourist bubble' cooperation with countries in the time to come," he said.
Vietnam began receiving foreign travelers with vaccine passports in a pilot program in late November. To date, three out of five localities have begun receiving travelers, namely Quang Nam, Phu Quoc and Khanh Hoa.
In early May, when Thailand discussed the tourist bubble plan, it expressed a wish to negotiate a tourist bubble with Vietnam, Singapore, Laos and Malaysia.
Vu The Binh, Deputy Chair of the Vietnam Tourism Association (VTA), thinks that Vietnam will not restrict foreign travelers if their home markets can satisfy requirements.
Vietnam will open its tourism market but under a well-designed roadmap with strict control to ensure safety. In the immediate time, Vietnam will prioritize travelers from safe markets such as Japan, South Korea, some European countries, the US, and then Southeast Asia. Vietnam will do this step by step, learning from experience.
If Vietnam launches a tourist bubble program with Thailand and some Southeast Asian countries, Vietnamese travelers will have the opportunity to travel abroad.
The General Statistics Office (GSO) reported that 15,000 foreigners came to Vietnam in November, an increase of 42.4 percent over the previous month, and 140,000 in the first 11 months, a sharp fall of 96.3 percent compared with the same period last year. Of these, 96,600 foreigners traveled by air, accounting for 69 percent.
The travelers came to Vietnam on packaged tours, and on chartered and commercial flights to selected destinations.
Five localities are allowed to receive foreign travelers under the pilot program: Phu Quoc (Kien Giang province), Khanh Hoa, Quang Nam, Da Nang and Quang Ninh.
From November, foreign travelers to Phu Quoc City, Khanh Hoa, Quang Nam, Da Nang and Quang Ninh, who have negative testing results, can participate in packaged tours immediately without having a 7-day quarantine.
According to Khanh Hoa Tourism Department, there were only 4,000 travelers to the province in September, while the figure tripled in October, with 14,000 travelers (the province opened on October 1, 2021), and rose by seven times in November, with 30,000 travelers. This included 1,500 foreign travelers. Tourism revenue in November was estimated at VND200 billion.
In an effort to attract foreign travelers, VNAT has launched a promotion "Live fully in Vietnam" with the Vietnam national tourism brand identity – Timeless Charm.
The agency is running a series of tourism promotion and advertisement and demand stimulus activities, with video clips and articles on domestic and international mass media channels. 
Ngoc Ha

Vietnamese travelers are welcomed in many foreign markets but many dare not book outbound tours because they don't know when they can return to the country.

Fostering national tourism based on cultural values and available heritage is considered an effective solution for the sector to overcome challenges after the Covid-19 pandemic.