Vietnam's most famous culinary vlogger
The sound of birds singing in the early morning, chickens crowing at noon, and rustling of leaves in the garden frequently appear in the videos of Dong Van Hung - the founder of Mother-made Cuisine (Am Thuc Me Lam) channel.
Hung's videos are only 5 to 10 minutes long, not technically sophisticated or professional, but they can remind anyone born in the countryside. Each video reaches from a few hundred to nearly 3 million views.
Just three months after the first video on March 1, 2019, Mother-Made Cuisine received a Silver Play Button from YouTube.
Before doing his vlog, Hung was a photographer working in Hanoi. Occasionally, he returns to his hometown (Phu Binh, Thai Nguyen) to visit his mother. Remembering the dishes from home, Hung often told his mother to cook the traditional dishes.
Being skilled in photography and filming, Hung often shoots videos of his mother preparing dishes in the way of his home country. Shared on social media, his videos are loved by friends. Hung came up with an idea to create a vlog channel called Mother-made Cuisine to feature his mother.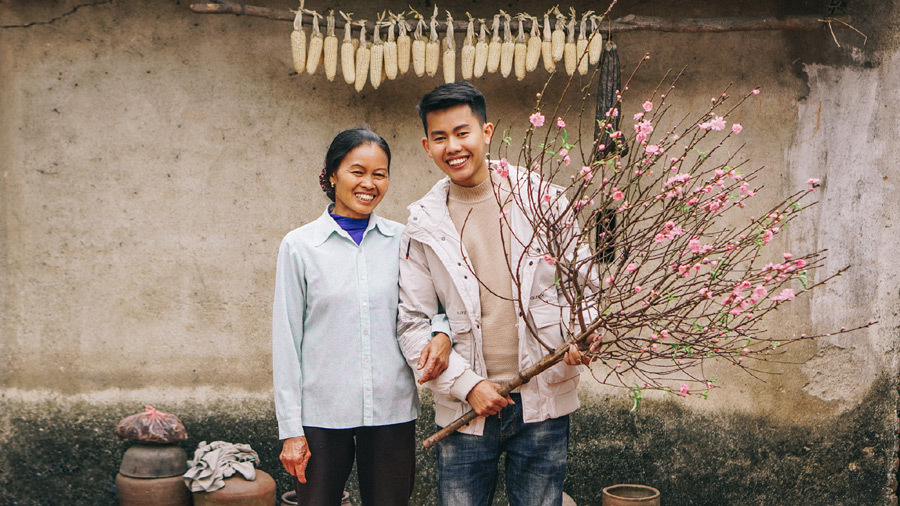 Dong Van Hung and his mother
Hung's goal has been to preserve the memories of his family, and not putting heavy emphasis on making money from his vlogs. "I will always make raw, authentic videos like this. I'm still happy regardless of how many views the videos get."
Hung said that since returning to his hometown to do his vlog, he still is earning his living by taking photos, not determined to make money from YouTube. "It is just a channel to keep the memories of my mother and me, so I do not intend to make click-bait videos and consider the content to be the number one priority," Hung said.
In the early days of filming, Hung's mother, Mrs. Duong Thi Cuong (56 years old), was shy. But Hung told his mother: "You don't have to act. Just do the usual work like you do every day." Gradually, Mrs. Cuong got used to being on camera.
Hung remembers after he had finished filming the first video, which was praised by many people, he and his mother were so happy that they could not sleep and spent all night talking. He thinks people like the video thanks to the loving relatable image of his mother.
There are videos where the mother and son had to do things over and over again due to damaged footage or cooking mistakes. There were also times when the power was lost while the recording was in progress, and they had to wait to midnight to continue working. But the mother and her son do it for joy, so they never get tired or discouraged. 
The 24-year-old son said that the mother's joy since his son started doing the vlog is not to be famous, but simply to be close, to cook delicious dishes for her son – her only close family member.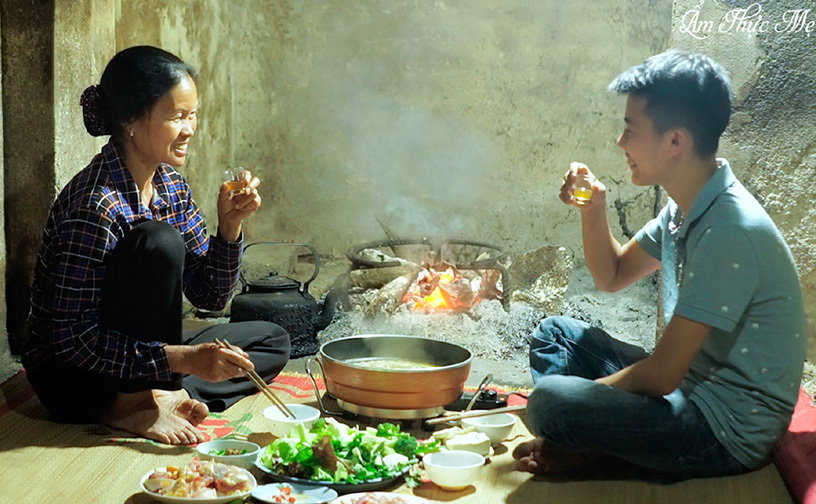 The mother and son, and a chicken hotpot next to the fire stove.
All dishes introduced in Mother-made Cuisine are home-flavored dishes like banana fish with pepper, sautéed pork with Vietnamese pickles, tomato and water spinach... and are cooked entirely on the wood stove. Most of the dishes are what Mrs. Cuong usually cooks. Only a few are new dishes that Hung learned about and showed to his mother. 
Hung has such an enthusiasm for the topic of homeland cuisine because his childhood is deeply attached to his village, and his love and appreciation for his mother and her food. 
Childhood, in Hung's memory, included the meals his mother cooked, the crab-catching sessions in the field, and the mother's stories about her poor childhood. 
When he grew up, to support his mother, Hung only finished high school and then immediately worked as a worker because he did not want his mother to have to work hard to provide for the family. Passionate about photography, Hung worked while taking a short photography class. After finishing school, Hung worked part-time as a photographer. After that, the vlog work came to Hung as a surprise.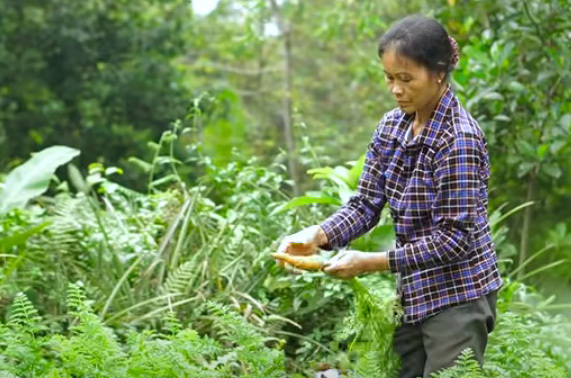 Mrs. Duong Thi Cuong, a farmer, is the main character of the culinary channel Mother-made Cuisine.
Currently, Hung produces three to four videos every month. Mrs. Cuong's main job is still ordinary farm work: farming, growing vegetables and raising chickens. Hung has never run out of ideas because the food and life in the countryside have so much material to film. "My criterion is home-grown ingredients. if you can grow it, you can eat it."
Since starting the vlog, the mother and son's life hasn't changed all that much. When he is making videos, Hung continues to work as a freelance photographer and assists his mother in her farm work. The only difference is that they are more popular among their friends and neighbors, who love their videos and sometimes even participate in them.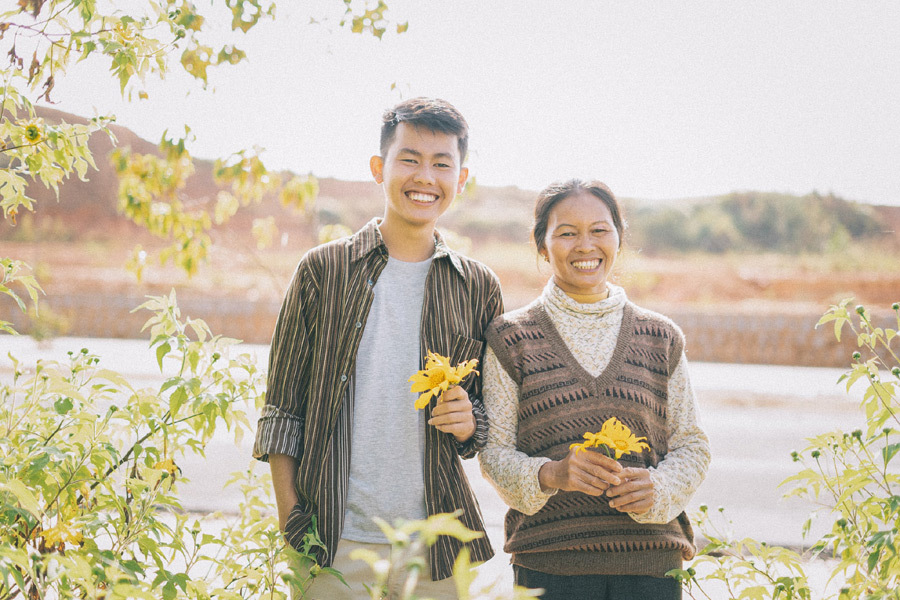 Hung often takes beautiful pictures of his mother.
Hung has made about 100 videos in nearly two years, with 830,000 subscribed to the channel. The total traffic of the channel is about 90 million views, while the Facebook channel has nearly 400 thousand followers. 
Hung said he will try his best to make the shots more beautiful and the content of the channel more diverse. The most important thing to him is to make his mother happy.
Nguyen Thao

Returning to Vietnam from Thailand with technology which helps keep flowers 'immortal', Le Thi Viet in the last 12 years has been diligently creative, bringing flowers to more and more people.