Vietnam's healthcare faces unprecedented challenges
Health Minister Nguyen Thanh Long said that the ongoing Covid-19 outbreak in Vietnam is causing serious consequences, posing unprecedented challenges in the history of the country's healthcare system.
The Minister has decided to set up 12 national Covid-19 Intensive Care Centers in the north, the south and the central region with a total capacity of 7,900 ICU beds. He said that this decision was made amid the complicated development of the Covid-19 epidemic in the world and Vietnam.
Since April 27, Vietnam has faced the 4th wave of pandemic. The total number of infection cases nationwide has increased rapidly and has surpassed 100,000 cases.
The epidemic has broken out on a large scale, with complex nature, many sources of infection and variations, especially the appearance of the Delta variant, which has spread very quickly and dangerously. To date, Vietnam has had more than 1,000 Covid-19 related deaths.
"The medical examination and treatment system is facing unprecedented challenges," the Minister said.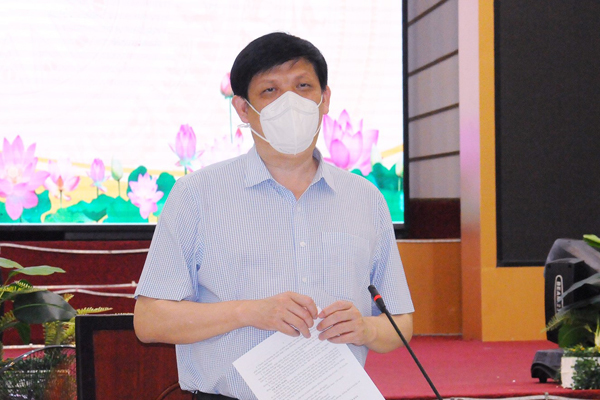 Minister of Health Nguyen Thanh Long at a meeting with officials of the southern province of Long An on July 30.
In a very serious situation, the Government and the Prime Minister have directed localities to strictly implement the motto "4 on the spot" (on-the-spot command, on-the-spot forces, on-the-spot vehicles and supplies, on-site logistics) and to prepare resources for epidemic situations.
The Government and the Ministry of Health have directed many localities to strengthen the capacity of active resuscitation, focus on treating severe cases, and minimize fatalities.
However, when the Covid-19 epidemic broke out, some localities were not proactive and were not ready to collect and treat severe cases.
The capacity for emergency and active resuscitation in many localities is weak, and they are not able to respond to the "super-contagious" mutation scenario.
Human resource specializing in intensive care are in shortage. Vietnam now has only slightly over 2,000 doctors specializing in emergency/intensive care. In some provinces in the Mekong Delta, there is only one specialist in active resuscitation.
Health workers take care of severely ill Covid-19 patients at the Covid-19 Resuscitation Center in Ho Chi Minh City. Photo: Thanh Tung
Due to the impact of the policy of autonomy, many provincial hospitals pay little attention to active resuscitation. Severe cases are often transferred to central hospitals in Hanoi and Ho Chi Minh City. This puts great pressure on central hospitals in the treatment of severe cases, making it difficult for the Ministry of Health to mobilize and coordinate human resources for support, and allocate equipment, materials and financial sources for localities.
Meanwhile, the transfer of seriously ill patients to central hospitals in Hanoi and Ho Chi Minh City creates the risks of spreading diseases and death for the patients on the way.
These severe cases need to be treated locally with the advice and support of upper-level doctors or leading experts.
According to the Health Minister, the Covid-19 epidemic prevention and control in the past three waves and the ongoing outbreak of Covid-19 in Vietnam has revealed many valuable lessons.
"When the epidemic broke out, all provinces faced great challenges in collecting and treating patients, and there was almost no province that could treat Covid-19 without the need for aid from the central government and help from neighboring provinces," he said.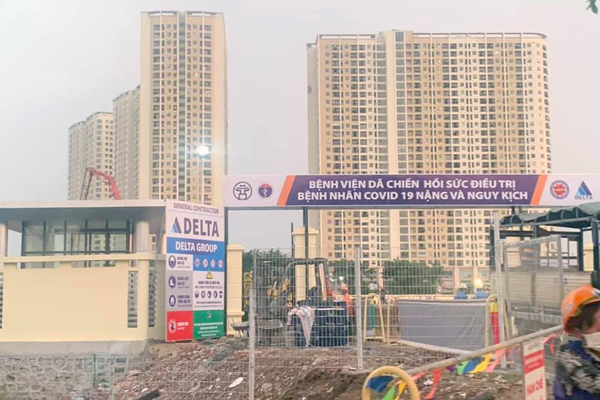 The National Covid-19 Resuscitation Center is under construction in Hoang Mai District, Hanoi.
Anti-epidemic lessons learned from the provinces of Hai Duong, Bac Ninh, Bac Giang, Dong Thap, Binh Duong and Ho Chi Minh City all show that their capacity to treat, provide emergency care, and resuscitate Covid-19 cases is still limited.
The scale and number of ICU beds are also limited. It is estimated that in 2021, the whole country will have over 16,000 intensive care beds, which is insufficient to meet the increasing demand for treatment of Covid-19 patients.
Many localities lack equipment to treat seriously ill patients. Many hospitals have specialized beds for intensive care but do not have central oxygen systems and compressed air systems, so ventilators cannot be used. Hospitals also lack cameras and central monitoring system, making it difficult for doctors and nurses to closely monitor the progress of severe Covid-19 patients.
The intensive care units of many hospitals have not been able to implement advanced critical care techniques such as invasive, non-invasive mechanical ventilation, artificial cardiopulmonary (ECMO), dialysis...
Currently, only a few hospitals can perform ECMO such as Bach Mai Hospital, Central Tropical Diseases Hospital, Viet Duc in Hanoi, Cho Ray in HCM City City, Hue Central General Hospital in Hue City, Can Tho Central General Hospital...
Faced with these difficulties and challenges, it is necessary for Vietnam to improve the capacity of emergency and active resuscitation at hospitals across the country to respond to the treatment of critically ill Covid-19 patients in the coming time.
Accordingly, the Ministry of Health has decided to establish 12 National Resuscitation Centers located in the 12 largest hospitals in the country: Bach Mai Hospital; Viet Duc Hospital; Central Hospital for Tropical Diseases; Central Hospital for Lung Diseases; Hanoi Medical University Hospital; Ho Chi Minh City University of Medicine and Pharmacy Hospital; Hue Central General Hospital; Cho Ray Hospital; Covid-19 Intensive Care Centers in Ho Chi Minh City; Can Tho Central General Hospital; 108 Military Central Hospital; Military Hospital 103.
These centers have a total of 7,900 beds. The 12 National Intensive Care Centers will be under the management of the Ministry of Health.
These centers are the highest-level treatment facility, tasked with collecting, treating and implementing the most complex and highly intensive resuscitation techniques for severe and critical cases in the Covid-19 treatment ladder.
Minister Long said that the establishment of these centers must be urgent and it needs the participation of the Government, ministries and local authorities, not just the health sector.
Thuy Hanh