Vietnam enters car consumption boom period
Vietnam aims to obtain a GDP growth rate of 6.5 percent this year and average income per capita of $3,700. With rising incomes, car sales are expected to boom.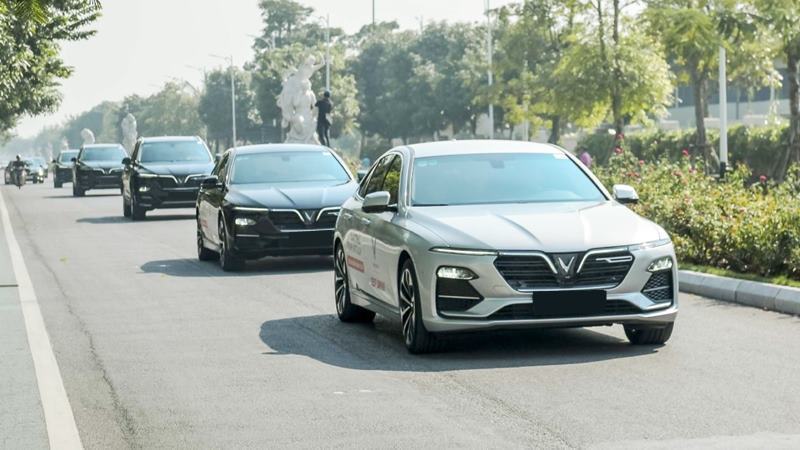 One report said that 420,000 cars of different kinds were sold in 2020, including 400,000 cars with 16 seats or less, the same as 2019.
Vietnam's car market did not grow in 2020, but did not decrease by 15 percent as previously predicted by VAMA.
Car sales dropped sharply in the first half of 2020 when the Covid-19 pandemic broke out. However, the sales went better in the last months of the year thanks to effective control of the pandemic, a 50 percent vehicle registration tax reduction policy, and car price decreases.
While some enterprises reported minus growth rates, others still had positive growth rates. VinFast, a newcomer, with 30,000 cars sold in 2020, has successfully taken away market share once held by other manufacturers.
SSI has estimated that the automobile market will see a growth rate of 16.3 percent in 2021 as car demand continues to be high. The figure may be 3 percent higher if the Covid-19 pandemic is contained.
According to Vietnam Register (VR), there are 34 cars per 1,000 people in Vietnam. The figure is relatively low compared with other regional countries and the world.
With average income increasing, cars will turn from a luxury good to a more common consumer good and the market size will increase, offering an opportunity to develop the automobile industry.

According to Vietnam Register (VR), there are 34 cars per 1,000 people in Vietnam. The figure is relatively low compared with other regional countries and the world.
Businesses believe that B-class sedans will serve as the mainstay to promote the development of the industry. The sales of B-class sedans lead the market with more than 60,000 cars sold in 2020.
Despite difficulties caused by Covid-19 in 2020, the market segment still obtained growth. Toyota Vietnam reported that 30,000 Vios were sold, an increase of 3,000 compared with 2019. The figure was 20,000 for Hyundai Accent, an increase of 2,000.
B-class sedans always have better sales than A-class despite higher prices.
The common characteristics of these products are modern design and features to ensure safety that A-class cars don't have. The interior is better equipped, the engine is stronger and they run well in urban areas.
Customers have many options for B-class sedans with the price of VND600 million or less. Toyota Vios, Hyundai Accent and Honda City are the best known models.
Toyota Vios remains the bestseller and in the first position. Analysts believe that the model will continue to be the manufacturer's key product in the next few years.
The latest versions of Hyundai Accent and Honda City have been launched with new features and new technologies.
Automobile manufacturers have also stepped up the assembling of SUV and A-class cars as market expansion has helpef increase the output.
A-class VinFast Fadil is an emerging influence with 18,106 cars sold in 2020. Analysts have predicted strong growth of this product line in the future.
The Ministry of Planning and Investment believes the automobile industry can only develop when there is a large market and this must be reserved for domestic manufacturers rather than imported products.
The ministry said the aim is to develop a healthy automobile market, maintain and step up production and assembling of cars domestically, and develop supporting industries.
There needs to be a large enough market for domestic automobile manufacturers, and at the same time, better infrastructure for car use.
Government agencies are considering the possibility of offering a preferential luxury tax for domestically made cars which would help boost car sales thanks to the price drop.
If so, B-class sedan models are expected to become cheaper and have higher localization ratios, becoming a growth engine for the development of the automobile industry. 
Tran Thuy

Vietnam's rising income per capita would soon move cars from a luxury product with a passenger vehicle density of 34 per 1,000 to a more ordinary one with a density level comparable to countries in the region.

Cars in Vietnam since 2021 are subject to new regulations such as registration fee, import tariff, and higher emission standards.