Vietnam competes with Thailand, Indonesia in car exports
Vietnamese enterprises are nurturing the dream of exporting CBU (completely built up) cars, which has partially come true, though exports remain very modest.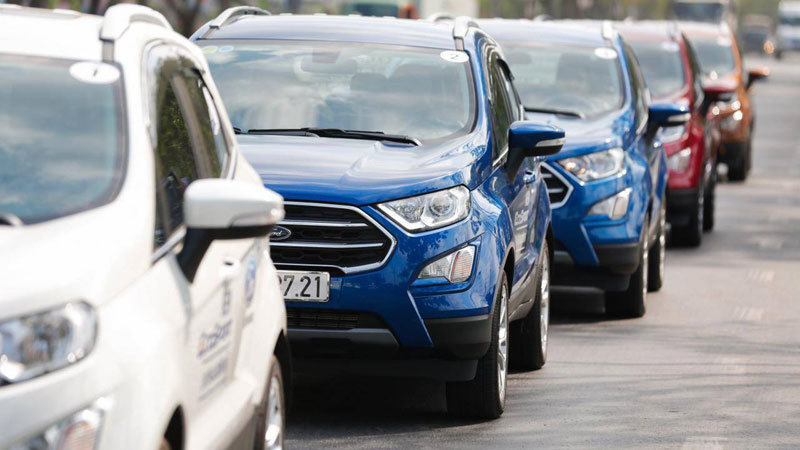 In 2020, Thaco exported 1,407 CBU cars of different kinds, worth $50 million, to Thailand, a big automobile manufacturing center in Southeast Asia. Ford Vietnam, after increasing its production capacity to 40,000 products a year, has begun exporting EcoSport, Transit and Tourneo to some regional markets.
In early 2021, VinFast caught public attention when stating that it was going to export two high-end electric vehicle models – VinFast VF33 and VinFast VF32.
Meanwhile, TCMotor is preparing to export cars to regional markets by expanding production capacity, building a second factory that can produce 100,000 cars.
Ford Vietnam's CEO Nguyen Van Dung admitted that Ford's exports remain modest, but the export scale will be larger in the future. The manufacturer expands its factory to serve domestic demand and export. The car models which are only assembled in Vietnam will be exported to other regional countries.
According to Thaco's president Tran Ba Duong, Thaco is planning to export more cars made in Chu Lai to regional markets.
Vingroup's president Pham Nhat Vuong affirmed that VinFast will export Vietnamese branded electric cars to the US in 2021 and it is willing to spend $2 billion to reach that goal.
Le Ngoc Duc, CEO of TC Motor, said that Hyundai Motor, when cooperating with Thanh Cong Group, aims to turn Vietnam into a Hyundai automobile manufacturing center in Southeast Asia, which will not only satisfy domestic demand, but also exports.
Businesspeople believe that the Vietnamese automobile market is growing fast, so Vietnam has all conditions to develop supporting industries and increase the localization ratio.
The car demand in the country, where living standards have improved, is high enough for large-scale manufacturing. Meanwhile, the zero percent preferential tariff will help make it easier for Vietnam's products to enter regional markets.

History shows that large automobile manufacturers that gain great successes all have large export markets. There is no successful automobile manufacturer that only sells products domestically.
History shows that large automobile manufacturers that gain great successes all have large export markets. There is no successful automobile manufacturer that only sells products domestically.
Automobile manufacturers all try to export products, or expand markets, thereby increasing output, optimizing costs and improving competitiveness.
Experts believe that Vietnam has certain advantages to make cars for export, including the auto manufacturing industry's global division of labor which defines which country makes what kinds of cars and where to export products. Thaco and Ford Vietnam export cars based on this labor assignment.
South Korean automobile manufacturers now want to expand their markets in Southeast Asia. South Korean products sell well in Vietnam, but not well in other regional countries. Investing in Vietnam to make cars for both local sale and export has been proposed.
Meanwhile, VinFast has decided to develop electric vehicles, which is a growing consumption trend in the world. The US and some other countries are applying policies to encourage the sale of the environmentally friendly vehicles.
However, experts warn that it will not be easy for Vietnam to become a country to export cars in large quantities like Thailand and Indonesia. In order to export cars, products must have high quality and competitive prices. These are still not Vietnam's advantages.
Vietnam's car part supply chain remains weak. There are fewer than 80 enterprises that make personal car parts to provide to 10 original manufacturers. These include 18 first-class vendors and 58 second- and third-class vendors, figures which are very small compared with 2,000 car parts in Thailand and 1,000 in Indonesia.
The car parts that can be made in Vietnam are mostly simple and cumbersome sets of components.
Experts pointed out that if Vietnam just imports car parts to assemble domestically, it won't be competitive in price. The production cost of the cars assembled in Vietnam is 20 percent higher than in Thailand and Indonesia.
The Ministry of Planning and Investment is building a plan on developing an ecosystem for the automobile industry which aims to develop the number of Vietnamese vendors.
It is expected that Vietnam would have 1,000 enterprises by 2025 and 2,000 by 2030, capable of satisfying 45-70 percent of demand for car parts in Vietnam.
If the goals can be reached, the export of CBU cars will be feasible. In order to reach that goal, Vietnam needs to have policies strong enough to encourage investments. 
Tran Thuy

Vietnam's rising income per capita would soon move cars from a luxury product with a passenger vehicle density of 34 per 1,000 to a more ordinary one with a density level comparable to countries in the region.

After 25 years of development, the automobile industry has failed to reach its localization ratio goal, while cars in Vietnam are more expensive than other regional countries.